Republican presidential candidate Carly Fiorina shunned identity politics, while also asserting that her nomination would take away what she considers to be Hillary Clinton's only helpful issue in November.
"I know, in your heart of hearts, you want to see me debate Hillary Clinton," Fiorina said Thursday when speaking at the Republican Jewish Coalition Forum in Washington. "The only way to see that is if I'm the nominee."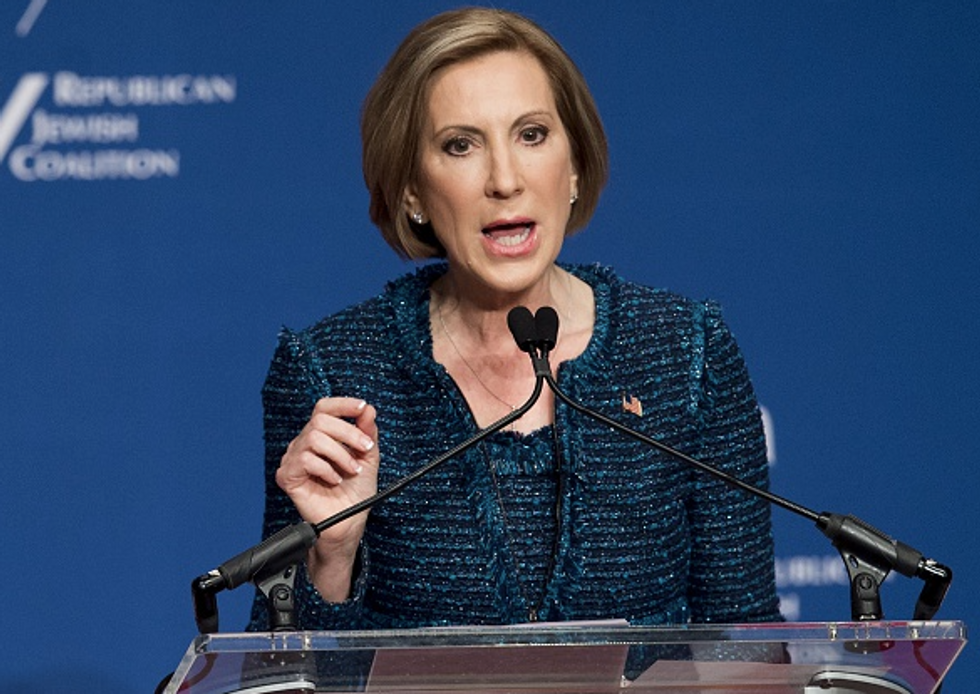 Republican presidential hopeful Carly Fiorina speaks during the 2016 Republican Jewish Coalition Presidential Candidates Forum in Washington, D.C., Thursday. (Saul Loeb/AFP/Getty Images)
Fiorina, the former Hewlett-Packard CEO, was at one point in the top three candidates but has been lagging in recent polls. Still, she asserted that former Secretary of State Hillary Clinton should have to defend her record rather than run on gender politics.
"She cannot run on her track record as secretary of state. What does she want to run on? What is the platform Hillary Clinton wants to run on? She is going to be the first woman president," Fiorina told the crowd.
"Ladies and gentlemen, I will never ask for your support because I'm a woman — although I am proud to be one," Fiorina said. "But I will tell you what, I will force Hillary Clinton to fight on ground where she will have to talk about the reality that every single one of her policies are bad for women, as well as men. She will have to fight on the ground of her track record. Ladies and gentlemen, if she faces me, we will win."
Fiorina talked about numerous issues in her address and during a question-and-answer session that followed, including the Islamic State and cyber security. But her biggest applause lines came when she talked about Clinton, the leading candidate for the Democratic nomination.
"This is why we need a fearless fighter to face Hillary Clinton, who will force her to fight on ground we can win on," Fiorina said. "Look, Hillary Clinton does not want to run on her track record as secretary of state. Why? Because she got every single foreign policy challenge wrong."
"I've met Vladimir Putin. Anyone who knows Vladimir Putin knows you cannot change his behavior with a gimmicky reset button," Firoina said. "You might change his behavior by rebuilding the 6th Fleet under his nose or rebuilding the missile defense system under his nose or conducting regular military exercises. She called Bashar Assad a positive reformer. She declared victory in Iraq. She advocated for the removal of Moammar Gadhafi and then left Libya the failed state where we now know ISIS has new territory."