Republican presidential candidate Rick Santorum expressed dismay that two of his GOP opponents have refused to call leaker Edward Snowden a traitor.
Santorum, speaking Thursday at the Republican Jewish Coalition Forum in Washington, touted his national security and anti-terrorism record. He then defended the National Security Agency's data-gathering program, which was reformed and weakened.
"We now have lost that ability, in large part because of two Republicans running for president," said Santorum, a former Pennsylvania senator. "We have both of them refusing to call Edward Snowden a traitor.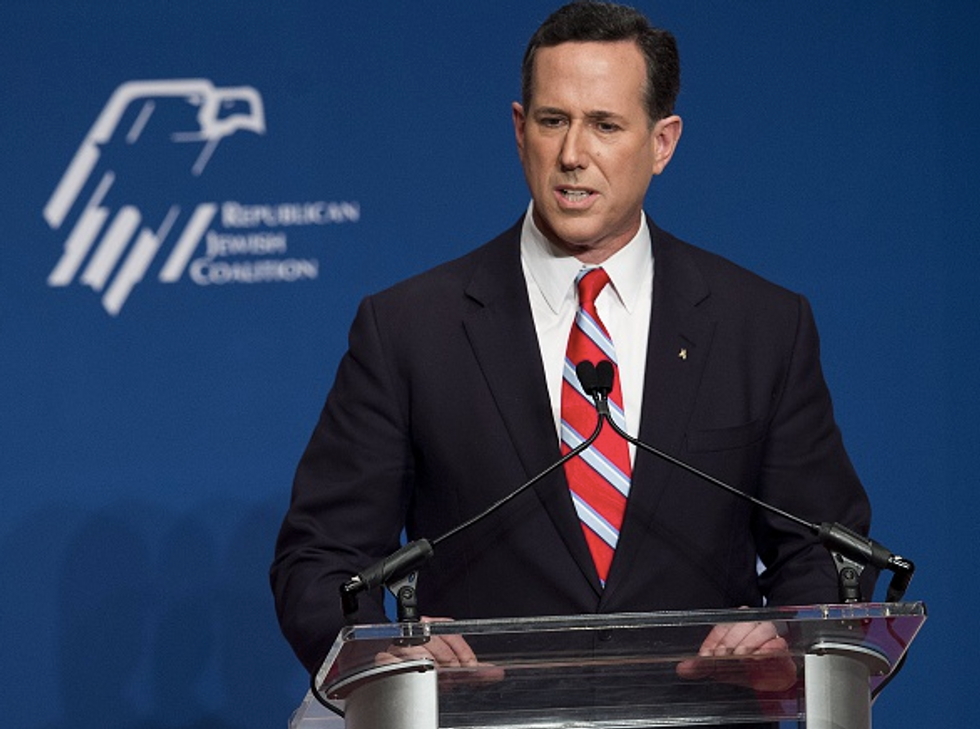 Republican presidential hopeful former Sen. Rick Santorum (Pa.) speaks during the 2016 Republican Jewish Coalition Presidential Candidates Forum in Washington, D.C., Thursday. (Saul Loeb/AFP/Getty Images)
Sens. Ted Cruz (R-Texas) and Rand Paul (R-Ky.) have both refrained from judging the case of Snowden, who leaked the information about the NSA meta-data program to the media. Snowden is now in Russia seeking asylum. Cruz and Paul both criticized the program.
Santorum did not name the two candidates he was referring to.
"We're not talking about recording people's phone calls," Santorum said. "We are talking about collecting a searchable database."
Santorumm said this lack of information, in part, allowed the Islamic State to carry out an attack on Paris on Nov. 13.
"The events in Paris happened because they were able to learn from Snowden how to not be detected and communicated," Santorum said. "I don't know what the definition of a traitor is if Edward Snowden is not a traitor. Yet we have Republican candidates who won't, because of civil liberties."
Santorum won the Iowa Caucus in 2012 and went on to win 10 more Republican primaries. However, thus far, he has polled only in single digits in seeking the 2016 GOP nomination.