Chaos broke out during a Nov. 30 address that was delivered by Maryam Namazie, an ex-Muslim human rights activist, on the campus of Goldsmiths University in London, England, as members of the school's Islamic Society reportedly began to heckle her.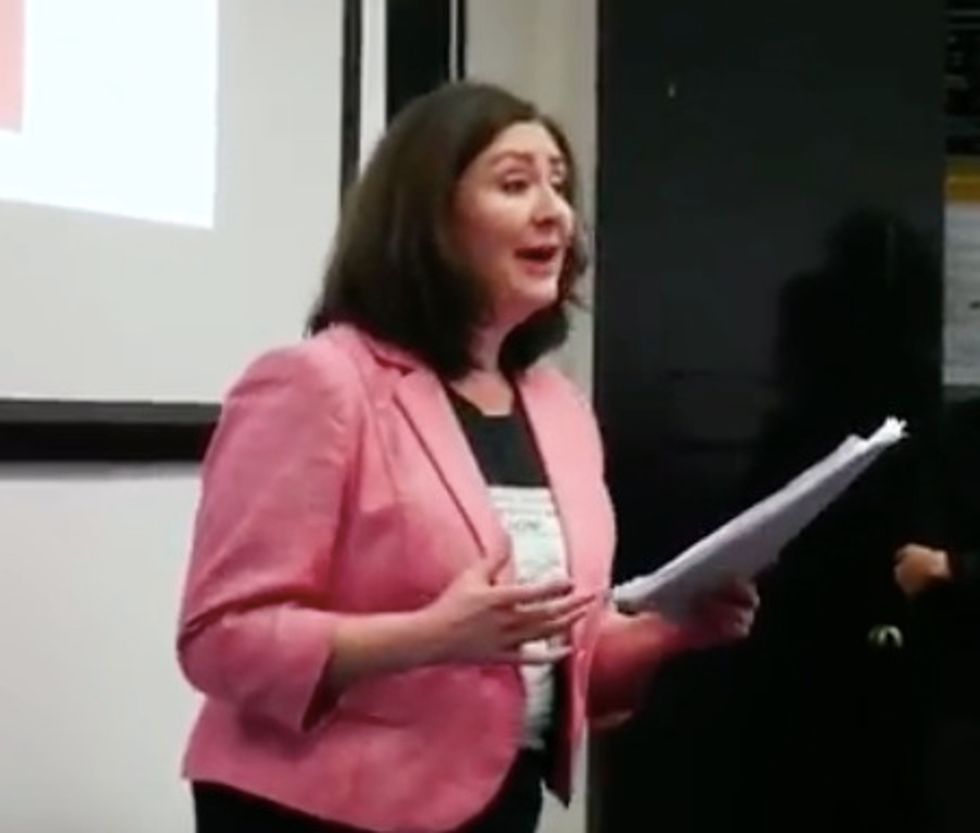 Maryam Namazie, an ex-Muslim human rights activist, speaks (YouTube)
Namazie, who was invited by the Atheist, Secularist and Humanist Society campus group, focused her speech on the subjects of apostasy and blasphemy, but about 11 minutes into her talk, things started to unhinge, according to the Independent.
Video of the speech shows Namazie calmly speaking about "Islamism," but it's after she refers to it as a "political movement" that is a "global killing machine" that a back and forth develops between her and some audience members sitting in the front row.
"Islamists will hack beloved Bangladeshi bloggers to death in Bangladesh whilst placing Bangladeshi bloggers, who are based in the U.K., on an international death list," she said, to which one of the students broke out in laughter.
Rather than ignore the giggles, she said, "Is it really funny that people get hacked to death? I know it's funny for you."
It didn't take long for things to really devolve, as one of the students in the audience seemingly began talking over her as she continued her address — but Namazie wasn't having any of it, repeatedly yelling back for the man to "be quiet or get out" of the venue.
"Don't point that finger at me," he shot back, but she wasn't dissuaded, telling him to be silent or leave.
That's when the man told Namazie to "stop intimidating" him, to which she pointedly mocked him.
"Oh you're intimidated?" she sarcastically responded. "Go to your safe space."
Watch the exchange below at the 11-minute mark:
The speech was at that point essentially derailed for a few minutes, with other individuals — seemingly professors, administrators and security staff — telling the interrupting students to leave the room or quiet down.
The situation calmed down for a bit and the students stayed, but when Namazie shared images of Muhammad and Jesus at the 35-minute mark, things worsened, with one of the students in the front row standing up and turning the projector off; security promptly removed him.
And problems didn't end there. At least one audience member told the Daily and Sunday Express that one of the Islamic Society members made a threatening gesture toward him during the speech.
"They came in for trouble and made lots of noise. They were very intimidating and I was genuinely worried about Maryam Namazie," lecturer and activist Reza Moradi told the outlet. "When the security guards first led out two ISOC members, one of them moved towards me and went 'boom.'"
When Moradi later told the same individual to "shut up," he said that something a bit more threatening happened.
"He looked directly into my eyes and moved his hands into a handgun shape and touched the middle of his forehead," he said. "At that moment I was worried, I took it seriously as a death threat. I was threatened and he was very intimidating."
But the Islamic Society put out a statement on its official Facebook page, condemning purported "vile harassment" at the hands of the Atheist, Secularist and Humanist Society, and patently denying death threat allegations.
The Muslim group said that Namazie is a "notorious Islamophobe" and that members did not want her on campus, and had made a "polite request" that her invite be reconsidered.
"The university should be a safe space for all our students," they said. "Islamophobic views like those propagated by Namazie create a climate of hatred and bigotry towards Muslim students."
The statement continued, "Muslim students who attended the event were shocked and horrified by statements made by Namazie, and peacefully expressed their dissent to the disrespectful cartoons shown of the Prophet Muhammad (pbuh). These students were subsequently made subject to unnecessary bullying, abuse and violence by the ASH society and security staff."
Sorry Goldmiths Student Union we can't take down video of my talk https://t.co/fDc7y9pYUi It's in the public interest.

— Maryam Namazie (@MaryamNamazie) December 4, 2015
Namazie has also rebuffed reported requests that the video of the speech be taken offline, as debate continues.
--
Follow the author of this story on Twitter and Facebook: