TORONTO (TheBlaze/AP) — Stephen Curry made nine 3-pointers and scored 44 points, leading the undefeated Golden State Warriors to a 112-109 victory over the Toronto Raptors on Saturday.
According to the Elias Sports Bureau, the win moved the 21-0 Warriors past the St. Louis Maroons of the Union Association, a predecessor to Major League Baseball, for the best start to a season by a professional sports team.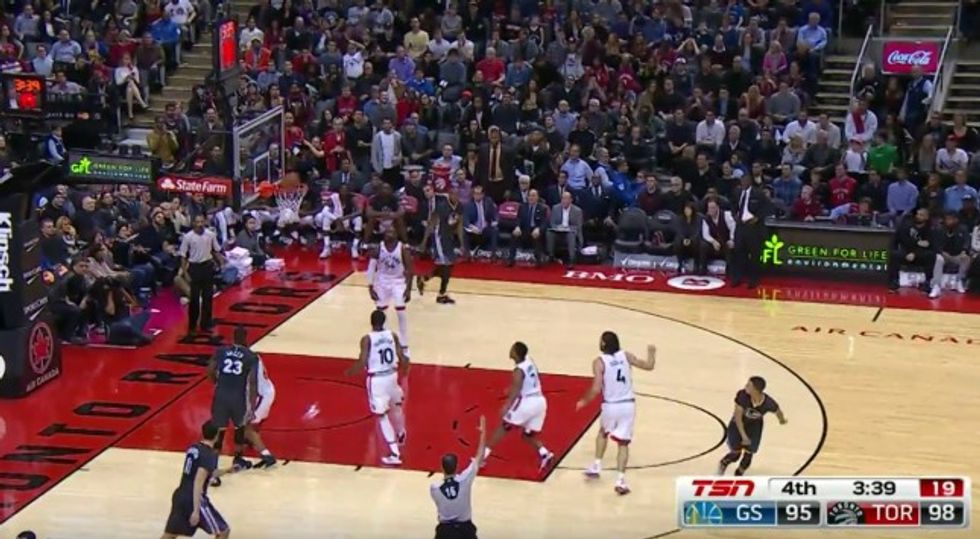 Image source: YouTube/NBA
At 25 consecutive regular-season wins, the Warriors also possess the third-longest streak in NBA history, behind only the 1971-72 Los Angeles Lakers (33) and the 2012-13 Miami Heat (27).
"That's our 11th win on the road this year so you have to give the guys in there so much credit for even on the games where we really don't have it, finding ways to win," interim coach Luke Walton said.
This one was a challenge. The three-point margin matched the smallest of the season for the Warriors, who won 106-103 at Utah on Monday.
"It's really good," Curry said. "Twenty-one different challenges and we've been able to separate each one individually and figure out different ways of winning. It's been fun."
Curry was 14 for 24 from the field and 9 for 15 from beyond the arc. The NBA MVP is averaging 30 points for his six career games at Toronto, where his father, Dell, played for his final three seasons.
"I have great memories of being here watching my dad play. I got some shots up on that rim for three years every game night," he said. "I enjoy coming back here and playing, it's a familiar setting."
Klay Thompson added 26 points for the Warriors, and Draymond Green had 16 points, nine rebounds and six assists.
Kyle Lowry made six 3-pointers and scored a career-high 41 points for Toronto, which has dropped three of four. DeMar DeRozan recovered from an ugly 1-for-10 shooting performance in the first half, finishing with 16 points.
The Raptors also played a tight game at Golden State on Nov. 17, losing 115-110.
"We have to understand it's the best team in the league and we had them down to the last possession of both games," DeRozan said. "It just shows how good of a team we can be. We have to learn from it."
Lowry found Lucas Nogueira for an alley-oop dunk with 2:03 to go, tying it at 102. Green responded with two foul shots for Golden State. After DeRozan went 1 for 2 at the line, Curry hit two more free throws.
Curry and Thompson then combined to go 6 for 6 at the line in the final 18.2 seconds to help Golden State hang on.
"It seems like he gets 40 points quietly," Thompson said of Curry. "I know times that I've gotten 40 in the NBA, I've been very happy with it, but he just seems to not be content. His skill level and ability to shoot are unparalleled, and he's a truly special talent we might never see again."
—
Follow Dave Urbanski (@DaveVUrbanski) on Twitter