A standoff at a motorcycle shop in Wisconsin ended Saturday with one person dead, a police officer injured and one person in custody, authorities told the Associated Press.
Police said shots were reported at Eagle Nation Cycles on Neenah's Main Street shortly before 9 a.m. Saturday, the AP said, along with a report that hostages had been taken. Police responded and nearby homes and businesses in Neenah, about 85 miles northwest of Milwaukee, were evacuated, the AP added.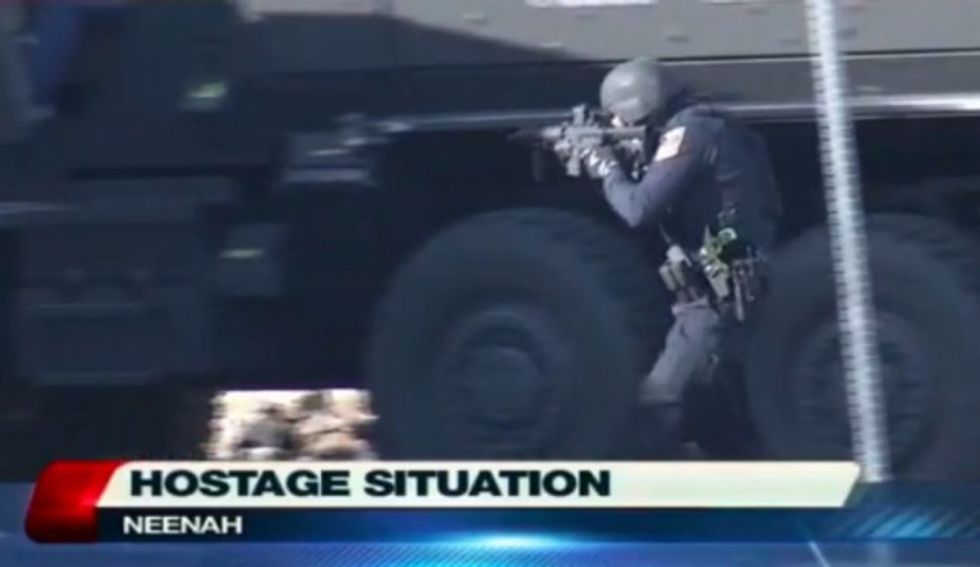 Image source: WGBA-TV
More from the AP:
Chief Kevin Wilkinson said at a briefing Saturday evening that during the hourslong standoff, a male came out of the building holding a weapon and did not comply with police instructions to drop it. He said the person was shot at by officers, but also may have been shot at from inside the building. That person was taken to a hospital and later died, police said.

"We're saddened by the loss of life in our community," Wilkinson said.

Authorities are not releasing his name or the name of the officer who was hurt. Wilkinson said the officer was shot at, but his helmet deflected the bullet. The injured officer was treated and released from Theda Clark Medical Center in Neenah, hospital spokeswoman Megan Mulholland said.

Wilkinson said negotiations continued over several hours, and a person was taken into custody around 1 p.m. Police are not releasing a name. Wilkinson said authorities were still uncertain what spurred the initial confrontation, or exactly how many hostages had been inside. He estimated between three and 10.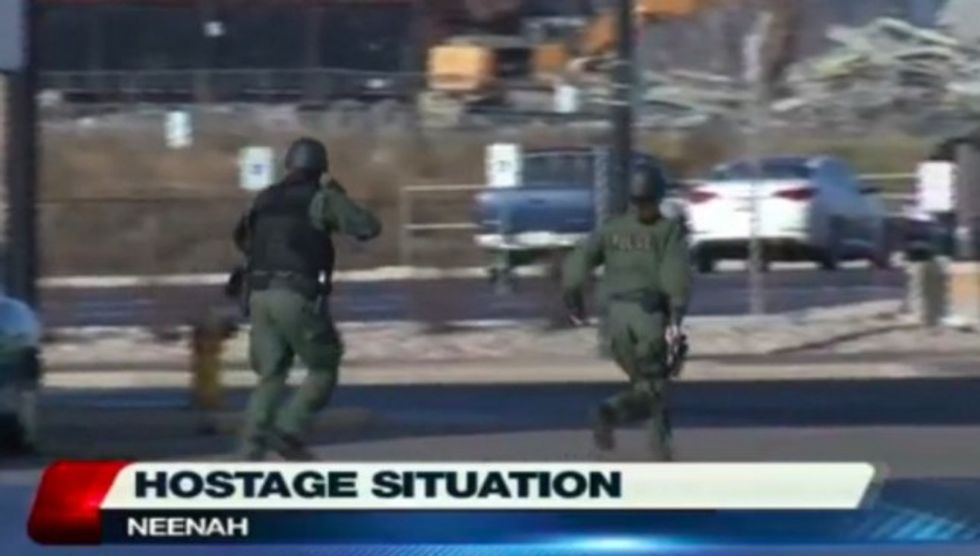 Image source: WGBA-TV
Neenah Mayor Dean Kaufert figured 30 shots were fired at the motorcycle shop, the AP said, citing Post-Crescent Media.
"It's every community's nightmare," Kaufert said.
The following news video ran before word broke that one person had died:
—
Follow Dave Urbanski (@DaveVUrbanski) on Twitter