After the Pittsburgh Steelers' Antonio Brown returned a punt 71 yards for a touchdown, salting away a his team's 45-10 win over the Indianapolis Colts Sunday night, he could not contain himself.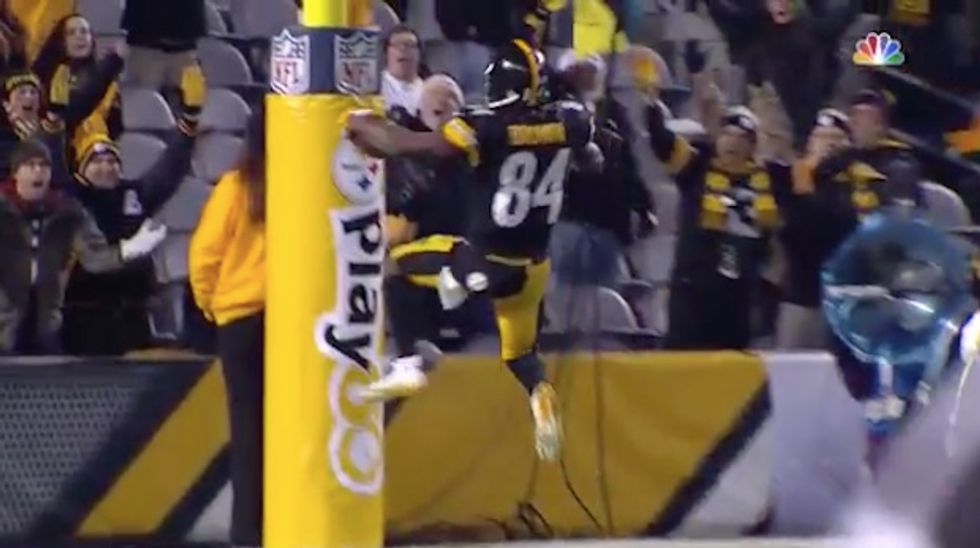 Image source: Twitter
Brown leapt into the air and straddled the goal post in the back of the end zone. Of course, his excessive celebration was immediately flagged by the refs for being "unsportsmanlike conduct."
NBC's announcers, Al Michaels and former NFL star Chris Collinsworth were stunned by Brown's move.
Your Antonio Brown goalpost celebration supercut pic.twitter.com/5G8KJAcVud

— The Cauldron (@TheCauldron) December 7, 2015
Here's a Vine video showing the leap from a variety of angles.
Within a matter of hours, the event was also given the "Super Mario" treatment.
.@AntonioBrown84 flagged for "goal post gymnastics" last night. Naturally, we Super Mario Bros'ed him for @SInow: pic.twitter.com/ooTmjT31pI

— The Cauldron (@TheCauldron) December 7, 2015
__
Follow the author of this story on Twitter and Facebook: