Voters with their own ideas of how the government should be run can now tell Republican presidential candidate Carly Fiorina almost directly.
CARLY For America, Fiorina's distinctly named political action committee, unveiled their partnership with Your Voice Your Ad — a company that allows voters to submit their videos or audio recordings directly to the site detailing how Fiorina should handle certain facets of the government.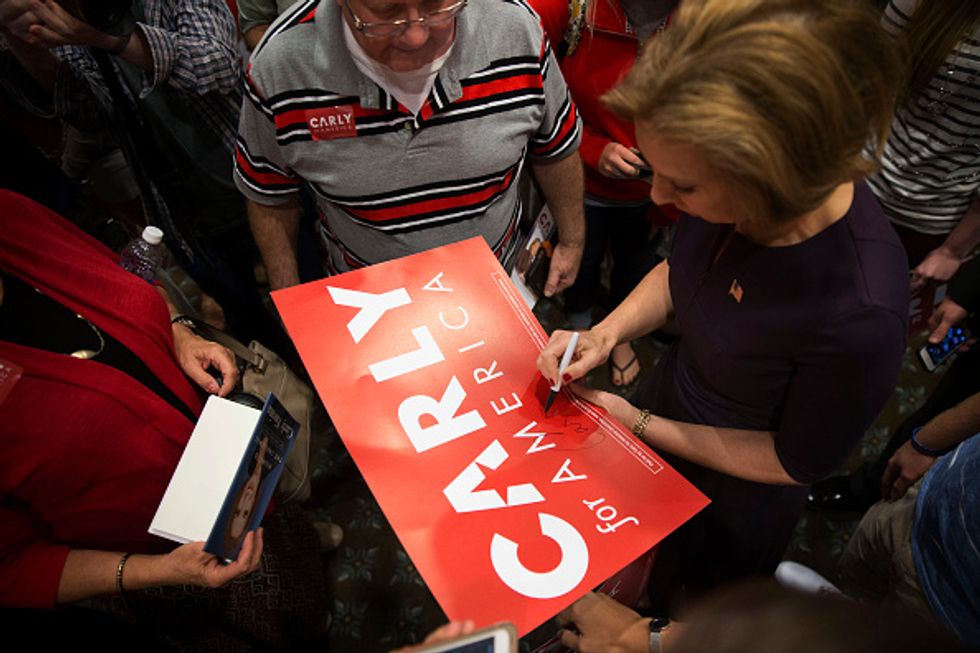 Carly Fiorina, former chairman and chief executive officer of Hewlett-Packard Co. and 2016 Republican presidential candidate, signs an autograph during the Quad Cities New Ideas Forum in Davenport, Iowa. (Daniel Acker/Bloomberg via Getty Images)
"People around the country are tired of the professional political class talking a good game but getting very little done to solve the major problems we're facing, like access to affordable quality health care, high taxes, unemployment and underemployment," Katie Hughes, communications director for CARLY for America, told TheBlaze Wednesday morning.
Hughes told TheBlaze that the recordings will be screened before being published to the site.
"Some of the best responses will be compiled and posted," she said.
Hughes added that as the videos and audio recordings will be posted to their social media sites — putting the information out there in plain sight — Fiorina should have a firsthand look and be able to address the ideas and concerns submitted by voters. According to the Federal Election Commission, candidates and their PACs are able to share information as long as that information is publicly available.
As Fiorina holds a town hall in New Hampshire Wednesday afternoon, the PAC's first video topic for voters is health care, specifically asking, "What are the problems with our current health care system and how can they be fixed?"
"It is refreshing to see presidential candidate Carly Fiorina give the citizens a voice," Your Voice Your Ad co-creater Jeff Weak said in a statement. "It shows she seeks to represent the people and their concerns at home."
"We don't need bullies, and we don't need more ineffective professional politicians with impressive titles," Hughes added. "What we need is a leader with real-world experience solving problems and consistently producing results. 
CARLY For American and the real-life Carly made headlines early in the campaign season for working close together — or as close together as they legally are allowed.
According to Real Clear Politics' aggregated polling data, Fiorina is polling at 2.5 percent — in seventh place among the GOP candidates.