A 2009 handwritten, signed letter from President Barack Obama to the mother of a wounded veteran will be auctioned off Thursday morning to help defray the vet's medical bills.
David McKimmey, a Bronze Star-awarded soldier, was severely burned trying to rescue two fellow soldiers from a burning truck. McKimmey's mother, Cherry, told the Washington Examiner that her son's request for needed treatment from a specialist was denied by the Veteran's Administration. Reportedly, the VA termed McKimmey's injuries as "minor," precluding him from access to the care his mother says he needs.
How "minor" were David McKimmey's injuries? The auction listing for the signed Obama note states that McKimmey was "70% disabled by an IED explosion which blew him from his vehicle ... and he received second and third degree burns to his face and hands along with the other injuries."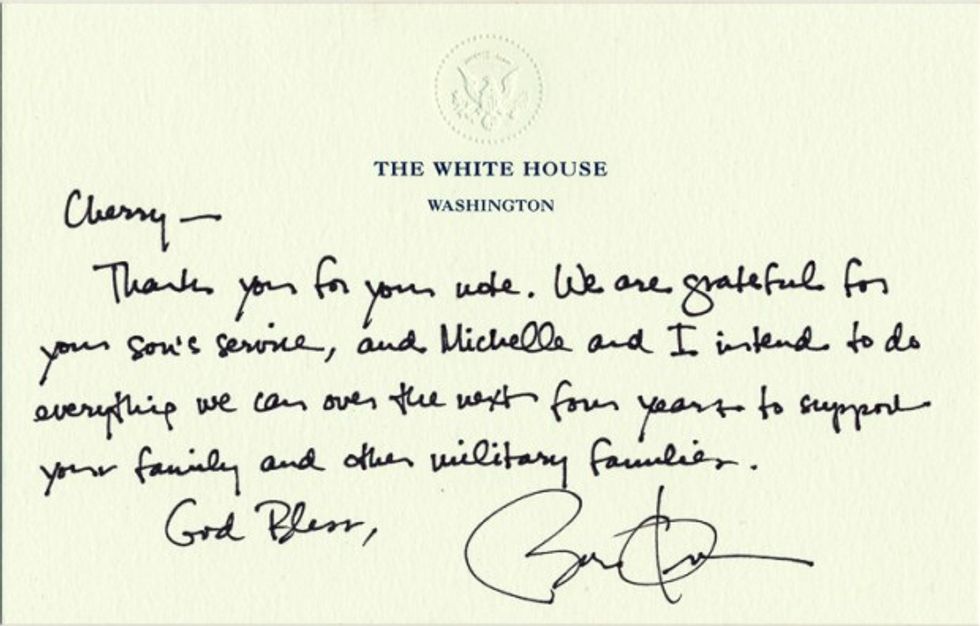 Image source: Alexander's Historical Auctions
"Something good might as well come out of that. It is doing no good lying in my drawer. It means absolutely nothing to me," the mother reportedly said.
The text of the note reads:
Cherry — Thank your for your note. We are grateful for your son's service, and Michelle and I intend to do everything we can over the next four years to support your family and other military families. God Bless, Barack Obama."
Alexander's Historical Auctions in Maryland is including the piece in a three-day auction event Thursday.
TheBlaze spoke with a representative from the auction house who said that the handwritten and signed letter by the first black President of the United States a "rare" item. Adding the note is undated, but the envelope that comes with it has a postal cancellation date of July 6, 2009.
Early estimates of value for the auction are $3,000-4,000.
TheBlaze will be on hand to witness the auction.
Update:
Just before noon on Thursday, Cherry McKimmey's letter from President Obama was auctioned off at Alexander's Historical Auctions in Chesapeake City, MD.
With no fewer than ten pre-qualified bidders on telephones and online, the bidding opened above the early estimate number and in less than a minute the price had eclipsed the $5,000 mark.
In the end, a final auction price of $5,500 was realized.
In addition to the money raised from the sale of the letter, the Christian crowdfunding site, Give Send Go has set up a page to accept donations on behalf of McKimmey.
Listen to Jacob Wells, Give Send Go's co-founder explain his company's mission on TheBlaze Radio.
Watch the auction as it happened.
__
Follow the author of this story on Twitter and Facebook: