DES MOINES, Iowa (TheBlaze/AP) — A prominent Iowa evangelical leader has endorsed Texas Sen. Ted Cruz for president. Cruz has been heavily courting churches and pastors in an effort to win the state's leadoff Republican caucuses.
Bob Vander Plaats announced his endorsement Thursday in Des Moines, calling Cruz a "serious leader for serious times."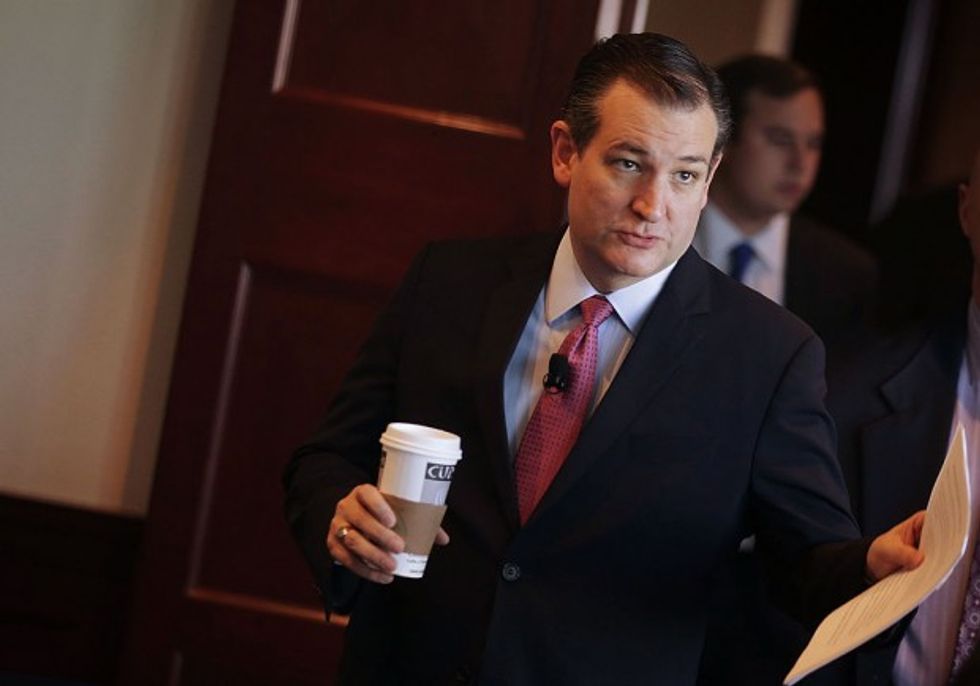 Sen. Ted Cruz (R-Texas) arrives to speak at the Heritage Foundation Thursday. (Alex Wong)
Vander Plaats stressed that this was a personal endorsement, not one on behalf of the Family Leader, the influential Christian conservative group he leads. The group's board has decided not to back a 2016 candidate formally, though several others affiliated with the organization joined Vander Plaats in endorsing Cruz.
Vander Plaats said that Cruz had built a strong Iowa organization and that he would work to help unite conservatives behind Texan's candidacy.
"When we make an endorsement, our goal is to make that endorsement stick," he said. "We will do whatever it takes to help him be successful to go up against Hillary Clinton," presuming that current Democratic front-runner Clinton will win the Democratic nomination.
Cruz said in a statement that the endorsement is "more evidence that our campaign has momentum and is gaining ground heading into the final weeks of the caucus."
Christian conservative voters traditionally wield significant influence in the Iowa caucuses because they tend to be organized and motivated to participate. Vander Plaats had been courted by many Republican candidates for that reason.
The Feb. 1 caucuses offer a candidate momentum, though they have not always been a strong predictor of the eventual nominee. Vander Plaats supported former Pennsylvania Sen. Rick Santorum in 2012 and former Arkansas Gov. Mike Huckabee in 2008. Both won the Iowa caucuses, but neither won the Republican nomination.
Recent polls suggest Iowa support has grown for Cruz, who has built a deep organization with endorsements from state and local officials and support in all 99 counties. He's also seeking backing from at least one pastor in every county and has been endorsed by Rep. Steve King (R-Iowa), a vigorous voice against illegal immigration who represents western Iowa, and conservative radio host Steve Deace.
In fact, a Monmouth University poll released on Monday found that Cruz is leading all other GOP candidates in Iowa. Trump is second, according to the poll, trailing Cruz by five percentage points.
—