The Year of Mercy, or Jubilee, occurs every 25 years in accordance with Catholic tradition. During this time, cathedrals around the world open holy doors and invite parishioners to repentance and pardons for sin.
On Wednesday, Pope Francis warned the faithful of crooks who might seize the holy period as an opportunity to profit from the pious.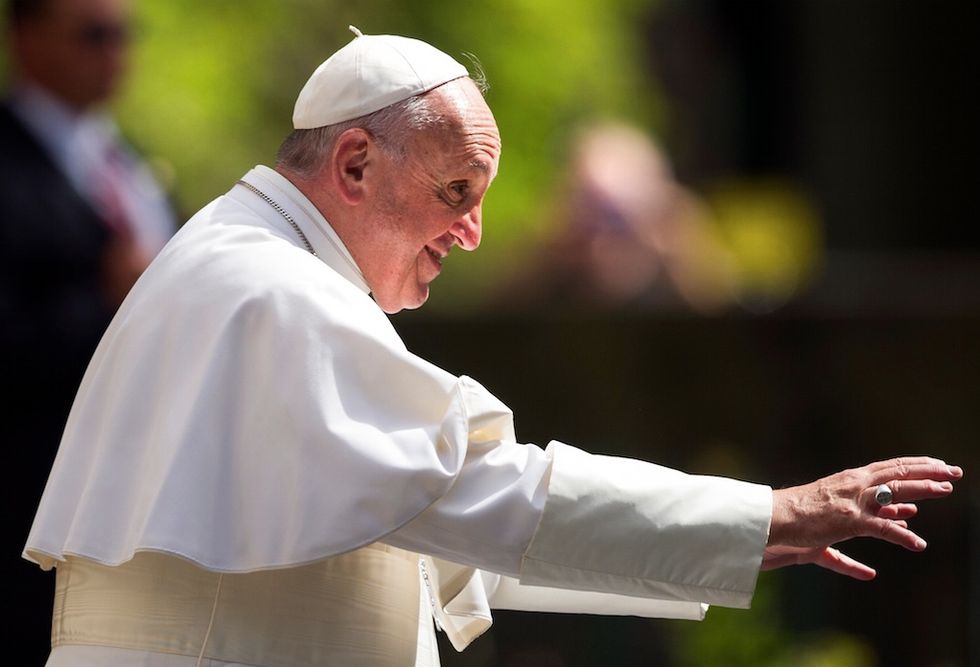 Pope Francis says salvation is a free gift that "cannot be bought." (AP Photo/Cliff Owen)
"Salvation cannot be paid for, salvation cannot be bought. Jesus is the door, and Jesus is free of charge," the pope said during his weekly address Dec. 16.
The pontiff's warning comes two days after Rome's financial police seized fake parchments — worth an estimated 70,000 euros — that were sold at a souvenir shop near the Vatican. According to a Dec. 14 Associated Press report, police seized 3,500 parchments that were being sold as apostolic blessings that commemorate marriages, baptisms and Holy Year pilgrimages.
Jubilee is a special time for Catholics, dedicated to the remission of sin and the pardoning of debts. Pope Francis inaugurated this year's Jubilee on Dec. 8 with a special mass in St. Peter's Square where an estimated 50,000 people congregated to hear the pope speak. The pope led the group in prayer, during which he said, "You cannot conceive of a true Christian who is not merciful, just as you cannot conceive of God without his mercy."
Calling the Holy Door at St. Peter's Basilica a symbol of Jesus Christ, Pope Francis explained that pilgrims passing through it in Rome and in churches around the world are making a visible sign of trust in him "who did not come to judge but to save."
Earlier this year, the pope announced that during the Year of Mercy, the Church would offer special pardons for women who have undergone abortions. The policy change makes it easier for women seeking forgiveness for abortion, a sin punishable by excommunication, to do so through a priest, rather than being compelled to enter a complex system that involves bishops, priests and experts.
For the man popularly dubbed the "People's Pope," mercy is "the key word of the Gospel" and the church should guard against those wishing to pervert its free gift of grace.