Bernie Sanders' presidential campaign has been suspended from accessing the Democratic National Committee's voter database when at least one of Sanders' staffers looked at rival candidate Hillary Clinton's private campaign data following a technical glitch, the New York Times reported.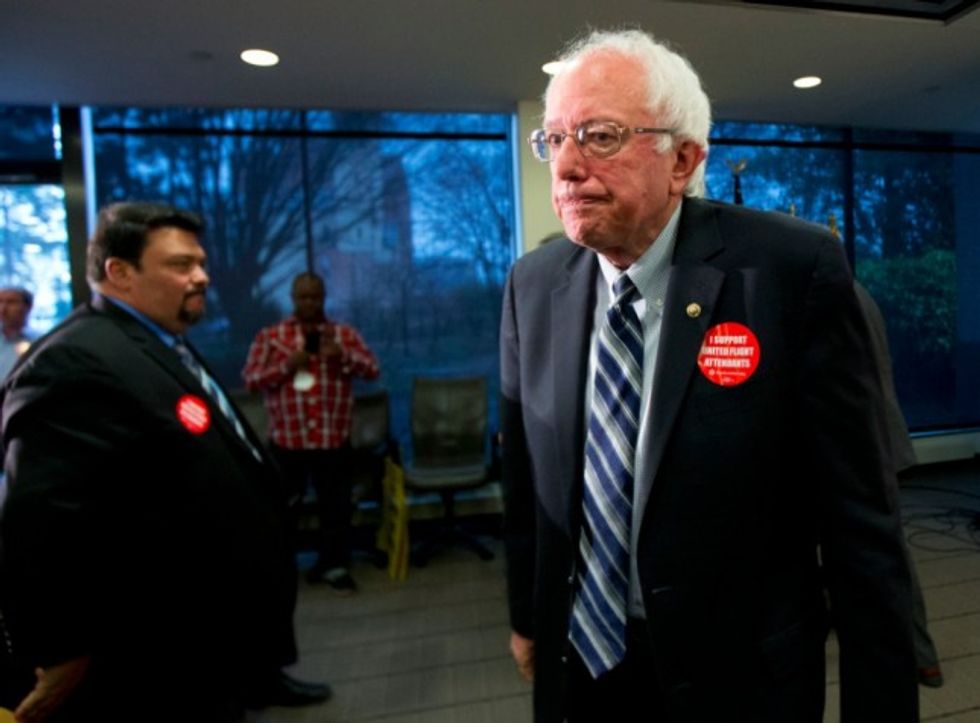 Democratic presidential candidate Sen. Bernie Sanders, I-Vt., leaves a news conference where he was endorsed by members of the Communication Workers of America (CWA), Thursday, Dec. 17, 2015, at the CWA's headquarters in Washington. (AP Photo/Manuel Balce Ceneta)
The Times called the punishment "a major blow" to Sanders, as the DNC voter database is used strategically by campaigns. Sanders will face Clinton in a debate Saturday.
More from the Times:
The breach occurred after a software problem at the technology company NGP VAN, which gives campaigns access to the voter data. The problem inadvertently made proprietary voter data of Mrs. Clinton's campaign visible to others, according to party committee officials.

The Sanders campaign said that it had fired a staff member who breached Mrs. Clinton's data. But according to three people with direct knowledge of the breach, there were four user accounts associated with the Sanders campaign that ran searches while the security of Mrs. Clinton's data was compromised.
The Washington Post was first to report the incident.
Sanders' campaign spokesman Michael Briggs said in a statement to the Times that the vendor NGP VAN continues to "make serious errors."
"On more than one occasion, the vendor has dropped the firewall between the data of different Democratic campaigns," Briggs told the paper. "Our campaign months ago alerted the D.N.C. to the fact that campaign data was being made available to other campaigns. At that time our campaign did not run to the media, relying instead on assurances from the vendor."
"Unfortunately, yesterday, the vendor once again dropped the firewall between the campaigns for some data," Briggs added. "After discussion with the D.N.C., it became clear that one of our staffers accessed some modeling data from another campaign. That behavior is unacceptable and that staffer was immediately fired."
Briggs also told the paper the errors also "made our records vulnerable." The Times reported that "despite repeated requests, the Sanders campaign did not provide information about the other user accounts that were involved."
"This was an isolated incident, and we're conducting a full audit to ensure the integrity of the system and reporting the findings to the D.N.C.," Stu Trevelyan, NGP VAN's chief executive, told the Times.
"The D.N.C. immediately directed NGP VAN to conduct a thorough analysis to identify any users who accessed the data, what actions they took in the system, and to report on the findings to the party and any affected campaign," the committee's communications director, Luis Miranda, told the paper.
---