LJUBLJANA, Slovenia (TheBlaze/AP) — Slovenians rejected same-sex marriage by a large margin in a referendum on Sunday, according to near-complete results, in a victory for the conservatives backed by the Catholic Church in the ex-communist EU nation.
The results released by authorities show 63.5 percent voted against a bill that defines marriage as a union of two adults, while 36.5 percent were in favor.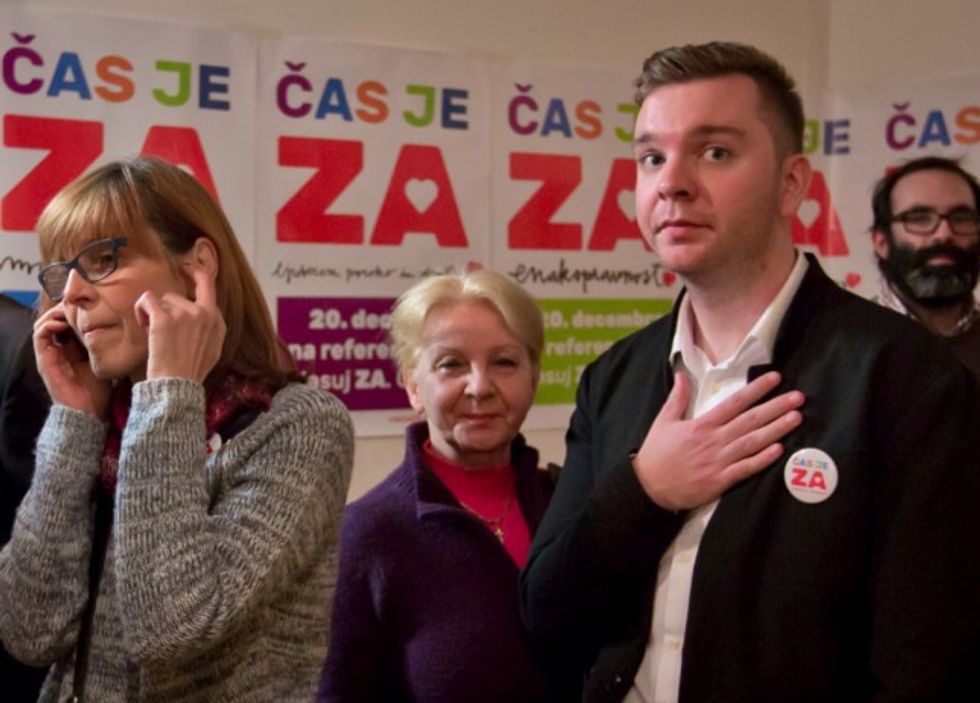 Pro-gay rights activists wait for the exit polls results following same-sex marriage referendum in Ljubljana, Slovenia, Sunday, Dec. 20, 2015. (AP Photo/Darko Bandic)
Slovenia's left-leaning Parliament introduced marriage equality in March, but opponents pushed through a popular vote on the issue. The "Children Are At Stake" group has collected 40,000 signatures to challenge the changes before any gay couples were able to marry.
"This result presents a victory for our children," said Ales Primc, the group's leader.
Ljudmila Novak, from New Slovenia, described the outcome as a "clear defeat" of the leftist government, which backed the changes.
Supporters of same-sex marriage have called for Slovenia to join Western European nations that have allowed more gay rights. Conservatives and the right-wing opposition have campaigned on traditional family values, arguing that marriage equality paves the way for gay and lesbian couples to adopt children.
Although Slovenia is considered to be among the most liberal of the ex-communist nations, gay rights remain a contentious topic in the predominantly Roman Catholic nation of 2 million.
Voters in the former Yugoslav republic rejected granting more rights to gay couples in a referendum in 2012.
Violeta Tomic, a lawmaker from the United Left party which initially put forward the bill, said referendum results presented a temporary setback only.
"It's not over yet. Sooner or later the law will be accepted," she said.
The Slovenia vote illustrates a cultural split within the European Union in which more established western members are rapidly granting new rights to gays, while eastern newcomers entrench conservative attitudes toward the lesbian, gay, bisexual and transgender community.
Igor Zagar, a 55-year-old professor from the capital, Ljubljana, said he voted in favor of marriage equality to "support the secular state and against the interference of the church into political issues."
Gregor Jerovsek, a 40-year-old mechanic from Ljubljana, said he believed that "the family should not be a field for experimentation."
"A traditional family should remain the key value of our society," he said.
The following news report aired before the preliminary results were revealed: