At just 2-years-old, Kellen Findley has experienced an overwhelming amount of medical problems.
Diagnosed with the rare stage 3 embryonal rhabdomyosarcoma (striated muscle) cancer, Kellen needs — so far — 42 cancer treatments.
And so 42 custom-designed guns have been produced by Henry Repeating Arms manufacturing company that will be auctioned. The proceeds from the firearms, custom Henry Golden Boys, will be given to the Findley family to help with medical expenses and travel costs as the family lives in Dozier, Alabama, but Kellen receives medical care more than 160 miles away in Birmingham.

Henry Repeating Arms is auctioning 42 custom-designed guns to raise money for a 2-year-old diagnosed with a rare form of cancer. (Image provided to TheBlaze)
"We have been continually amazed by the generosity and devotion to helping others that has been shown by America's gun owners, particularly the more than 3 million dedicated GunBroker.com users," Henry Repeating Arms President Anthony Imperato said.
The specially designed guns sold from one of the leading rifle manufacturers on GunBroker.com will feature the serial number KELLEN01 and "Fight Like a Kid" lettering on the butt stock. The guns will start at $420 with a special "buy now" price of $4,200 for the next two weeks, according to its description on the auction site.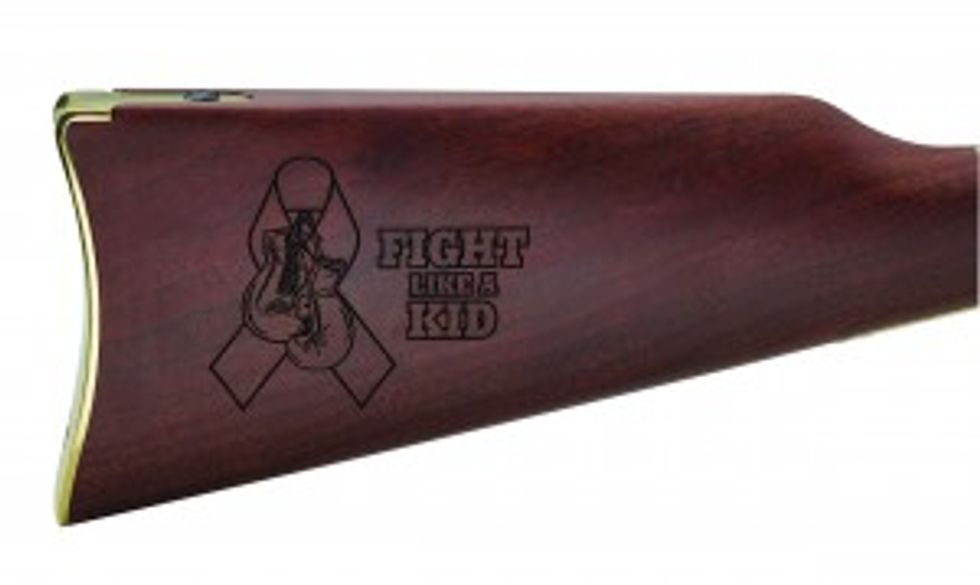 Image provided to TheBlaze.
"When I suggested the $4,200 'Buy Now' price, a few folks thought I was overly optimistic," Imperato said. "You just watch, I told them."
The highest bidders will receive certificates of authenticity with the guns as well as a letter of appreciation from Imperato.
A spokeswoman representing Henry Repeating Arms, told TheBlaze Monday morning that she expects Henry Repeating Arms to raise between $42,000 and $50,000 for the Findleys based on similar donations in the past.
The spokeswoman said that when Kellen was born, he and his twin brother Kaylor were diagnosed with twin-to-twin transfusion syndrome. As Kaylor had taken much of the blood during their birth, Kellen's kidneys began to fail. Kellen spent eight days in the neonatal intensive-care unit and received blood transfusions. Kaylor spent 31 days at the NICU in the Children's Hospital in Birmingham.
In September, Kellen complained of stomach pains — causing his parents to take him to the emergency room. When a mass was found in his stomach, Kellen was then airlifted to the Children's Hospital where his family learned after several days that he had a malignant tumor.