A third-party White House run by Donald Trump would be an absolute nightmare for the GOP, a new Public Policy Polling survey found.
The poll, which was shared with Business Insider, found that in general election match ups, Hillary Clinton would beat the top Republican candidates if Trump were running an independent campaign.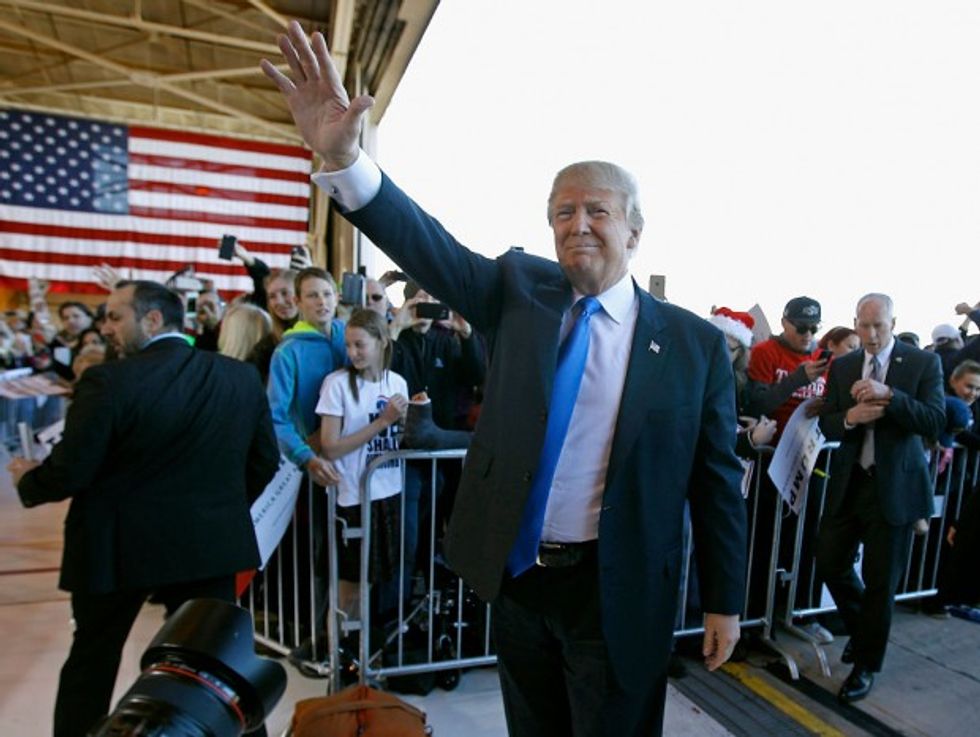 Donald Trump waves to the crowd as he arrives at a campaign event at the International Air Response facility Dec. 16. (Getty Images/Ralph Freso)
In a matchup of Texas Republican Sen. Ted Cruz, Trump and Clinton, the survey found that Clinton would win with 42 percent of the vote. Cruz would come in second with 26 percent, while Trump would take 23 percent of the vote.
If Florida Sen. Marco Rubio were the Republican nominee, the poll found that Clinton would win again, this time with 41 percent of the vote, while Rubio would garner 27 percent, with Trump taking 24 percent.
However, in head-to-head match ups, Trump would lose to Clinton, 46 percent to 43 percent, the poll found. Cruz would also face the same fate. On the other hand, Rubio would narrowly edge Clinton, 44 percent to 43 percent.
The poll confirms the fear many Republican pundits have expressed during Trump's candidacy, as the billionaire businessman has threatened an independent run several times, despite signing the GOP's loyalty pledge.
"The GOP needs to be very careful not to offend him and cause him to change his mind about ruling that out," PPP director Tom Jensen said, "because it could pretty much kill their hopes."
Trump's most recent promise to stay committed to the Republican Party came during last week's Republican debate in Las Vegas.
—
Follow the author of this story on Twitter and Facebook:
[facebook //www.facebook.com/plugins/like.php?href=