The mayor of a small town in northern Wisconsin is being given an ultimatum by his city council after he posted on Facebook that President Barack Obama is a "Muslim" who, along with first lady Michelle Obama, is "destroying the fabric" of American democracy.
Mayor Bruce Hagen of Superior is being asked by five of his city council members to retract the post, resign or face a citywide recall vote.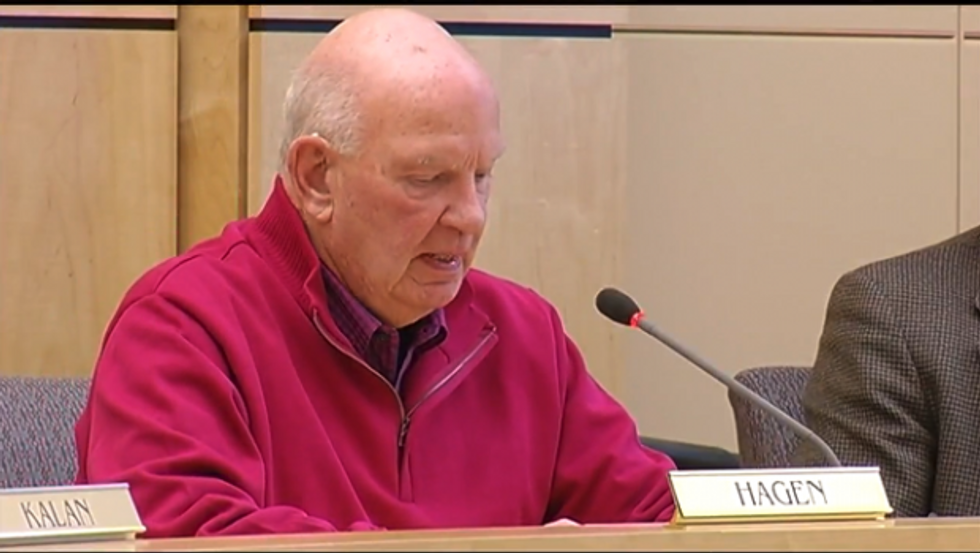 Image credit: WDIO-TV/screenshot
The post, which was a comment on a photo of Michelle Obama that a friend of Hagen's posted to his Facebook wall, read, "Unbelievable! She and her Muslim partner have destroyed the fabric of democracy that was so very hard fought for!"
In an interview with WDIO-TV, Hagen said that he sticks by his comments, saying they are an expression of free speech. He also said that he does not believe Obama is a Christian. His council members, on the other hand, believe the comments were inappropriate.
"Quite simply, these are really inappropriate comments," Councilman Graham Garfield said. "How can we have a non-partisan elected mayor who has to work with elected officials, including the president's office, making these comments?"
The comments even caught the attention of Wisconsin state Rep. Nick Milroy (D), who called Hagen's comments "callous" and "untrue."
While a handful of council members are calling Hagen out, Superior City Council President Tom Fennessey said that Hagen's comments are personal and do not relate to any business with the city.
Hagen is currently serving his fifth term as mayor of Superior.
(H/T: WDIO-TV)
—
Follow the author of this story on Twitter and Facebook:
[facebook //www.facebook.com/plugins/like.php?href=