If you live in the Eastern United States, odds are you didn't wake up to a 'White Christmas' Friday morning.
That's because the eastern third of the U.S. continues to see record warmth, shattering records from Columbia, South Carolina, to Boston, Massachusetts. On Christmas Eve, one city even broke their all-time record high-temperature for December.
"One of the most impressive records on Christmas Eve occurred in Burlington, Vermont, when the city set their all-time December high temperature," AccuWeather meteorologist Brian Lada said. Thursday's high of 68F in Burlington shattered the previous daily high-temperature record of 51 degrees.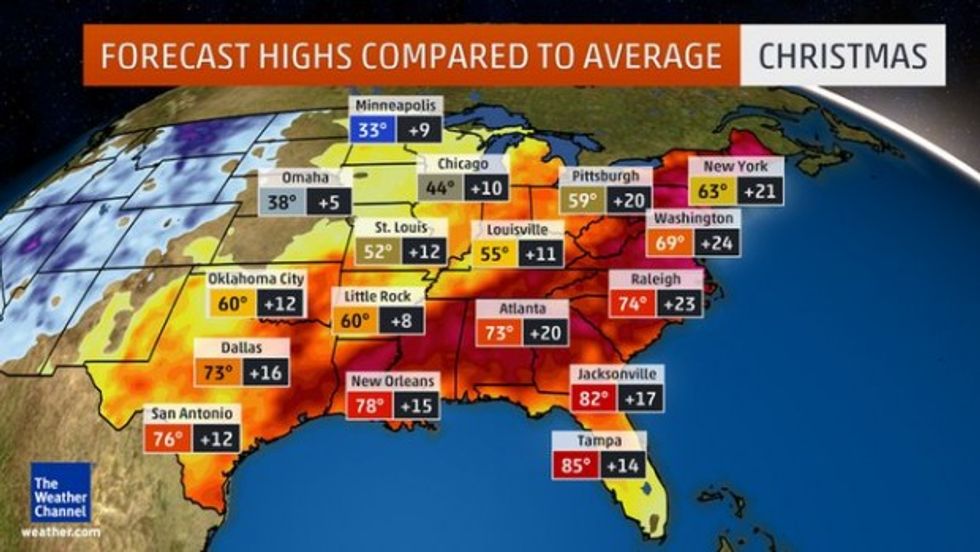 Image credit: The Weather Channel 
Other cities that broke Christmas Eve records include: Boston, New York City, Philadelphia, Washington, D.C., Atlantic City, N.J., Charlotte, N.C., Columbia, S.C., Norfolk, Va., and Syracuse, N.Y.
Meteorologists are attributing the record warmth to the jet stream locking the supply of arctic air in the Western U.S. and Canada.
"That cold air is just not making it down … to where it typically can get this time of year," Weather Channel meteorologist Chris Warren told NBC News, adding that the current weather pattern is one much akin to summer.
Temperatures are expected to be unseasonably warm through the weekend, according to Accuweather, only until a cold-front engulfs the eastern U.S. early next week.
"New York City and Baltimore are some of the cities that could break records yet again on Sunday before a cold front washes away the warmth," Lada said.
—
Follow the author of this story on Twitter and Facebook:
[facebook //www.facebook.com/plugins/like.php?href=