CLEVELAND (TheBlaze/AP) — Browns linebacker Armonty Bryant will not play in Sunday's game at Kansas City after he and safety De'Ante Saunders were arrested Christmas morning following a traffic stop.
Bryant, who has a history of legal troubles, is not traveling with the team so he can tend to the legal matter. Browns general manager Ray Farmer issued a statement on Saturday condemning the players' behavior.
"These are charges that we take very seriously," Farmer said. "The importance of responsible decision-making is something we continually stress to all members of our organization, which makes it extremely disappointing that these two individuals would put themselves in this situation by making such poor decisions."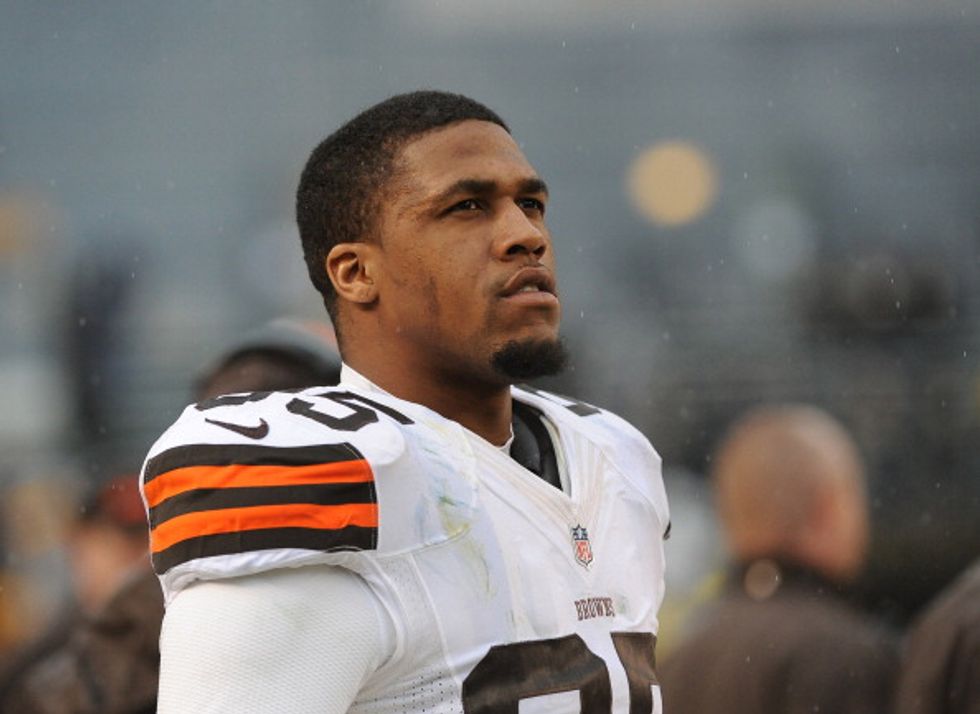 Defensive lineman Armonty Bryant #95 of the Cleveland Browns looks on from the sideline during a game against the Pittsburgh Steelers at Heinz Field on December 29, 2013 in Pittsburgh, Pennsylvania. (Photo by George Gojkovich/Getty Images)
Farmer added the incident is subject to the NFL's personal conduct policy.
According to WOIO-TV, Saunders, who was driving, was arrested for operating a vehicle while intoxicated and speeding around 2:15 a.m. It was not clear why Bryant was arrested.
Saunders, 23, refused a breath test, according to the citation, meaning he automatically loses his license for a year.
In addition, a gun was confiscated from Saunders' car, said patrol spokesman Lt. Craig Cvetan. Information about the gun will be forwarded to the Cuyahoga County Prosecutor's Office for potential charges, since Saunders does not have a concealed weapons permit, Cvetan said.
Saunders is scheduled for a 9:30 a.m. hearing Monday in Berea Municipal Court.
Both men were later released to a friend, according to WOIO.
Browns coach Mike Pettine gave his players the holiday off so they could be with their families.
Bryant is second on the team with 5 1/2 sacks this season, his third with the Browns. The 25-year-old was drafted in the seventh round in 2013 from East Central Oklahoma, where he had some off-field problems. He was arrested for driving under the influence less than a week after Cleveland drafted him. He was also suspended for three games in college for selling marijuana to an undercover officer.
Saunders has been on Cleveland's practice squad.
The Browns (3-11) will visit the Chiefs on Sunday before ending the regular season at home against Pittsburgh on Jan. 3.