A few days after Christmas, Miami Dolphins free safety Walt Aikens was relaxing at his home when his apartment's front desk man called, struggling to explain a strange package that had just been left in his name.
Curious, Aikens headed downstairs to retrieve the mysterious parcel. The package, decorated in Christmas ribbons and bows, was "from some lady at Walmart," the front desk man haltingly explained Monday afternoon.
"Then it hit me," Aikens told TheBlaze in an interview later that day.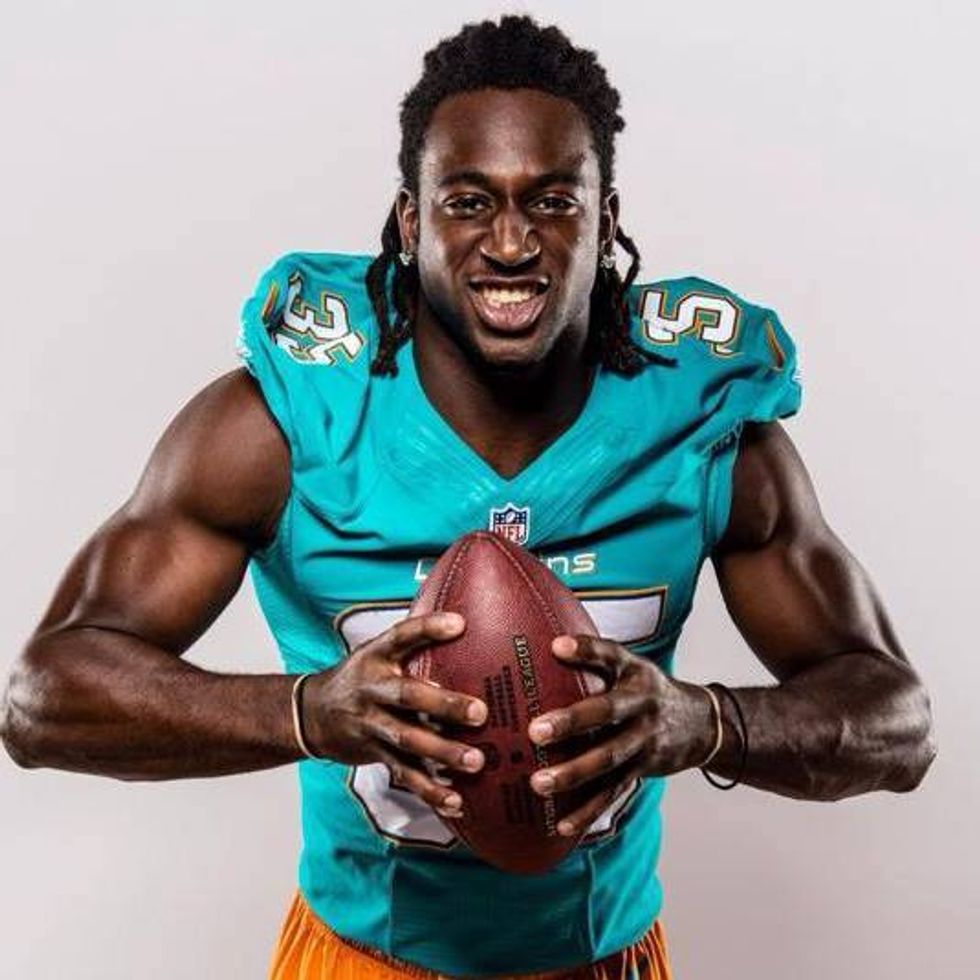 Miami Dolphins safety Walt Aikens. (Image via Facebook/Walt Aikens)
Only a couple of days prior, on Christmas Eve, Aikens went to the retail superstore for wrapping paper and other supplies. Instead of grabbing a shopping cart, Aikens said he was "being the macho man that I am" and tried to carry everything in his arms.
It was while he was waiting in a long holiday line that an elderly woman offered him her cart as she saw that he was struggling to balance all of his items. At first Aikens refused, but when she asked again, a few minutes later as he was still struggling, he relented.
"This time I accepted because the line was moving nowhere near as fast as it was when I had first gotten in line," Aikens said. "I was very thankful and appreciated her generosity."
Aikens said he noticed her cart was filled with chocolate chips, cake batter, sprinkles and baby clothes, and the 24-year-old inferred that she was going to bake Christmas cookies for her grandchildren. As it was Christmas — and in spite of the woman's protestations — Aikens paid for the woman's items along with his own.
He told TheBlaze that the woman simply asked for his address in return, having no idea that he was a professional athlete, and promised to send him cookies as she said no one had ever been that nice to her — "especially in Florida" — before.
Surprising Aikens, the woman at the store kept true to her promise and had a box of homemade baked goods delivered to him.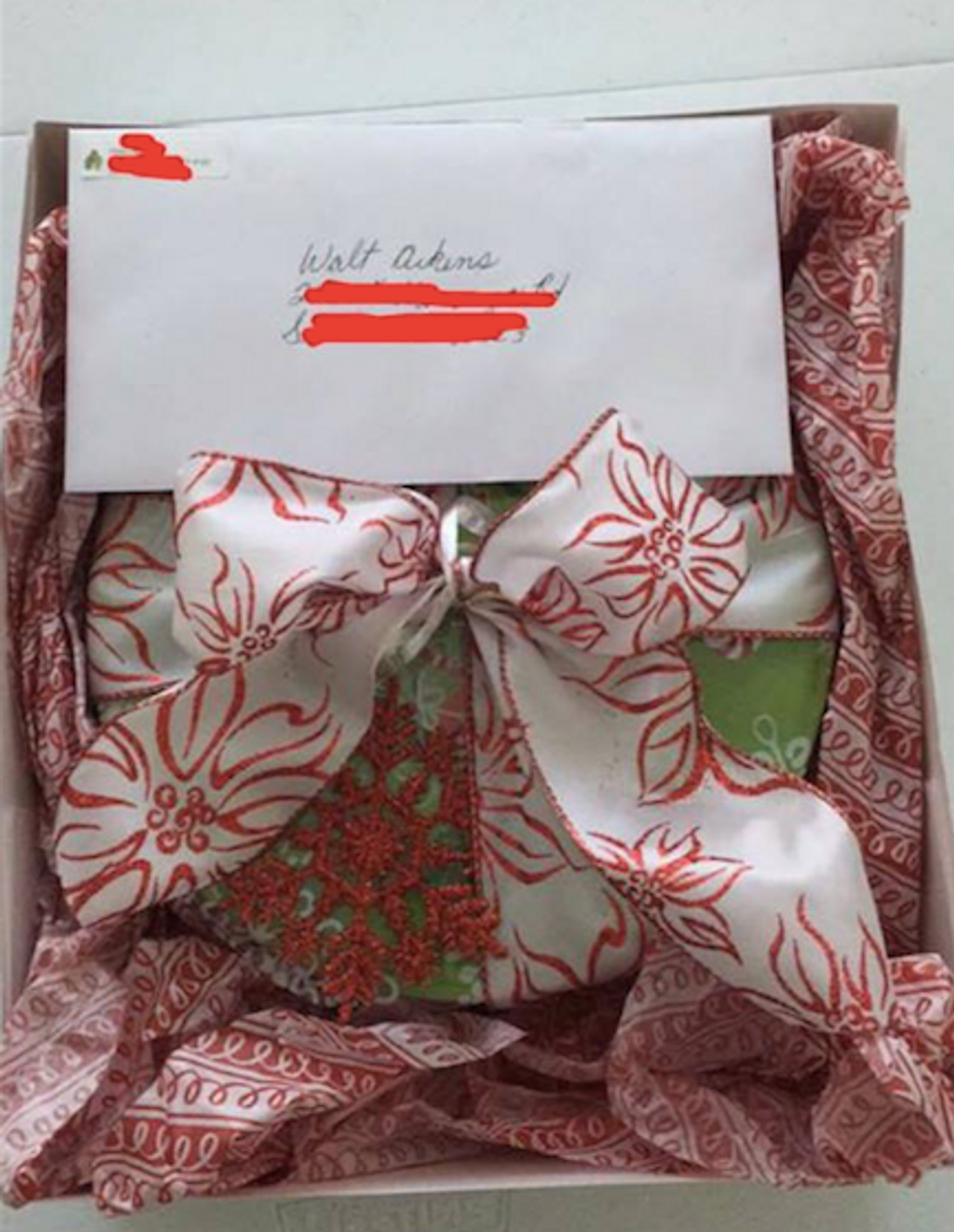 Image provided to TheBlaze
"I'm not sure if you remember me," the woman's card to Aikens began.
"I just wanted to tell you again, thank you so much. Your mom I'm sure is very proud of you," she wrote. "Not only are you a professional football player for the Miami Dolphins, but most of all, a wonderful kind person, too."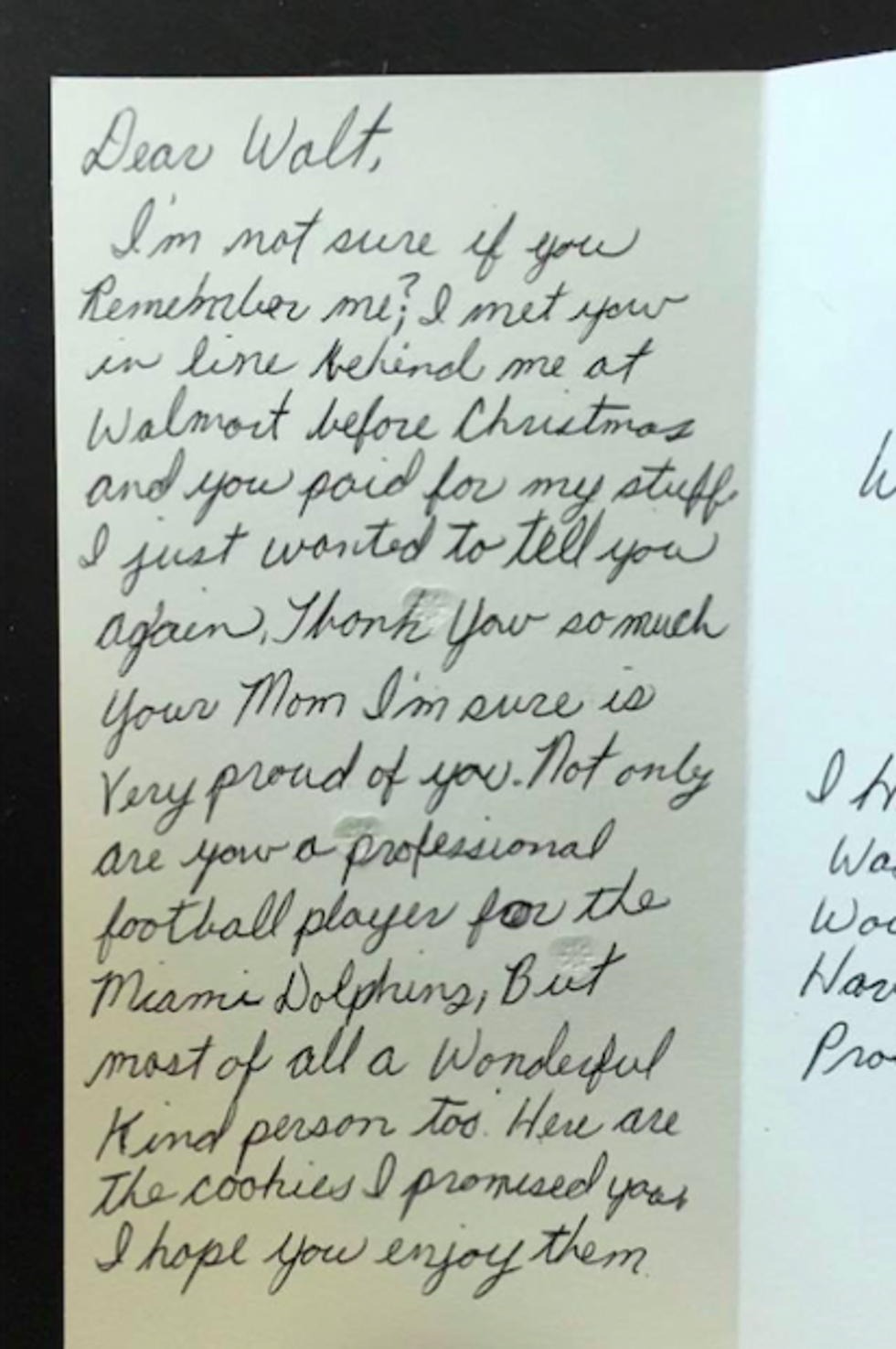 Image provided to TheBlaze
"Today when I got this package of cookies and cakes and other treats hand delivered from the lady, it caught me off-guard and showed me that manners and being kind to others can go a long way. This really made my day because I had forgotten about her saying she was gong to send me cookies," Aikens said. "Honestly, I was just being nice and did not expect any favors in return because treating people the right way is just how my parents raised me. Also, I did not tell the woman I played professional football or anything, so she was just being nice to a complete stranger and cared enough to uphold her side of the bargain and carry out what she would do."
Aikens said he wanted to thank the woman and her husband "for being so thoughtful."
"I hope you and your family had a Merry Christmas and have a Happy New Year," he said.
Aikens was drafted by the Dolphins in 2014 after playing for Liberty University.
—