The New York state senators from Harlem and Queens are endorsing Vermont Sen. Bernie Sanders over Hillary Clinton in the race for the Democratic presidential nomination, the New York Daily News reported.
The New York boroughs have been seen as a reliable support base for the Democratic former Secretary of State, who previously represented New York in the U.S. Senate.
But Democratic state Sens. Bill Perkins and James Sanders Jr. will endorse the Vermont senator in the 2016 race, columnist Shaun King reported, adding:
The endorsements of local politicians, who often have the best ground operations and better connections with actual voters, are highly coveted in a race like this.

Harlem, maybe above anywhere else, has been considered not only as a Hillary Clinton stronghold, but as a Clinton family stronghold. After his presidency, Harlem is where Bill Clinton opened up his first office and called his home base for years. Whether you see what happened next as revitalization or gentrification, his presence had a significant impact on Harlem.
Perkins, of Harlem, was the first New York senator to endorse then-Sen. Barack Obama in May 2007, "and he did it in a climate in which virtually every other leader around him already endorsed Clinton," King wrote.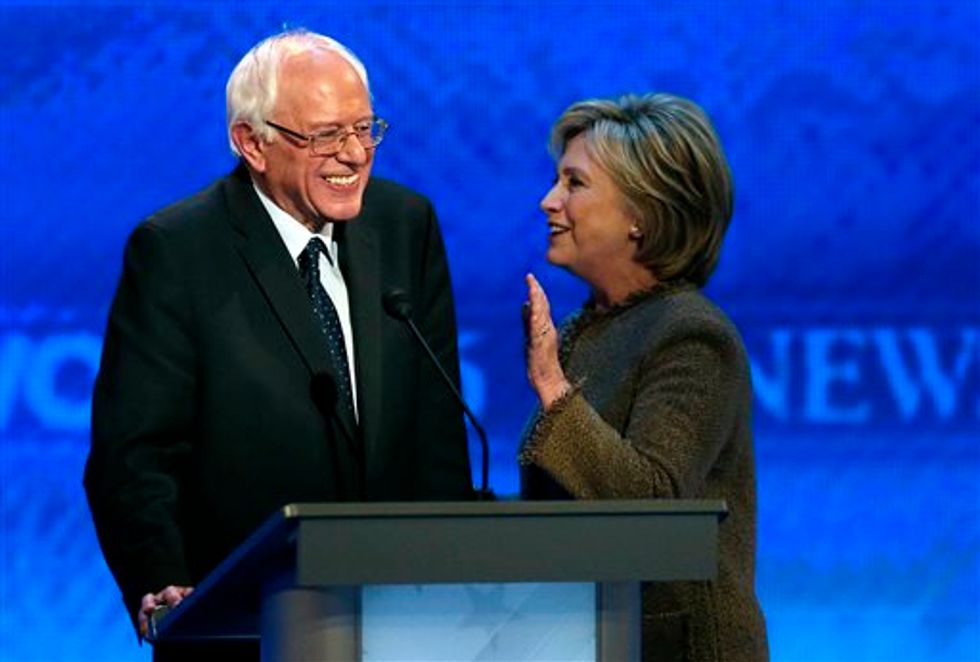 Vermont Sen. Bernie Sanders and Hillary Clinton interact at a debate Dec. 19 in Manchester, New Hampshire. (AP/Jim Cole)
King concluded his column by saying:
As I speak to progressive leaders across the country, I see a consistent conflict. Most of them seem to prefer Bernie Sanders over Hillary Clinton and feel that his values better match their own, but they aren't sure if an endorsement of Bernie for president is a waste since it will be such an uphill battle for him to actually win the nomination. When local New York politicians like Perkins and James Sanders make the plunge, it may loosen the lid on the jar for others who are a bit nervous about making the plunge.

... Sanders is still a longshot, but in a complicated political climate, it seems like his odds may just be getting a little better.