Israelis combed the streets of Tel Aviv Friday afternoon to help find a shooting victim's dog who ran away the moment a gunman started firing at diners in a pub, killing two men.
The brother of one of the wounded, Ido Lazan, posted an appeal on Facebook asking for help to find his brother's dog Django, because he knew the first thing his brother would ask upon waking up was the whereabouts of his pet.
"My brother was wounded in the incident in Tel Aviv. He was released from the operating room and is being well-cared for, he is in stable condition and we are optimistic," the brother, Tsahi Lazan posted on Facebook along with a photo of the dog.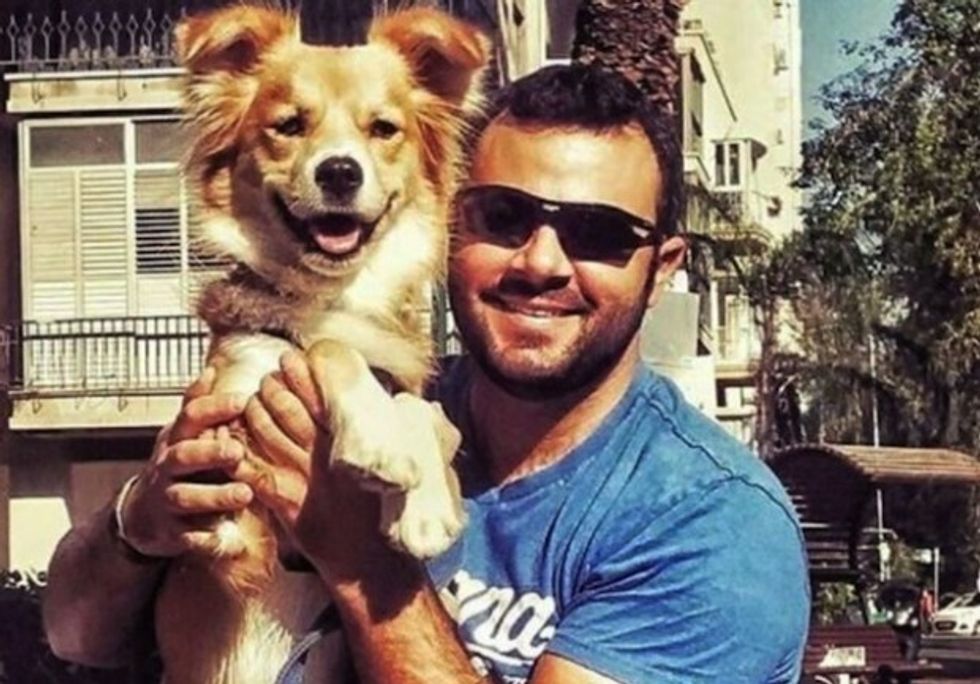 Django and Ido Lazan who was wounded in Friday's attack. (Image source: Facebook)
"What we are missing at the moment is help in finding his dog, Django, who was with him at the scene. I would be grateful for your help in sharing this post and contacting me accordingly. Whoever is in the Dizengoff [Street] area, please look out," he wrote in a Facebook post that was widely shared and reposted on Israeli media and animal welfare sites.
עדכון: חברים, תודה על ההיענות ולכל מי שיצא וסייע בחיפוש. ג'אנגו נמצא והוחזר אלינו. אני בטוח שעידו ירצה להודות לכל אחד מכ...

Posted by Tsahi Lazan on Friday, January 1, 2016
The Jerusalem Post reported that before he was taken to the hospital, Ido asked friends to find his dog.
Tsahi Lazan said that his brother was on his way to a birthday party when he happened to find himself "coincidentally … at the wrong place at the wrong time," Israel's Ynet reported.
Django "was with him at the scene and disappeared," Tsahi Lazan told Ynet. "We didn't know where he'd disappeared to and put up a Facebook post that ended up going ultra-viral."
Simultaneously just hours after the attack, Tel Aviv resident Uriah Ron found a dog cowering in the stairwell of an apartment building, Ynet reported.
"I went to visit a friend who lives two buildings away from the attack on Dizengoff Street and saw a ginger dog in the stairwell, wet and shaking from the cold," Ron said.
"I thought someone might have gone upstairs and left him there for a few minutes. I went home after the visit and when I arrived at Gordon Street I asked myself, what was that dog doing there? I returned to the building and it seemed strange that there was a dog there and no one had touched him or was watching him," Ron said.
Ron called a friend who supports animal welfare causes, the Israeli news site reported.
"She immediately sent Ido's brother's post to me and I realized it was the same dog," Ron said.
"I contacted a friend who knows the family, and after a few minutes someone arrived and took the dog to be examined. He was so hungry, cold, miserable and exhausted that he ate cat food," Ron added.
"I want to say thank you to all the people who went outside for look for him. We did it because we knew the first thing Ido would do when he woke up was to ask where Django was," Tsahi Lazan wrote in an updated post.
"I'm sure Ido will want to thank you all when he recovers," Tsahi Lazan wrote.
Two men were killed and two others were critically wounded when a gunman fired multiple rounds into a Tel Aviv pub and then out into the street Friday. Israeli police said the suspect is an Arab citizen of Israel who, as of this writing, was still at large. As they searched for the gunman, Israeli police have not said if Palestinian nationalism was a motivation for the attack.
(H/T: Jerusalem Post)