Amid peaceful protests and the occupation of a national wildlife refuge building in Oregon, Glenn Beck said Monday that ranchers Steven and Dwight Hammond should not go to jail again but the judge who originally sentenced them should.
"They received their sentence. They went and they served their sentence. They paid their due, as according to a judge," Beck said on The Glenn Beck Radio Program. "If the judge broke the law, then the judge needs to go to jail."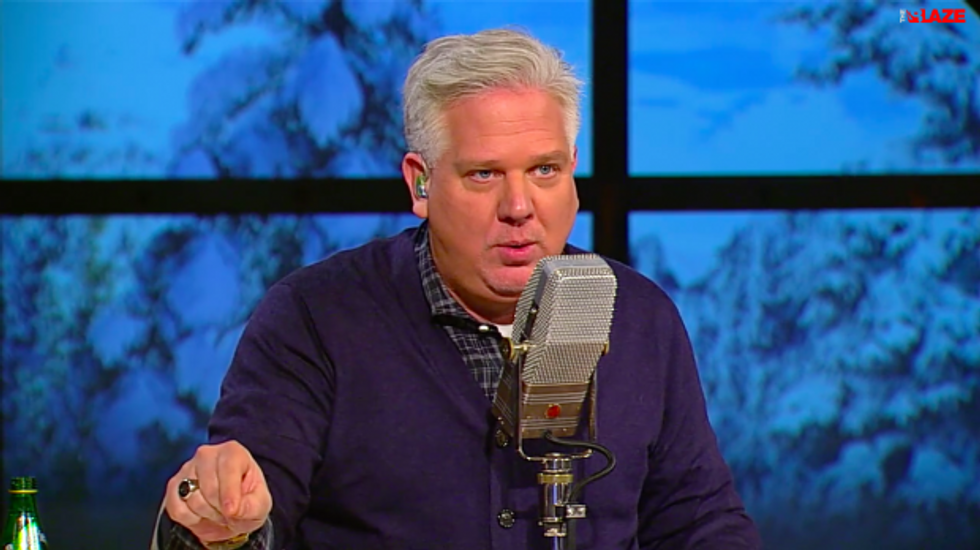 Image source: TheBlaze TV
Dwight Hammond, 73, and Steven Hammond, 46, have been charged with arson for fires they said they lit in 2001 and 2006 in order to reduce the growth of invasive plants and protect their property from wildfires. The fires crossed into federal land managed by the Bureau of Land Management, but the Hammonds ultimately contained and extinguished them.
Three years ago, U.S. District Judge Michael Hogan, who is now retired, sentenced the father, Dwight Hammond, to three months in prison and the son, Steven Hammond, to one year.
Hogan had reduced the Hammonds' sentences from the five-year minimum required because he said it would have violated the constitutional prohibition against cruel and unusual punishment, adding that it would have been "grossly disproportionate to the severity of the offenses here."
In October of last year, after both men had served their sentences, U.S. District Judge Ann Aiken deemed the father-son duo's time served to be too short under federal law and ordered them back to prison Monday, Jan. 4, to serve out the remainder of the five-year minimum sentence.
The decision has generated much controversy in the area, and what started as peaceful protests Saturday escalated to the occupation of a national wildlife refuge building in Burns, Oregon, when the Bundy family joined the protests, which the Hammonds reportedly did not want.
Responding to the situation, Beck said re-sentencing the Hammonds should be considered double-jeopardy and, since Hogan is the one who broke the five-year minimum in his sentencing, he should go to prison rather than the ranchers.
"It's not their fault. The judge did it in his discretion, then he walked away. If you would have said at the time, 'Wait a minute. Wait a minute. It's a five-year sentence,' and you would have brought this up before they served their time, it would have been different," Beck said.
"They served their time. It's double jeopardy," Beck continued. "This is absolutely wrong what they're doing to these people."
Complimentary Clip from TheBlaze TV The full episode of The Glenn Beck Program, along with many other live-streaming shows and thousands of hours of on-demand content, is available on just about any digital device. Click here to watch every Glenn Beck episode from the past 30 days for just $1!
—