WINTERSET, Iowa — Republican presidential candidate Ted Cruz on Monday warned voters that their Second Amendment rights are in jeopardy if they elect Democratic frontrunner Hillary Clinton this November.
"If Hillary Clinton is elected president, the Supreme Court will rule that no individual American has any individual right to keep and bear arms whatsoever," the Texas senator said. "And the government can make it a felony for you to own a firearm and protect your family."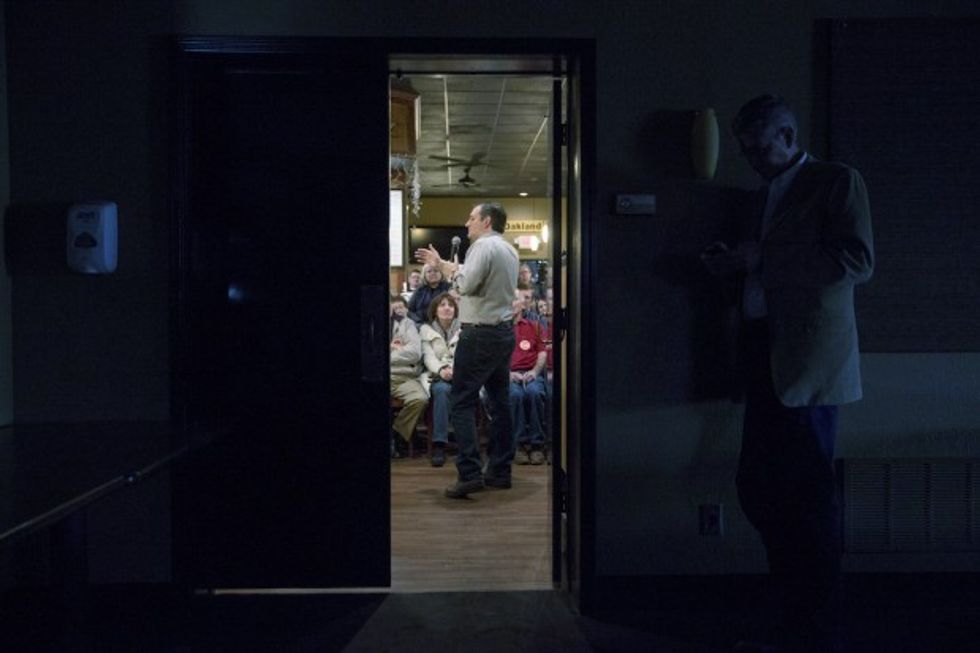 Aaron P. Bernstein/Getty Images
The GOP candidate and Iowa frontrunner backed up his claim by arguing that the next president will likely be responsible for naming anywhere from one to four Supreme Court justices during his or her tenure.
"We are one justice away from a five-justice, ultra-left wing majority that will tear down our constitutional liberties fundamentally," Cruz said.
That same liberal-run court will also move to take down religious symbols on public property, he added.
"If Hillary Clinton is elected president, we will see the Supreme Court ordering Ten Commandments monuments to be torn down on courthouses and public steps all across this country," Cruz said during a Q&A with evangelical leader James Dobson.
After Cruz warned that the government might make it a felony to own a gun, an audience member at the packed event at the Winterset Stage called out: "Come and take it!"
The crowd cheered and murmured agreement.
"I think Iowa and Texas have some things in common," Cruz joked.
After an already long day, Cruz has one more bus tour campaign stop Monday night — beginning at 10:45 p.m. CST in Missouri Valley.
—