According to constitutional scholars, Donald Trump is wrong: Ted Cruz's Canadian birth will not prove to be an impediment for him or the Republican Party in 2016.
Those who say the Texas senator is not eligible to be president typically make their case by arguing that because he was born in Canada he is not a "natural born citizen," which is a constitutional requirement for anyone seeking the presidency.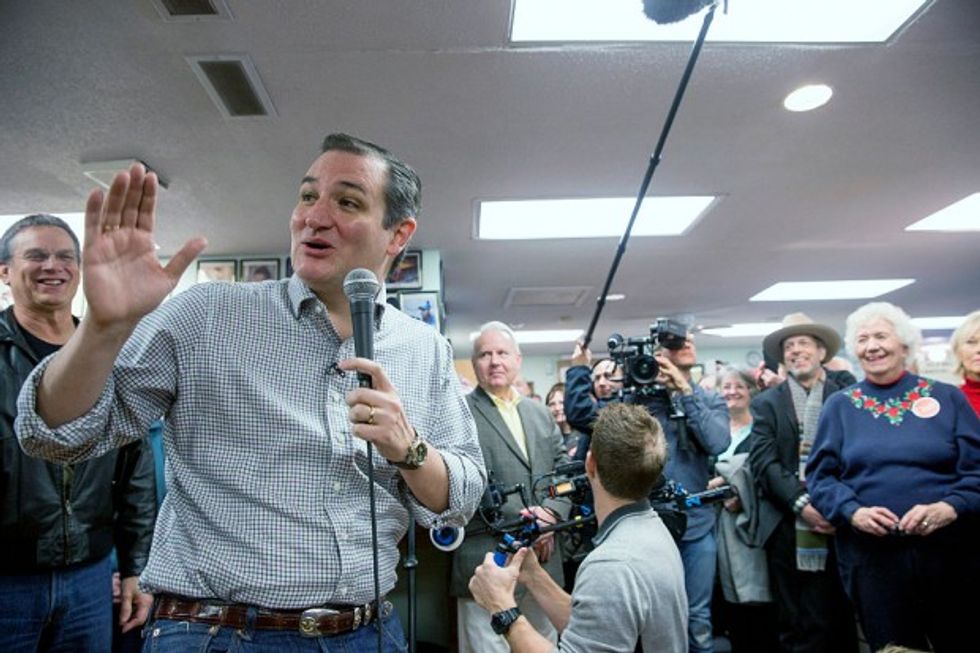 Ted Cruz visits King's Christian Bookstore Jan. 4. (Getty Images/Aaron P. Bernstein)
However, because Cruz's mother, Eleanor, was a United States citizen at the time of his birth, experts largely agree that Cruz is, indeed, a natural born citizen. Cruz, prior to the run-up to his presidential bid, even renounced his dual-citizenship with Canada in 2014.
Further, because Cruz never had to petition the U.S. government for citizenship, he is most certainly considered a natural born U.S. citizen. Any citizen who is not a naturalized citizen — meaning they had to earn their citizenship — then they are a natural born citizen.
Two former U.S. solicitors general, Neal Katyal and Paul Clement, who are experts in this field, laid out the legal case in the Harvard Law Review last March. They said:
Despite the happenstance of a birth across the border, there is no question that Senator Cruz has been a citizen from birth and is thus a "natural born Citizen" within the meaning of the Constitution. Indeed, because his father had also been resident in the United States, Senator Cruz would have been a "natural born Citizen" even under the Naturalization Act of 1790.
Moreover, Sarah Duggan a law professor and director of the Law and Public Policy Program for the Columbus School of Law at the Catholic University of America, reaffirmed the legal standing for Cruz's eligibility in a 2013 piece for Constitution Daily:
A scholarly consensus is emerging, however, that anyone who acquires citizenship at birth is natural born for purposes of Article II.

This consensus rests on firm foundations. First, given Jay's letter and the language of the 1790 naturalization act, it seems evident that the framers were worried about foreign princes, not children born to American citizens living abroad. Second, the 14-year residency requirement Article II also imposes as a presidential prerequisite ensures that, regardless of their place of birth, would-be presidents must spend a significant time living in the United States before they can run for office.

Finally, the natural born citizenship clause is both an anomaly and an anachronism. The way in which the clause differentiates among United States citizens is contrary to the overall spirit of the Constitution; the risk that foreign nobility will infiltrate our government is long past; and place of birth is a poor surrogate for loyalty to one's homeland in our increasingly mobile society and our ever more interconnected world.
Republican front-runner Donald Trump reintroduced the issue of Cruz's presidential eligibility Tuesday during an interview with the Washington Post.
"It'd be a very precarious one for Republicans because he'd be running and the courts may take a long time to make a decision," Trump said of Cruz, noting that Cruz wouldn't want that "hanging over his head."
Despite the overall consensus being that Cruz meets every requirement to be president, because a modern president has never been born outside of a U.S. territory, Trump may have a point: If Cruz does go on to win the Republican nomination and the general election, he will likely face a lawsuit from a dissenter who claims that he is not eligible.
However, in this scenario, a decision from a federal court, likely the Supreme Court, would not take a "long time" as Trump suggests, since the high court would likely take jurisdiction over the case.
It appears that, at least constitutionally, Cruz has no roadblocks on his journey to 1600 Pennsylvania Ave.
—
Follow the author of this story on Twitter and Facebook:
[facebook //www.facebook.com/plugins/like.php?href=