At a campaign rally in New Hampshire Tuesday, Donald Trump jokingly reprimanded supporters who suggested that President Barack Obama is a "Muslim" and that Hillary Clinton is in the "bathroom" when she isn't at her own campaign events.
The Republican frontrunner was speaking in front of an audience in Claremont, New Hampshire, when he brought up the Iran deal, and asked, "Who would would make this deal?"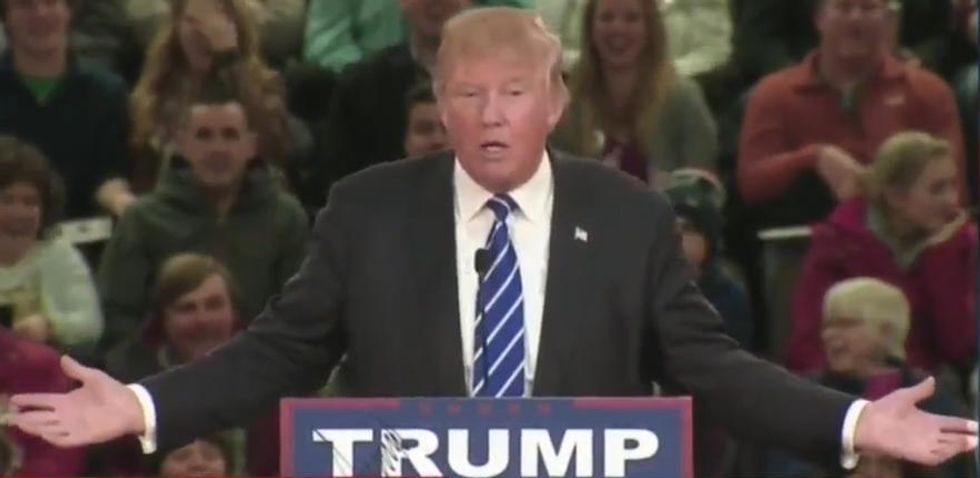 Image source: YouTube
"A Muslim," one supporter shouted back, prompting a laugh from the billionaire real estate mogul.
Right after making clear that he "didn't say it," Trump jokingly called out the person who made the comment.
"Who said it? I have to reprimand," Trump said." Then, pointing toward him, Trump said, "How dare you?"
Trump was referring to a question he was asked by one of his supporters back in September, after which he faced criticism for not calling out the man who said Obama is a "Muslim."
At another point during the Trump rally in New Hampshire, Trump took aim at Democratic frontrunner Hillary Clinton.
"She goes to an event, and then you don't see her for another week. Where is she? I didn't hear that," Trump said after one supporter shouted that she is in "the bathroom."
"That's terrible. Terrible," Trump joked. "I'm admonishing you for the press. You are admonished. We should throw him the hell out of here. Get out of here!"
The "bathroom" comment was referring to the ABC News Democratic primary debate when Clinton was late getting back on the stage after a commercial break. It was then reported that Clinton was delayed because she had to wait to use the bathroom.
(H/T: Mediaite)
–