An editor from the Baltimore Sun called for the creation of a publicly available database listing gun owners and their respective locations in an opinion piece published Thursday in the wake of President Barack Obama's announcement of an executive order calling for the expansion of background checks in gun sales.
In her piece titled "Do You Know the Gun Owners in Your Circle?" Sun editorial page deputy editor Tricia Bishop issued a bold claim, saying, "I'm less afraid of the criminals wielding guns in Baltimore ... than I am by those permitted gun owners."
Despite her lament that she had "the luxury of being white and middle class in a largely segregated city that reserves most of its shootings for poor, black neighborhoods overtaken by 'the game,'" Bishop still maintained that, because she didn't know "where the legal gun owners are or how to ensure that their children, no matter how well versed in respecting firearms, won't one day introduce that weapon to my daughter," she could not escape a sense of unease.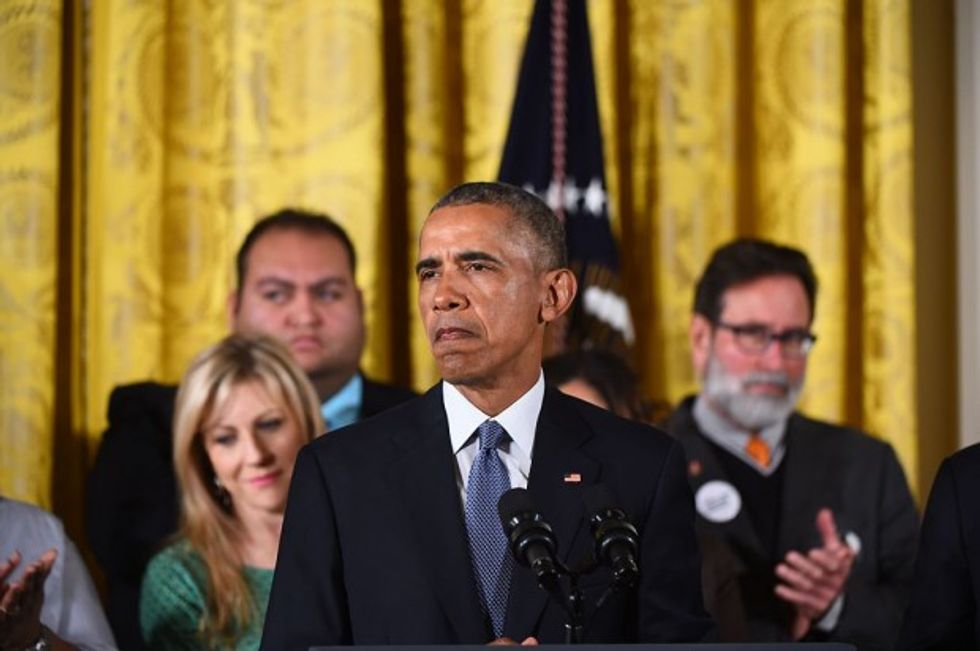 President Barack Obama gets emotional as he delivers a statement on planned gun control executive actions, Jan. 5. (Getty Images/Jim Watson)
Following Obama's emotional address on Tuesday pertaining to the expansion of background checks, gun tracking, and further research, Bishop revealed that she was left unsatisfied with the president's executive order.
"I thought, that's all well and good, but how about adding something immediately useful: a gun owner registry available to the public online — something like those for sex offenders," Bishop wrote.
Although she hastened to add that her only exposure to firearms occurred with legally purchased ones owned by friends and family members, Bishop wrote, "But the risk to owning the gun isn't worth it to me," because of statistics that she listed pertaining to toddlers accidentally shooting themselves, American adults and teenagers committing suicide, and recent mass shootings across the country.
Bishop concluded her piece by writing, "Gun owners may feel picked on, but they are not a persecuted class. They are individuals who have chosen to keep in their homes an object whose chief purpose is to injure or kill, whether in self defense or otherwise. The rest of us should have a right to know it's there before we — or our children — enter."
Reactions to Bishop's opinion piece have been mostly those of disgust and disbelief.
"So, there needs to be a database of people that are participating in a Constitutional right? Completely obeying the law? There are so many more likely dangers. This article is a joke," wrote one reader.
"As a professional home invader, car thief, and convicted felon, I would personally LOVE if I could go on the internet to find out if the person's house I am about to rob is a gun carrier. It would definitely make my job a lot easier," wrote another.
—
Follow Kathryn Blackhurst (@kablackhurst) on Twitter