Ahead of the NFL's Saturday AFC wildcard match-up between the Pittsburgh Steelers and the Cincinnati Bengals, radio station 700 WLW-AM in Cincinnati, Ohio, issued a city-wide "Big Ben rape warning," spoofing Ben Roethlisberger's history of alleged sexual abuse.
"The tri-state is currently under a 'Big Ben warning' from now through early Sunday morning," the alert began. "The Steelers quarterback as been spotted in the downtown Cincinnati area. All females ages 18-40 are to use extreme caution, especially if heavily consuming alcohol. Males should also be on the lookout just in case."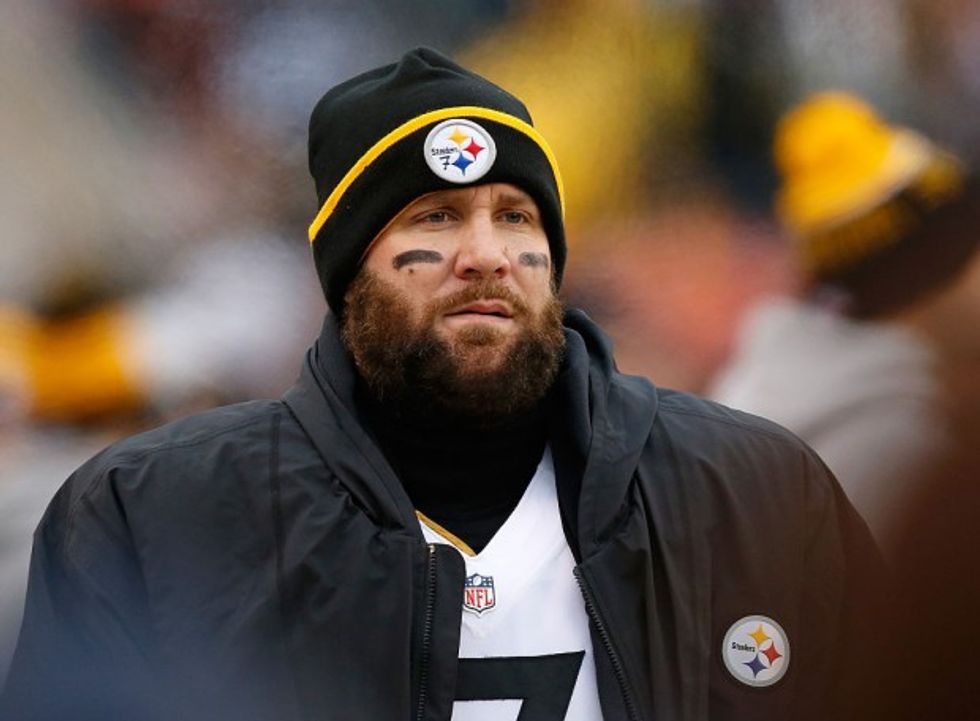 Pittsburgh Steelers quarterback Ben Roethlisberger, Jan. 2, 2016. (Getty Images/Gregory Shamus)
"If you see 'Big Ben' and he flashes 'little Ben,' you're asked to report it to authorities immediately," it continued. "Again, a severe 'Big Ben warning' in affect until early Sunday morning. He poses the greatest threat to 18-40 year olds, especially those with boob jobs in the downtown Cincinnati area."
"You are safe if you live in Butler or Claremont counties, pretty much anywhere in Kentucky, and most of southeast Indiana," it added.
According to TMZ sports, the radio station has no plans to discontinue the spicy ad, as they plan to continue playing it throughout the weekend.
Roethlisberger has been accused of sexual assault twice, once in Nevada in 2009 and a second time in Georgia in 2010. He was even suspended for six games by the NFL in 2010 for violating the NFL's personal conduct policy.
Listen to the ad below.
(Content warning: Subject matter may be offensive to to some readers.) 
(H/T: TMZ Sports)
—
Follow the author of this story on Twitter and Facebook:
[facebook //www.facebook.com/plugins/like.php?href=