One day after the Wall Street Journal revealed that a dummy U.S. hellfire missile was mistakenly shipped from Europe to Cuba in 2014, the State Department refuses to deny whether or not it was sold to the Cuban government.
"I am restricted, under federal law and regulations, from commenting on the specific defense trade, licensing cases and compliance matters," State Department spokesman John Kirby said during a press conference Friday.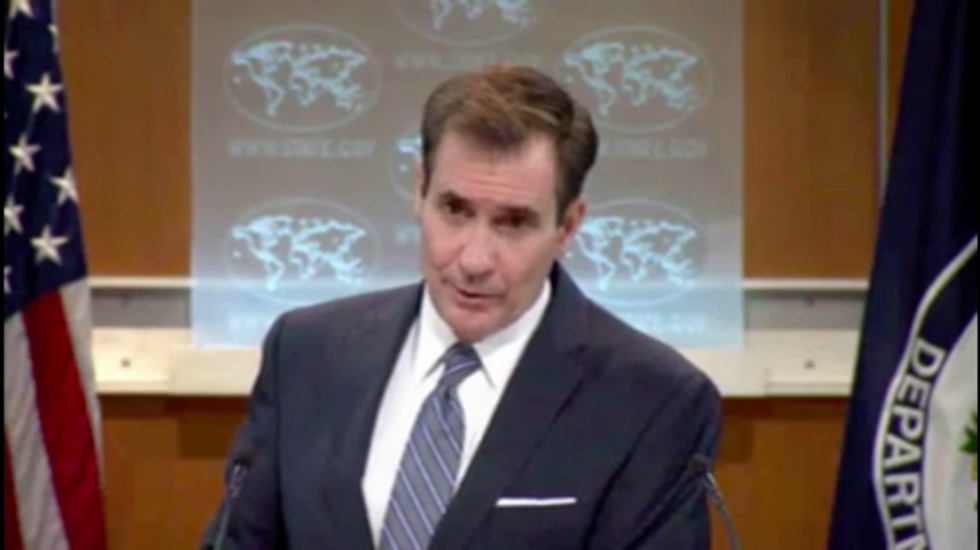 State Department spokesman John Kirby discussing the missing U.S. hellfire missile during a press conference Friday, Jan. 8. (Image source: YouTube screenshot)
"What I can say is under the Arms Export Control Act, the State Department licenses both permanent and temporary exports by U.S. companies of regulated defense articles," Kirby added.
The State Department spokesman went on to say that it is U.S. companies that are responsible for documenting their shipping logistics and are responsible for reporting any shipping deviations to the federal government. Previous reports indicated that Lockheed has been attributed with the shipping error that lead to the improper shipment.
When pressed for more detail, Kirby said he's "not at liberty to comment further." But that did not stop reporters from pressing the official on the issue.
"You're not suggesting that you actually sold this to the Cubans?" one reporter asked Kirby. "I don't understand why you can't say, 'No, we didn't sell this to the Cubans, it got there by accident by mistake.'"
"You want to leave open the possibility that our government sold or gave a hellfire missile, intentionally, to the government of Cuba?" the reporter continued, seemingly agitated.
The missile, now allegedly in Cuban possession, did not contain explosives, according to the Journal, but there are concerns over the potential for the Cubans to share the defense technology with U.S. adversaries like North Korea or Russia.
U.S. officials have been urging the Cuban government to return the missile. In addition, the U.S. government is reportedly investigating whether or not the missile's disappearance was an intentional act of espionage.
The United States and Cuba restored diplomatic relations in July 2015 after more than 50 years of hostility.
Watch the exchange below:
—
Follow the author of this story on Twitter: