People living in rural areas often muse about the apparent death wish of local critters who jump out in front of their cars on poorly lit back roads. The Ford County Highway Department in Paxton, Illinois, has suggested that such outlandish claims might actually be grounded in reality.
A yellow road sign installed just south of a rural county intersection reads "Suicidal Deer."
Though there are no notes or prior symptoms to prove it, according to the Paxton Record, 33 vehicle-versus-deer collisions were reported to the Ford County Sheriff's Office in 2015.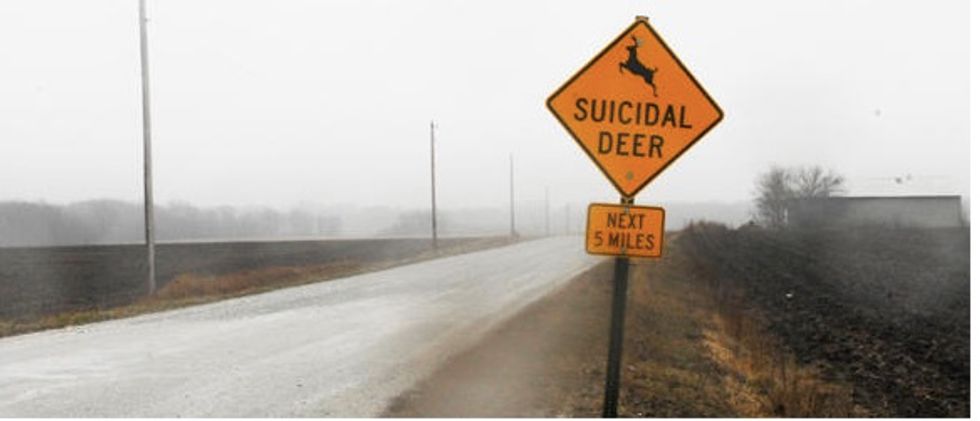 new sign is causing drivers in Paxton, Illinois, to slow down. (Image source: Will Brumleve/Paxton Record)
"My nephew sent me a picture of one of these signs out in Colorado about six months ago. He texted it to me, and I thought it was really a good thing because it gets your attention," Button Township Highway Commissioner Ron Hilligoss told the Record. "So we had a Ford County Highway Department meeting, and I said, 'Can you get me these signs?'"
Hilligoss, a Clarence resident, said that the Ford County Highway Department installed the first sign about six weeks ago. Though four "Suicidal Deer" signs were purchased, each at about $42, Hilligoss told the Record he wanted to see how long the first one lasts before erecting others.
"I'm just waiting to see who puts bullet holes in it or steals it," he said.
Hilligoss did make a point to note, however, that not one accident involving deer had been reported so far in 2016.
"If you ask anybody where a deer crossing sign is, they couldn't tell you," Hilligoss said, "but they know where that one is at."
(H/T: Paxton Record)