Duck hunters, Christians, celebrity truck drivers: Meet the Wolf twins.
Born just six minutes apart 57 years ago, the brothers, whose identical beards now reach down past their chests, have spent pretty much their entire lives side-by-side, as best friends.
It was on an annual pilgrimages to the Twins Days Festival in Twinsburg, Ohio that the brothers' lives took a drastic turn towards unlikely celebrity, about 15 years ago.
It began with a photograph by famed New York City photographer, Mary Ellen Bark in 2001.
Next, the men, who are Christians, were featured in National Geographic's Magazine's renowned twins edition in 2012. That magazine spread lead to producers of the History Channel's reality television show Big Rig Bounty Hunters contacting them and asking them to star in the new show.
Duck Hunters, Christians, Celeb Truck Drivers: Meet the Wolf Twins
As professional truck drivers, the brothers had already logged more than three-millions miles on the open roads over 22 years. They'd haul just about anything across the country, listening to gospel music and planning the world class miniature railroad they're building in the Michigan home they share with their parents, switching off driving and sleeping in their powerful Freightliner truck.
The show, however, had them mixed in with a slightly rougher crowd of "bounty hunters" tasked with tracking down missing or stolen trucks and cargo around the country.
[sharequote align="center"]"That's what we prayed about before we did it. That God would be glorified in some way."[/sharequote]
It seems the producers of the series immediately noticed the Wolf twins were somehow different than most of the rough and tumble crowd that comprised the bounty hunting cast.
The show's webpage dubbed the brothers the "the nicest yet trickiest twins you'd ever meet," noting, perhaps unfairly, that "trucking and family is all they know."
The brothers say they prayed hard before taking on the show, asking that their Christian witness would shine through.
It seems their prayers were answered.
"The biggest thing on that show was that [when] we went to a yard sale in Pennsylvania... a guy came up to me and said 'you were on that TV show?'" said Dave, the older of the two.
"Don came up, and the guy looked at his shirt and said 'I knew you guys were Christians. I could tell by the way you acted. You weren't like the other people on the show," he continued.
"That's what we prayed about before we did it," Dave added. "That God would be glorified in some way."
Among the twins' various hobbies are duck hunting, ship-wreck diving and automobiles, but perhaps most notable is their never-ending construction on the massive model train-set which spans the cavernous basement of a rural Michigan home they helped build themselves. 
The landscapes represent thousands of hours of painstaking work mostly done when the brothers aren't out on the road. They say they do it for the sake of creativity and also to share with children of the nearby Tyrone Covenant Presbyterian Church, which they attend.
"Its all for other people to see," Don said.
"Just enjoy it," Dave added. "Its just fun, being creative and just watching the trains run."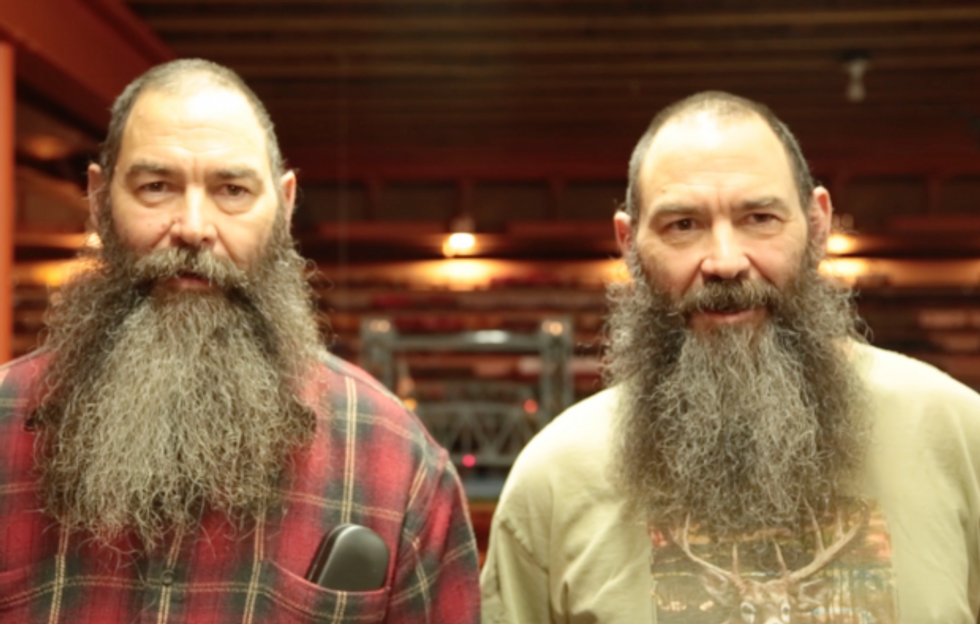 Don and Dave have spent most of their entire lives together saying that with a few small exceptions over the years, they do pretty much everything together.
"We get along great, we're best friends, we live together in Fenton," the twins told the Tri-County Times, a local Fenton newspaper, last year.  All of our lives we usually end up at the same place, doing the same thing, and finishing each other's sentences."
Follow Josiah Ryan on YouTube, Twitter and Instagram:
Twitter (@JosiahRyan) and Instagram (@ahhdannyboy.)