After President Barack Obama said the Middle East is "rooted in conflicts that date back millennia" during his final State of the Union address Tuesday night, viewers called out his claim as everything from a "self-serving falsehood" to a notion one educator "wouldn't accept from an undergrad."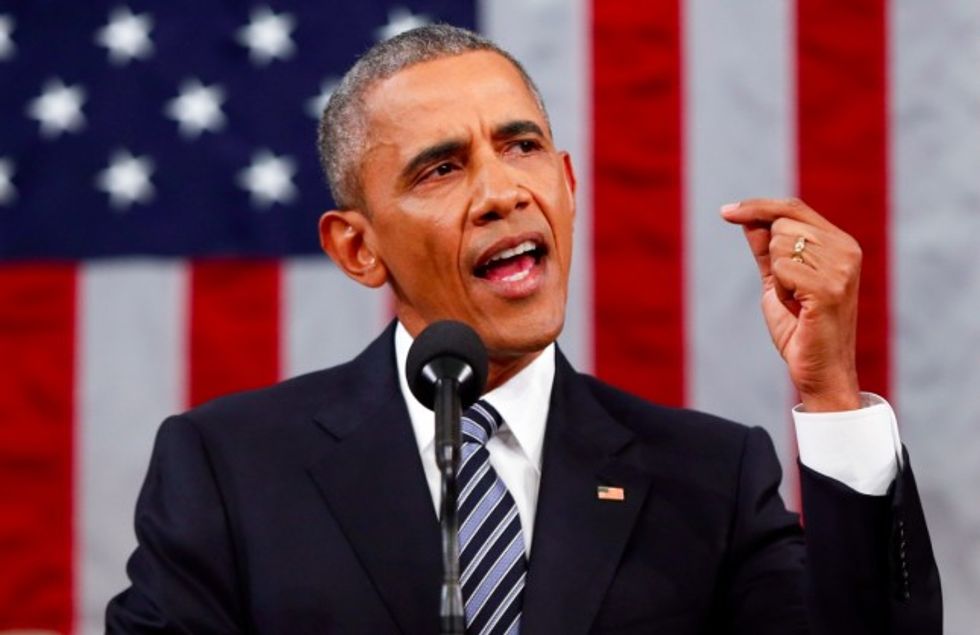 President Barack Obama delivers his State of the Union address before a joint session of Congress on Capitol Hill in Washington, Tuesday, Jan. 12, 2016. (AP Photo/Evan Vucci, Pool)
"Thousands of years?" a Washington Post writer reacted. "Many of the conflicts in the Middle East don't even date back a decade."
One critic said Obama's characterization is a way of washing his hands of the dangerous Middle Eastern mess:
Saying Middle East change is routed in conflicts going back millennia is code for "there's nothing we can do about it." Both untrue. #SOTU

— Michael Petrou (@michaelpetrou) January 13, 2016
Others weren't any more forgiving:
"Conflicts that date back millennia" is a self-serving falsehood. #SOTU

— Mike Doran (@Doranimated) January 13, 2016
But: ME transformation is "rooted in conflicts that date back millennia"?? A line I wouldn't accept from an undergrad #SOTU @CarnegieEndow

— Michele Dunne (@MicheleDDunne) January 13, 2016
OK, we've been had, we've been took, hoodwinked, bamboozled,run amok & condemned to endure "conflicts that date back millennia". #SOTU

— Hisham Melhem (@hisham_melhem) January 13, 2016
Good grief. Middle East's conflicts "go back millenia". #SOTU

— Kyle W. Orton (@KyleWOrton) January 13, 2016
This is straight propaganda: "Middle East is going through a transformation rooted in conflicts that date back millennia." #sotu

— Rania Khalek (@RaniaKhalek) January 13, 2016
Simply not true #SOTU. Middle East problems not millennia old @POTUS not doing folks any favors by dumbing down issues 1/2

— Alia Malek (@AliaMalek) January 13, 2016
He's doing what he just criticized others for doing on climate change or immigration 2/2 #SOTU

— Alia Malek (@AliaMalek) January 13, 2016
But a writer from Syria managed to insert some jest into the heated fray:
I dnt watch #SOTU bc I know Obama can't solve Republican-Democrat schism. These problems are rooted in conflicts that date back millennia.

— Nader (@DarthNader) January 13, 2016
(H/T: Washington Post)