A new lawsuit against the social website platform Twitter alleges that the online service "knowingly permitted" terrorists to operate as many as 70,000 accounts to raise money and attract recruits.
The lawsuit was filed Wednesday in the U.S. District Court for the Northern District of California in San Francisco, the location of Twitter headquarters. In it, the family of Lloyd "Carl" Fields Jr., a defense contractor who was killed in Jordan last year while training security forces, claims that the "company has knowingly allowed terrorist groups such as ISIS to use its social network to spread extremist propaganda," KNTV-TV reported.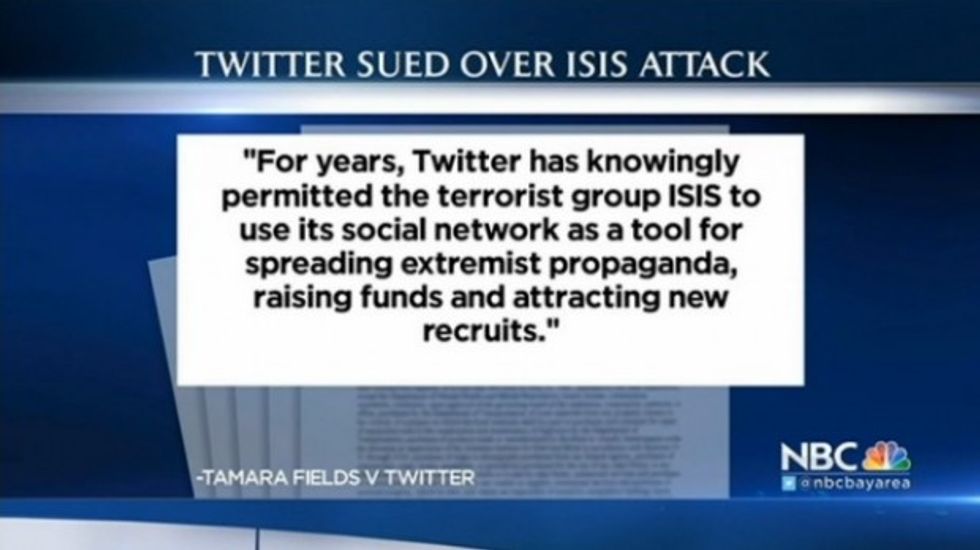 Image source: KNTV-TV
The family alleges that Twitter is partly to blame for Fields' death because it allows the terrorist organization to spread extremist propaganda through Twitter accounts.
"For years, Twitter has knowingly permitted the terrorist group ISIS to use its social network as a tool for spreading extremist propaganda, raising funds and attracting new recruits," the lawsuit states. "Without Twitter, the explosive growth of ISIS over the last few years into the most feared terrorist group in the world would not have been possible."
But the social media giant says the lawsuit is "without merit" and that it has teams in place that "actively investigating" violations of its rules, one of which prohibits threat of violence, saying in a statement:
While we believe the lawsuit is without merit, we are deeply saddened to hear of this family's terrible loss. Like people around the world, we are horrified by the atrocities perpetrated by extremist groups and their ripple effects on the Internet. Violent threats and the promotion of terrorism deserve no place on Twitter and, like other social networks, our rules make that clear. We have teams around the world actively investigating reports of rule violations, identifying violating conduct, partnering with organizations countering extremist content online, and working with law enforcement entities when appropriate.
(H/T: KNTV-TV)