© 2023 Blaze Media LLC. All rights reserved.
Record $1.6 Billion Powerball Jackpot Will Be Split Among 3 Winners in 3 Different States
"I'm very happy. This is very exciting."
LOS ANGELES (TheBlaze/AP) -- The unprecedented Powerball jackpot that rose to a record $1.6 billion will be split three ways.
The winners' identities remain a mystery, but they bought their tickets in Florida, Tennessee and a Los Angeles suburb where even lottery losers were celebrating Thursday that such heady riches were won in their modest city.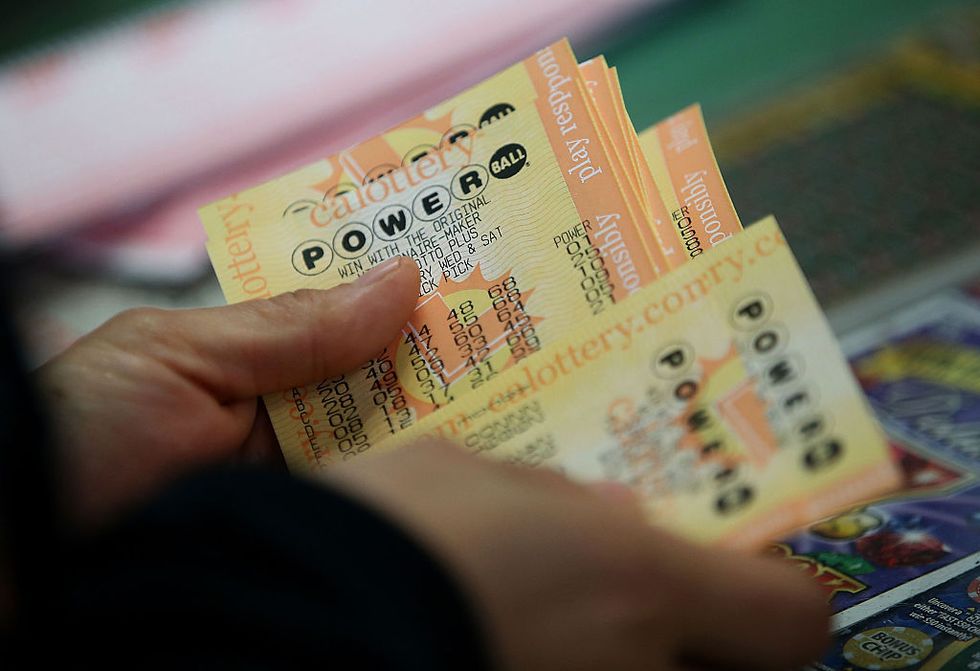 A customer buys Powerball tickets at Kavanagh Liquor in Calif., January 13, 2016. (Getty Images/Justin Sullivan)
The winners of the world-record jackpot overcame odds of 1 in 292.2 million to land on the numbers drawn Wednesday night, 4-8-19-27-34 and Powerball 10. They can take the winnings in annual payments spread over decades or a smaller amount in a lump sum.
The California ticket was sold at a 7-Eleven in Chino Hills, California, lottery spokesman Alex Traverso told The Associated Press. The winning ticket in Tennessee was sold in Munford, north of Memphis, according to a news release from lottery officials in that state. The winning Florida ticket was sold at a Publix grocery store in Melbourne Beach.
The California store and its surrounding strip mall immediately became a popular gathering spot in the usually quiet suburb of 75,000 people. Hundreds of people, from news crews to gawkers, crowded the store and spilled into its parking lot.
They cheered and mugged for TV cameras as if it were New Year's Eve or a sporting event. Many chanted, "Chino Hills! Chino Hills!" in celebration of the city.
"It's history. We're all so excited for our city," Rita Talwar, 52, who has lived in Chino Hills for 30 years, told the local newspaper, the San Bernardino Sun.
Some took selfies with the store clerk on duty, who became an instant celebrity and may well have been the man who sold the ticket after being on duty for much of the run-up to Wednesday night's drawing.
"I'm very proud that the ticket was sold here," the clerk, M. Faroqui, told the Sun. "I'm very happy. This is very exciting."
The 7-Eleven will get a $1 million bonus for selling the winning ticket, Traverso said.
No details were immediately available about the Florida winner.
The estimated jackpot amounts had risen steadily since Nov. 4, when it was reset at $40 million. Texas Lottery executive director Gary Grief has said this Powerball offered "absolutely" the world's biggest jackpot.
Not that there aren't large jackpots elsewhere. Spain's massively popular Christmas lottery, known as "El Gordo," is ranked as the world's richest, though it doles out a single jackpot among millions of prizes, instead of one large jackpot like the Powerball. El Gordo last month showered 2.2 billion euros ($2.4 billion) across the country.
Powerball tickets are sold in 44 states, as well as the District of Columbia, the U.S. Virgin Islands and Puerto Rico.
But residents in the six states that don't participate found ways to get their hands on tickets. Some of the biggest Powerball sales have come from cities bordering states that don't sell the tickets, according to the Multi-State Lottery Association. The association oversees the Powerball Lottery, but management rotates annually among member states.
Want to leave a tip?
We answer to you. Help keep our content free of advertisers and big tech censorship by leaving a tip today.
Staff Writer
Chris Enloe is a staff writer for Blaze News
chrisenloe
more stories
Sign up for the Blaze newsletter
By signing up, you agree to our
Privacy Policy
and
Terms of Use
, and agree to receive content that may sometimes include advertisements. You may opt out at any time.