(TheBlaze/AP) — Bernie Sanders and Hillary Clinton sparred Sunday night in a fiery back-and-forth over how to further reform health care at the Democratic presidential debate in Charleston, South Carolina.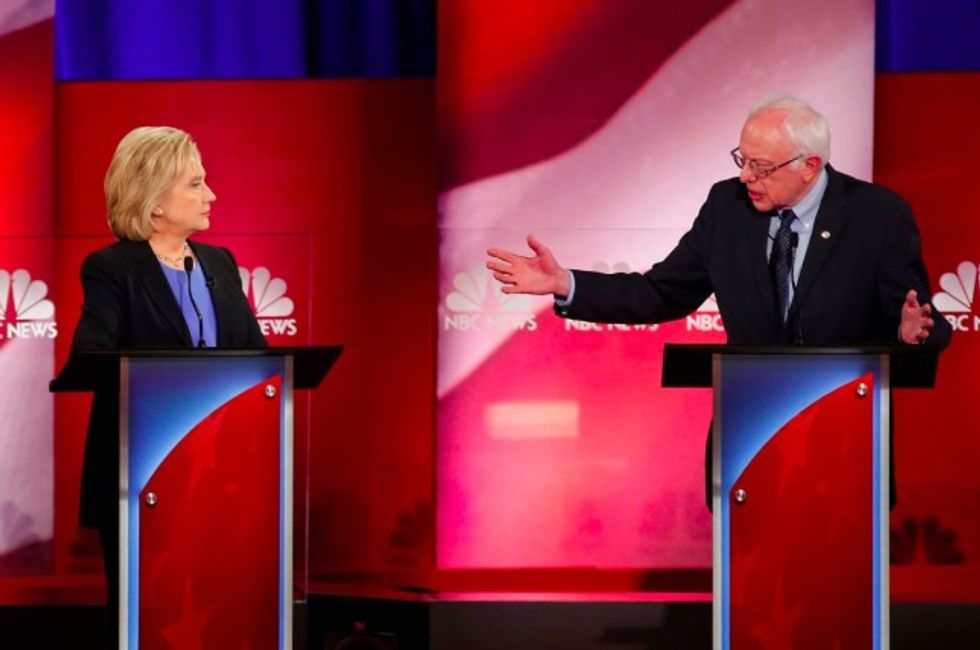 Democratic presidential candidate, Sen. Bernie Sanders, I-Vt., gestures towards Democratic presidential candidate, former Secretary of State Hillary Clinton during a democratic presidential primary debate at the Gaillard Center, Sunday, Jan. 17, 2016, in Charleston, S.C. (AP Photo/Mic Smith)
Clinton claimed Sanders wants to to "tear up" Obamacare and "start over"; Sanders retorted that Clinton's claim was "nonsense" and an "absolutely inaccurate statement. I helped write the Affordable Care Act."
Sanders is advocating for a "Medicare for all" plan, while Clinton says she would build on the Affordable Care Act.
Sanders said the debate over health care reform should be about who has "the guts to stand up to" private insurance and pharmaceutical companies and that the reason America doesn't guarantee health care as a right is partly because of a "corrupt" campaign finance system.
Clinton said she has experience taking on the health insurance industry, noting with a smile that they've spent "many, many millions of dollars" attacking her - but said the candidates must be realistic when it comes to health care reform. She said even with Democrats in charge, Congress has failed to pass a bill allowing people to choose to participate in Medicare.