© 2023 Blaze Media LLC. All rights reserved.
'SNL' Kicks Off New Year With GOP Debate Sketch — And No Candidate Was Left Unscathed
"I'm the only one up here with a chin."
GOP presidential candidates may not be given equal talking time in real debates, but all candidates were equally made fun of in the cold open of "Saturday Night Live."
During last night's parody of the Fox Business GOP debate, all of the candidates found themselves the butt of the joke at one point or another — particularly New Jersey Gov. Chris Christie's character as he was pulled from the stage when his poll numbers dropped too low.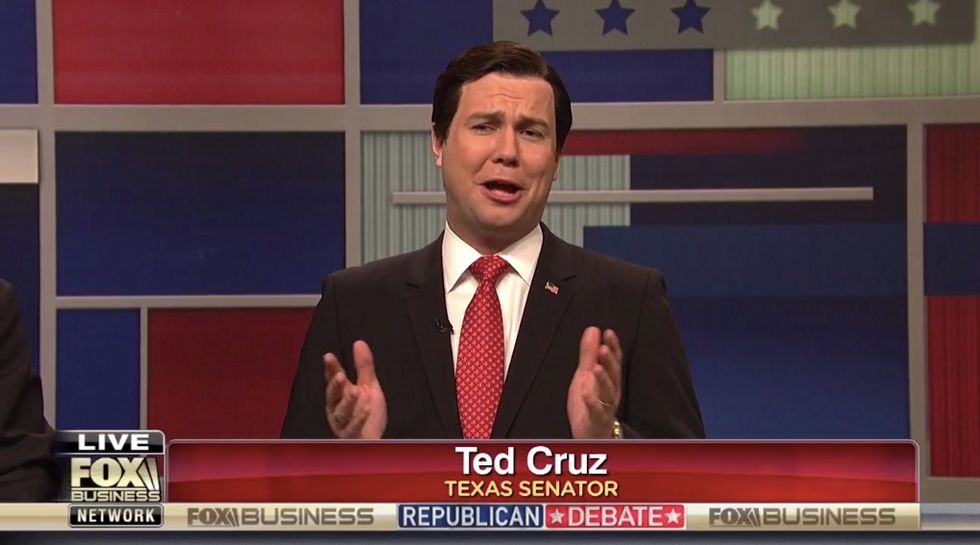 Image source: NBC
The venerable comedy show also took a stab at defending Texas Sen. Ted Cruz's honor as questions have been raised about his eligibility to become president due to where he was born. During the sketch, Cruz's character defended himself by arguing that he obviously was in no way Canadian.
"Canadians are well-liked. I am not," he said. "Canadians are rugged and outdoorsy, where I myself am mostly made of pudding. Canadians are genuine and warm, whereas when I smile, it looks like I'm peeing."
Florida Sen. Marco Rubio got a few seconds of talking time during the parodied debate, and he used to it wonder aloud why nobody was taking him seriously.
"Is it the boots? I could lose the boots," he said. "I mean, come on. I'm young. I'm smart. I'm the only one up here with a chin.
Of course, the debate moderators didn't hear what he had to say as they were on their phones.
Watch the hilarious "SNL" cold open below.
Want to leave a tip?
We answer to you. Help keep our content free of advertisers and big tech censorship by leaving a tip today.
more stories
Sign up for the Blaze newsletter
By signing up, you agree to our
Privacy Policy
and
Terms of Use
, and agree to receive content that may sometimes include advertisements. You may opt out at any time.