This year's theme for the March for Life is "pro-life and pro-woman go hand-in-hand," a theme that one activist says that she hopes the entire pro-life movement takes to heart.
In an interview with TheBlaze, Dr. Grazie Pozo Christie, a policy advisor for the Catholic Association who practices radiology in the Miami area and is a panelist at the 2016 March for Life Conference Thursday, said that abortion does not empower women.
"The pro-choice movement has really succeeded in taking away choices," Christie said, citing her experience working with young women who feel pressured by society's portrayal of sex as "consequence-free" due to abortion.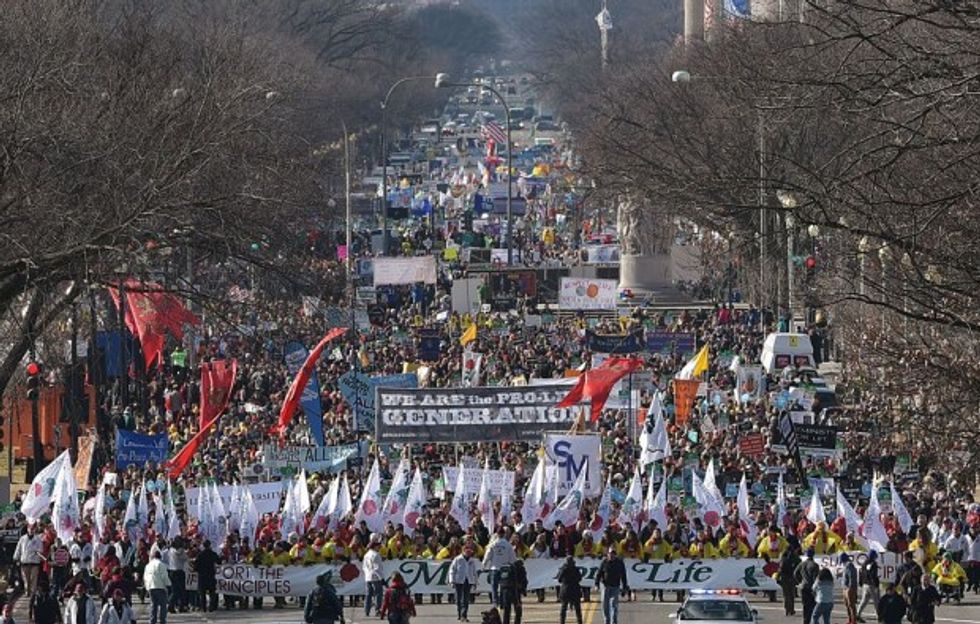 Anti-abortion activists take part in the annual March for Life Jan. 22, 2015, in Washington, D.C. (Mandel Ngan/AFP/Getty Images)
"The early feminists understood that abortion enslaved women — it put them in danger," Christie said.
Christie, a mother of five adopted and biological children, works to promote adoption as an alternative to abortion.
"If I could wave a magic wand and give everybody an adopted child, I would," Christie said. "Adoption is the prettiest thing that ever happened to me."
Her adopted child, she said, "is more mine than my own body."
Christie called adoption "a beautiful solution" to a pregnancy that was once deemed a "crisis."
The annual March for Life, Christie said, is an opportunity for the pro-life movement to make their case that women want to live "healthy, complete lives" and maternity is part of life.
"There's nothing more beautiful than the March for Life," Christie said. "It fills me with hope. There's so much against us as a pro-life movement — the culture, Hollywood, the administration — but the march gives me hope for the year ahead, because you're surrounded by people who are passionately in love with life."
The 2016 March for Life will take place Jan. 22, the 43rd anniversary of Roe v. Wade, the Supreme Court decision that legalized abortion.
Despite reports that the Washington, D.C., area will experience inclement weather, organizers of the March for Life have promised that it will go on as planned.
Asked if she was ready to march in the snow, Christie said, "I'm from Miami!"
"I brought warm clothes," she said.
—
Follow Kate Scanlon (@kgscanlon) on Twitter