New cellphone video shows a man getting a haircut just feet away from where families were eating at a South Carolina Burger King.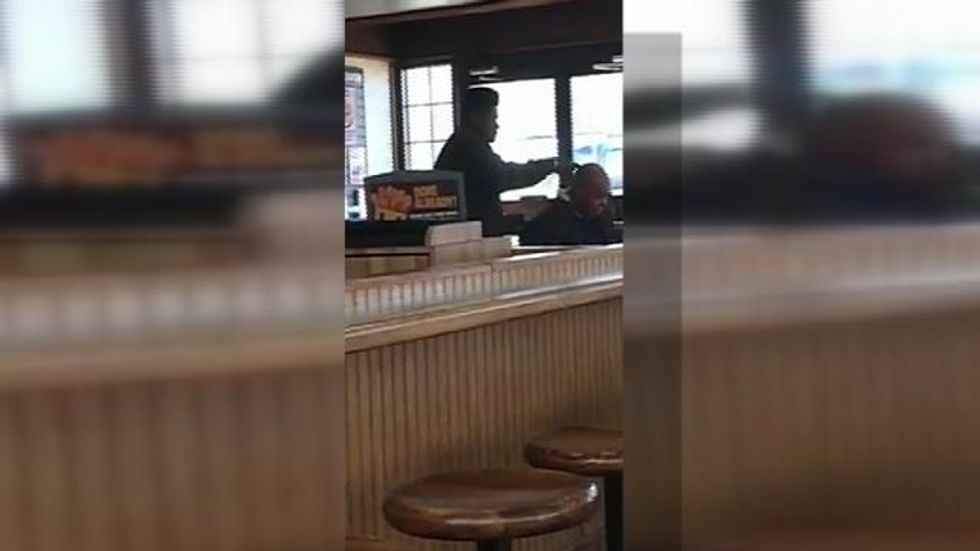 Image source: WSOC-TV
Erin Gladden took the video around lunchtime Sunday in Rock Hill, South Carolina. Gladden said she overheard a brief conversation between the two men in the video shortly after the barber walked inside, WSOC-TV reported.
"'OK. Don't make this a habit,'" Gladden said she overheard the barber say. "And he grabbed six to 10 napkins out of the napkin thing and went over to the older gentleman, tucked them in his collar and started cutting his hair.
That's when Gladden said she left the location with her two kids and saw another family leave also. It wasn't immediately clear whether either of the two men work at the restaurant.
Gladden said that what she found most disturbing was that employees acted as though the idea of someone getting his hair cut inside a fast-food location wasn't that big of a deal.
"What level did they think that would be OK with anybody," Gladden told WSOC-TV.
The station was referred to corporate media relations by the manager of the fast food location. A representative confirmed the authenticity of the video, while adding the "restaurant has been thoroughly cleaned and sanitized."
The building currently has an "A" score from the public health department.
(H/T: WSOC-TV)