Sarah Palin's remarks on post-traumatic stress may have played well in the room Wednesday night, but they rubbed a lot of veterans the wrong way.
The former Alaska governor has been stumping for Republican frontrunner Donald Trump in Iowa and Oklahoma — and last night she pointed to PTSD as well as President Barack Obama as reasons behind why her combat-veteran son, Track Palin, was arrested on domestic violence charges Monday in Wasilla.
At a campaign rally in Tulsa Wednesday, Palin said her son, "like so many others," came back from the war zone "different" and "hardened."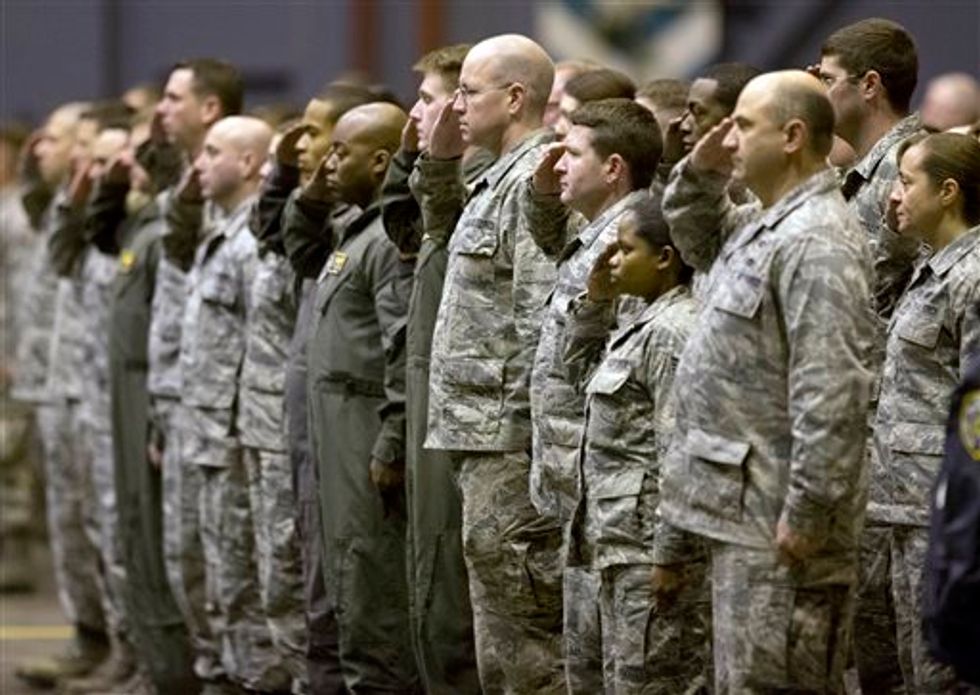 Military personnel salute a casket at Stewart Air National Guard Base Dec. 28, 2015. (AP/Mike Groll)
Trump himself said Thursday that he told Palin to publicly address her son's arrest.
But Matthew Miller, chief policy officer for the Iraq and Afghanistan Veterans of America, argued Thursday on CNN that Palin's comments were "politicizing" what veterans go through.
"She missed an opportunity to use her platform, to use her fame, to draw attention to post-traumatic stress," Miller said.
Palin and Trump's criticism of Obama for "leaving our wounded warriors behind" doesn't line up with the fact that spending on the Veterans Affairs department has been at an all-time high during his presidency, Miller added.
"They may be entitled to their own opinion, but they're not entitled to their own facts," he said.
Nate Bethea, a former U.S. Army infantry officer, went off on Palin's comments in a Twitter rant Wednesday, arguing that the onetime GOP vice presidential nominee unfairly reinforced stereotypes of veterans who come home "broken."
/
/
/
Veterans groups want see more discussion of what specifically can be done to help U.S. soldiers returning from war, Miller said on CNN.
"In 10 debates, they've mentioned the word 'veterans' about 35 times, with no specifics attached to it," he said.
—
Follow the author of this story on Twitter and Facebook:
[facebook //www.facebook.com/plugins/like.php?href=