Activists in Dallas, Texas, are demanding that an area police officer be reprimanded,after they claim he used excessive force to stop a fight at a local high school.
Officer Kevin Garbacik of the Sherman Police Department, which is north of Dallas, recently broke up a fight between two girls at Sherman High School. But activists say his actions were a "brutal assualt," resulting in one of the girls involved, 15-year-old Shatayvian Nelson, having a "severe concussion."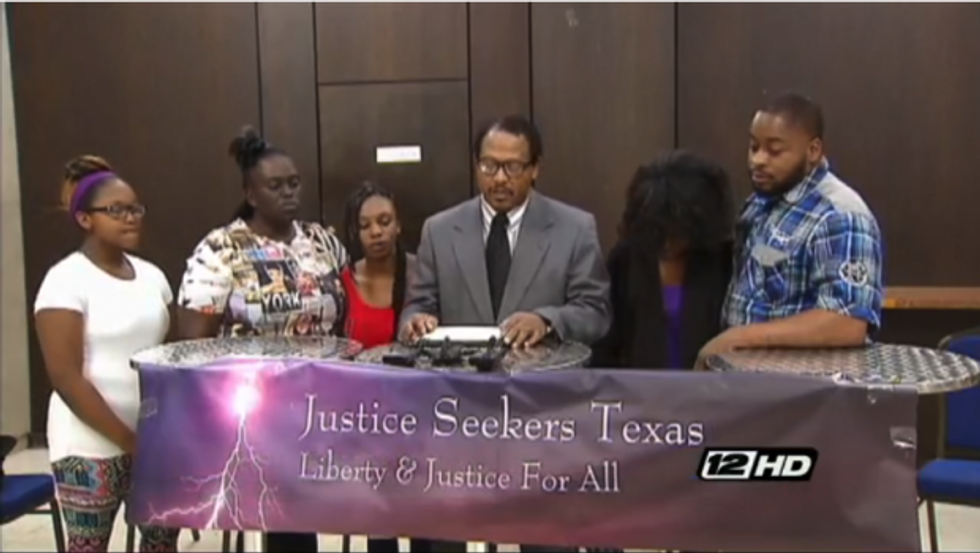 Image source: KXII-TV/screenshot
"We are here today requesting that the Sherman police officer not just be disciplined but be fired for the brutal assault that he did on a young high school student," the Rev. Ronald Wright of Justice Seeking Texas said Thursday, "and that the school also be held accountable because this young lady was never given the medical attention that she needed because of that severe concussion."
According to KXII-TV, a video of the fight that recently surfaced shows a school administrator trying to break up the fight. When that adminstrator's efforts proved unsuccessful, Garbacik stepped in.
Wright and the girl's family claim that instead of slamming Nelson to the floor, the officer could have handled the situation differently.
"Anyway, anybody who looks at that video and disagrees with what we're saying," Wright asked, "what would you say if your daughter that was slammed to the ground?"
However, others in the community believe the girl got what she deserved.
"If my child was doing something of that nature, sorry honey, you brought that on yourself, and now we have to pay the consequences for that," community member Joshua Poormohammadi said. "There's always different ways to approach things, but ultimately when you get in the line of fire, and the heat is on, you react."
"They weren't little girls," he added. "Everybody's saying, 'These are teenagers. These are little girls.' If you're going to fight like that, you have to pay the consequences."
While there is disagreement on both sides, Nelson's mother says she is not backing down until "justice is served."
It is not immediately clear if Garbacik will be punished for his actions.
(H/T: KXII-TV)
—
Follow the author of this story on Twitter and Facebook:
[facebook //www.facebook.com/plugins/like.php?href=