Members of a California State University, Los Angeles conservative club have have found themselves under intense scrutiny from their peers and at least one faculty member after the group invited a controversial conservative speaker to campus.
The public university's Young America's Foundation student group extended an invitation to author and senior editor at large for Breitbart News Ben Shapiro to lecture on "When Diversity Becomes a Problem" — a topic that encompasses trigger warnings and microaggressions. In a public Facebook event page to promote the lecture, several students have decried the event as being "unsafe," a "right-wing attack," "a hostile event" or damaging to students' mental health.
Besides students, one faculty member, Robert Weide, also took to the event page and berated the event organizers as well as other Facebook users. Weide, who according to CSULA's website is an assistant professor of sociology with an emphasis on criminology, asserted that the conservative students who invited Shapiro and those in support of the event are "white supremacists."
"FYI tough guy provocateurs, we have open mat on campus in the gym in the USU building at 1pm Friday and noon on Saturday if you want to show us your white supremacy. Heads up though, I lift bro...," Weide said during an exchange with those on the event page.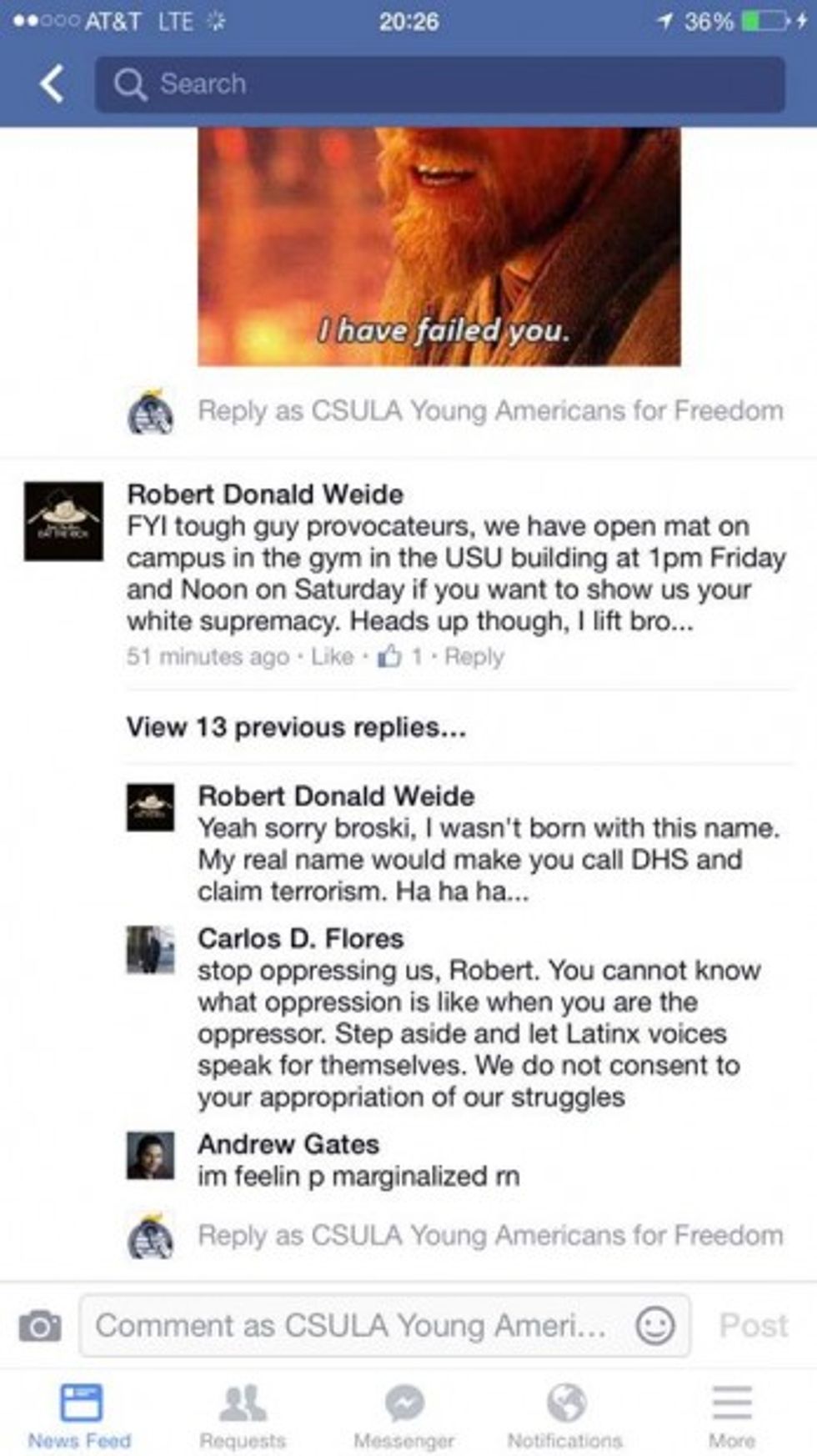 Image provided to TheBlaze.
In screenshots provided to TheBlaze, Weide engaged multiple students as well as other Facebook users in discussion. Weide identified himself as a CSULA faculty member at multiple points during various exchanges, including when he volunteered to debate Shapiro in a question-and-answer portion at the end of the lecture.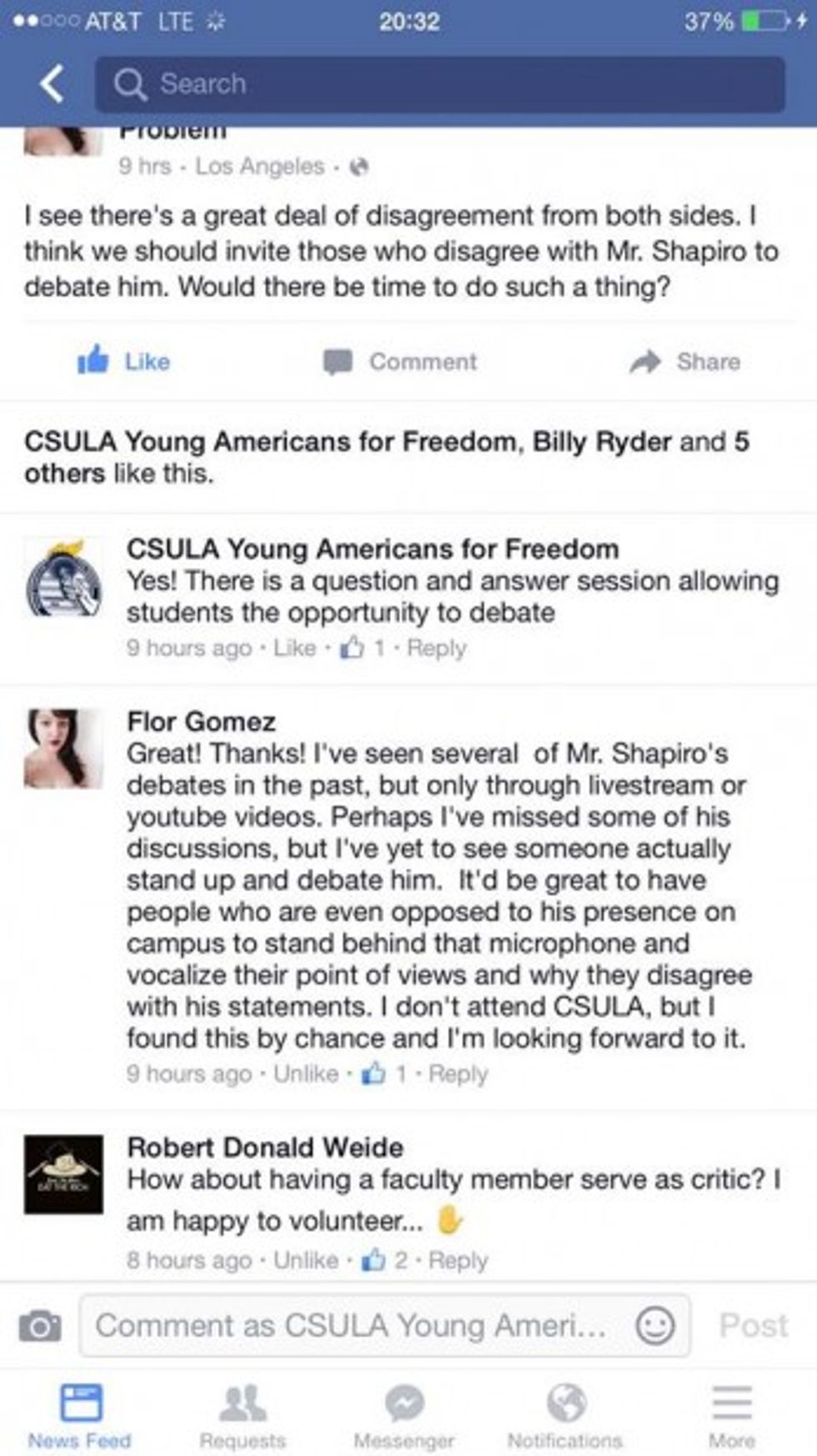 Image provided to TheBlaze.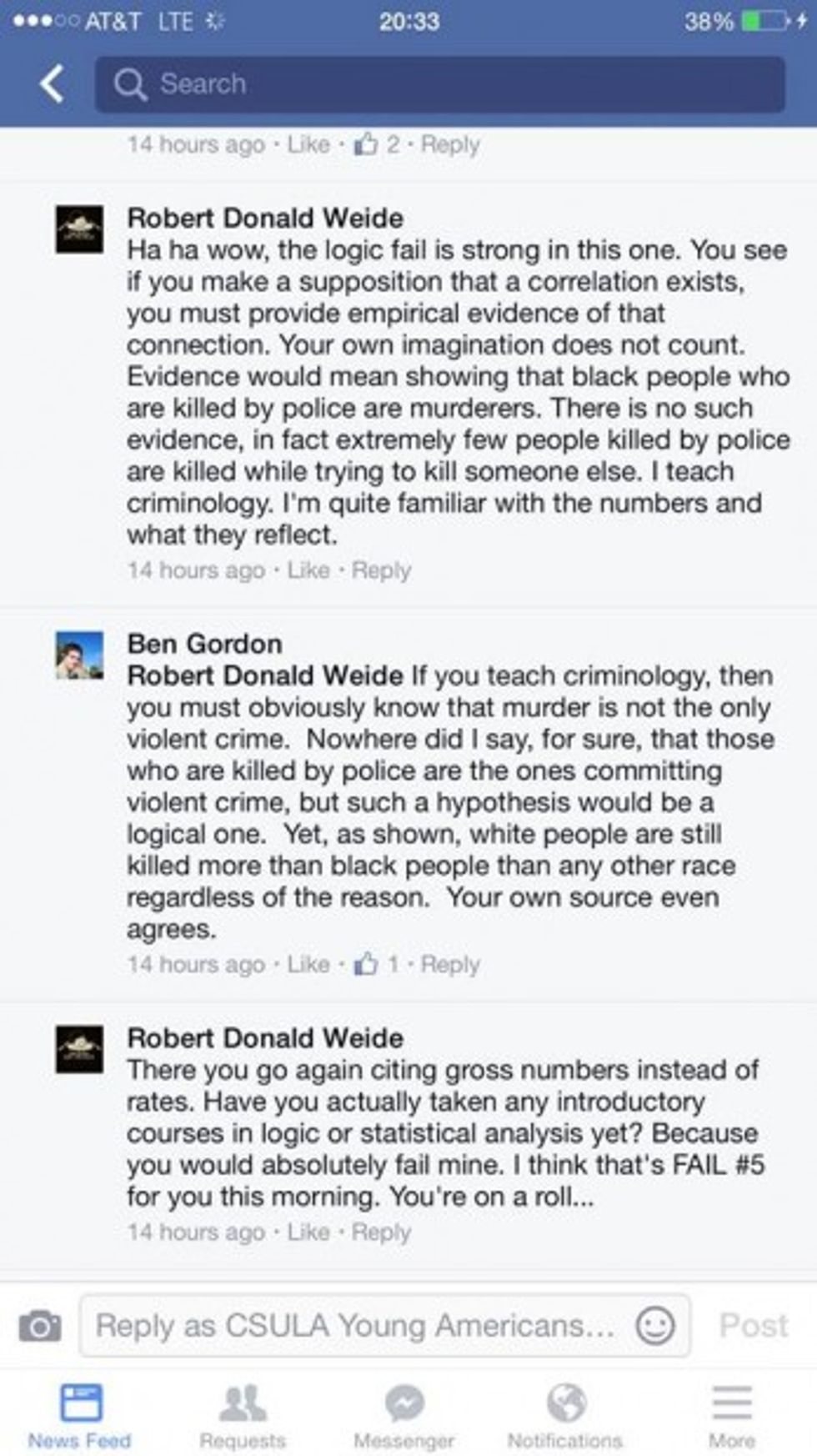 Image provided to TheBlaze.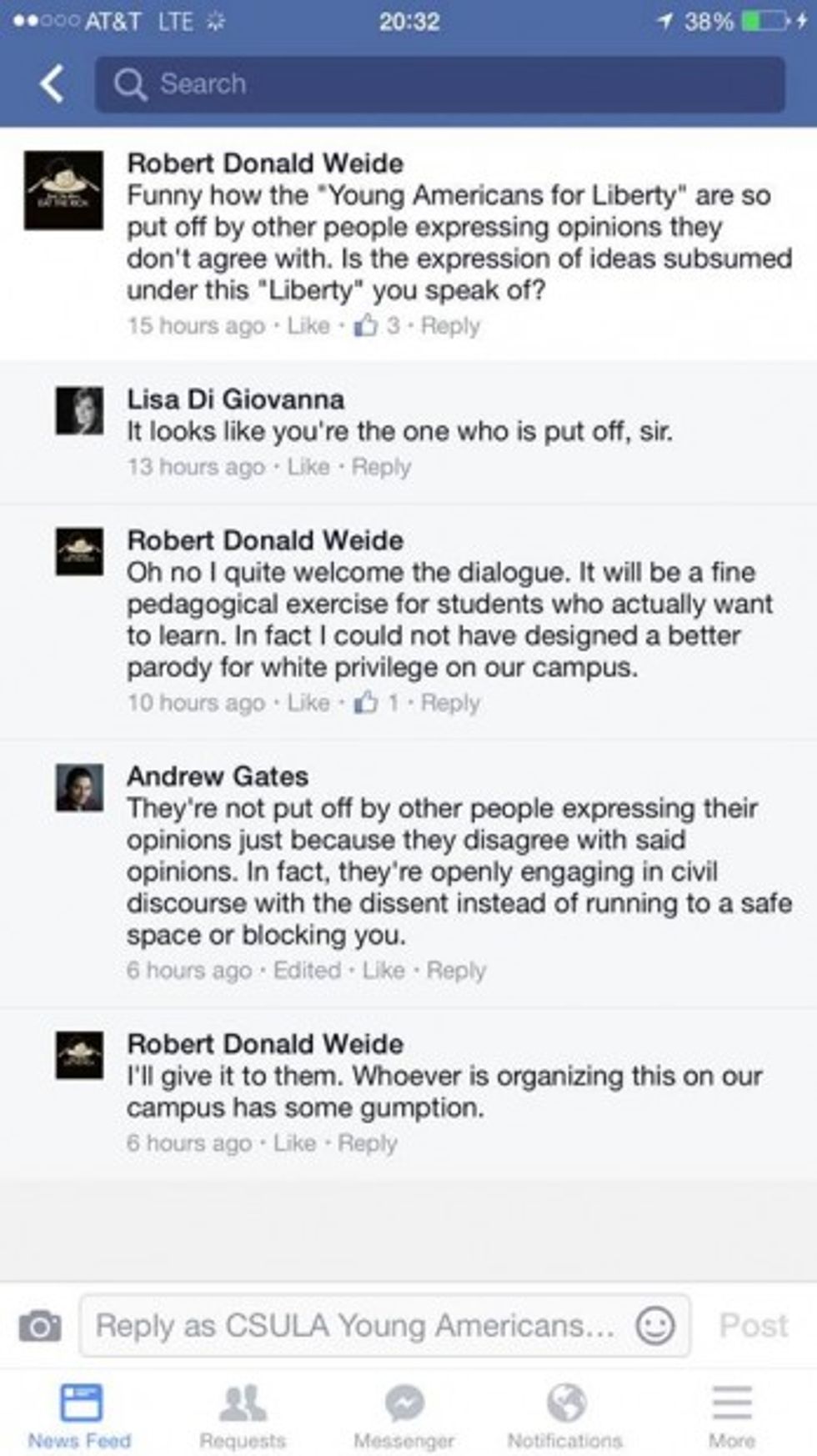 Image provided to TheBlaze.
"As the first conservative leader on campus, taking a stand against the regressive left, I am shocked and mortified that a teacher would take part in the accusations that my members and I are white supremacists, but what shocked me even more is when he said [the comment about the gym]," Mark Kahanding, a CSULA student and the university's YAF chair, told TheBlaze Sunday. "Regardless of where you are in the political spectrum, it is disgusting to encourage physical violence and to be completely blind when students make threats to the event."
Kahanding said that he was not aware that any of YAF's members had Weide as a professor, but he did say that he doubted any of them would  take his class in the future "because of his horrible accusations."
"It's utterly unsurprising that professors paid for with taxpayer dollars to indoctrinate students in leftism get violently outraged when somebody tries to break that monopoly," Shapiro told TheBlaze on Sunday. "This is how fascism operates: with ridiculous suggestions that free speech is 'dangerous' and with threats of actual violence if that free speech is then exercised."
Weide, who has a very positive profile on the review website Rate My Professor, did not respond to a request for comment from TheBlaze Sunday.
"Professors are the wellspring of extremism on college campuses. How unfortunate is it that a professor, someone tasked with bringing up the future generation of critical thinkers, would berate a student simply for organizing an event to represent an opposing viewpoint," Emily Jashinsky, spokeswoman for the national YAF organization, told TheBlaze. "The atmosphere on our campuses will not improve until professors begin to conduct themselves responsibly."
According to the Foundation for Individual Rights in Education, a nonprofit organization that focuses on civil liberties in academia, CSULA has a "red light" rating for its speech policies — meaning the public university has at least one policy which clearly restricts the freedom of speech on campus.
Shapiro is scheduled to speak at the campus on Feb. 25 in the Student Union.