A super PAC aimed at sinking Republican frontrunner Donald Trump's campaign sent the billionaire a package in light of his decision to skip Thursday's Fox News debate.
Make America Awesome said it had "decided to fill a much-needed void, and send Donald Trump some balls."
The group, operated by Republican strategist Liz Mair, overnighted a package of 144 table tennis balls through Amazon Prime to the billionaire. Fox News had previously implied that the businessman was afraid of being questioned by host Megyn Kelly.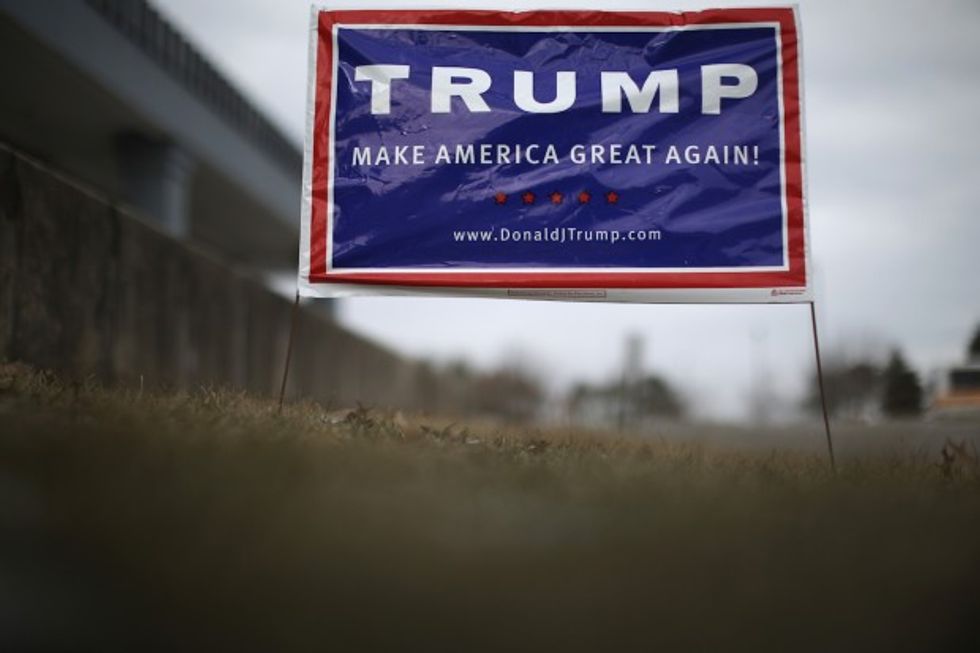 A sign sits outside the Des Moines headquarters of Republican presidential candidate Donald Trump in West Des Moines on January 27, 2016 in Des Moines, Iowa. (Photo by Christopher Furlong/Getty Images)
"The guy who talks tough and pretends to be the second coming of John Wayne keeps losing his balls, and doing things like boycotting debates because a girl was mean to him, and complaining about being treated 'unfairly' when he's been treated with kid gloves by his opponents and the mainstream media for months now," Mair told TheBlaze.
"Donald is obviously having an especially hard time locating his balls this week, so we're going to help him out," she added. "We're nice people. And we're pro-balls."
Here's the note attached to the package:
Dear Donald:

You seem to be having trouble locating your balls ahead of this week's debate.

Hopefully, this will help. 144 balls should be enough to get you through the New Hampshire primary, but let us know if you're feeling you're still lacking in the balls department, and we can send some more.

Best,

Make America Awesome
Mair joked that the group opted to ship a "big pack" which would "be enough to get him through the New Hampshire primary."
The political stunt comes as Trump is hammered by his Republican rivals for choosing to skip the last debate before the Iowa caucus. His main rival in the Hawkeye state, Texas Sen. Ted Cruz, started selling "Make Trump Debate Again" hats online.
—
Follow the author of this story on Twitter and Facebook: