With white hair and a wrinkled smile, Republican presidential hopeful Ted Cruz's father, Rafael Cruz, shared stories from his dramatic voyage to the United States with Glenn Beck Wednesday evening, telling the show host he would "gladly" give his life for this country.
Cruz, a Cuban immigrant and a Texas pastor, has been making stump speeches in Iowa for his son's campaign, sharing details of his epic journey away from Cuba's Batista dictatorship. Intertwined with his experience, which he says involved him fleeing Cuba on a student visa and coming to the U.S. in 1957 with nothing more than $100, is the role faith plays in his life.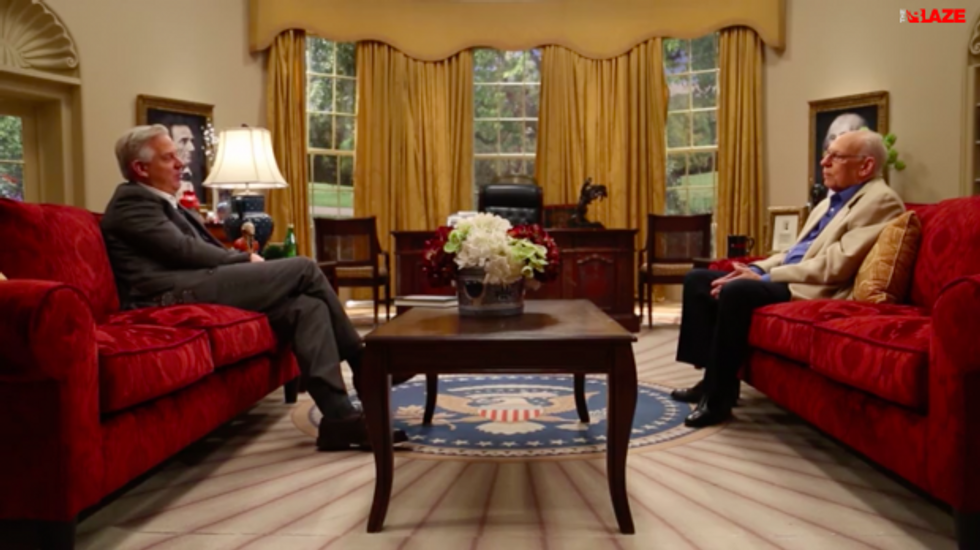 Rafael Cruz shares stories from his journey to the United States with Glenn Beck Wednesday, Jan. 27. (Image source: TheBlaze TV)
Cruz, 76, claims to have been caught up in the center of the fight to overthrow the Batista regime with other young Cubans, and says that, at the time, he was enchanted by the young fighter Fidel Castro, who later became the repressive dictator of Cuba. Though he was not a Christian at the time, he believes God was protecting him.
"As I was in Cuba, on three different occasions, I thought I would be killed and that God that I didn't know — he knew me — he had a different purpose for my life," Cruz said on The Glenn Beck Program. "So it is divine providence that I am here today."
Since coming to the United States, Cruz has made a name for himself speaking up against what he sees as government overreach and sharing his immigration story in front of Christian and conservative audiences. And, though his journey was hard, he is committed to his belief that the U.S. is "the most exceptional nation" in the world.
In fact, he says he's willing to fight — and even die — for it.
"Both my son and I, we love this country very much. Let me tell you, I am 76 years old, but I would gladly give my life for this country," Cruz confidently told Beck, who has endorsed Cruz. "I lost my freedom once, Glenn. I'm not willing to lose it again."
"I will die fighting before I lose my freedom again," he repeated.
Complimentary Clip from TheBlaze TV The full episode of The Glenn Beck Program, along with many other live-streaming shows and thousands of hours of on-demand content, is available on just about any digital device. Click here to watch every Glenn Beck episode from the past 30 days for just $1!
—
Follow the author of this story on Twitter: