NBA Hall of Famer and TNT analyst Charles Barkley appeared on NBC Sports' "Dan Patrick Show" Wednesday to criticize ESPN's coverage of next month's Super Bowl.
Barkley shared with host Dan Patrick that he believes ESPN is "framing the narrative" of Super Bowl 50 into a "black versus white, good versus evil" scenario based on the two starting quarterbacks, Peyton Manning and Cam Newton.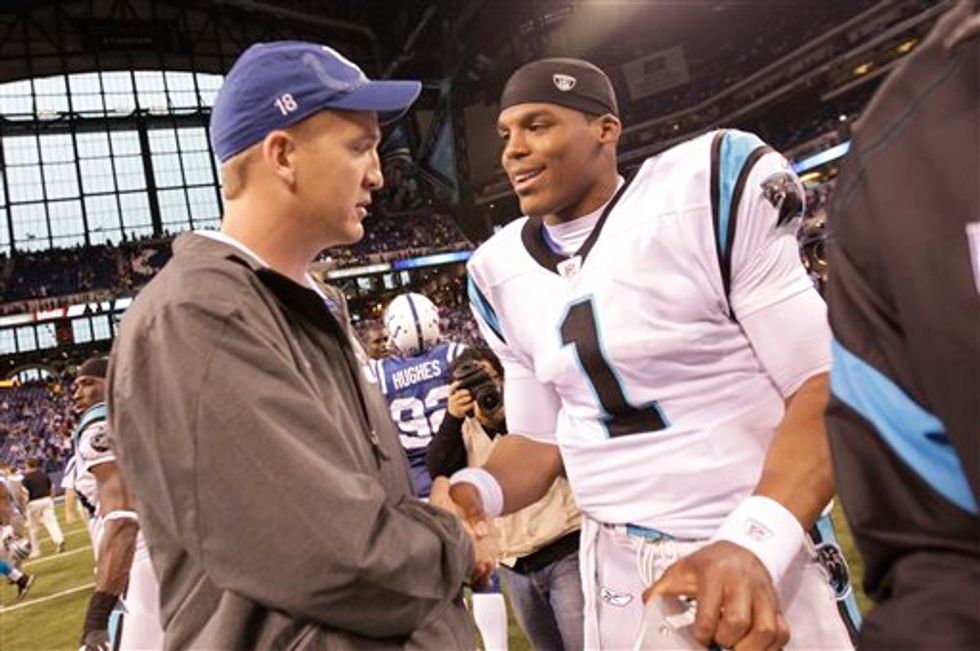 Denver Broncos quarterback Peyton Manning, left, shakes hands with Carolina Panters quarterback Cam Newton. (AP Photo/AJ Mast)
"ESPN has already started their crap about black versus white, good versus evil and I know a lot of those fools over there got radio talk shows," he said. "It really annoys the hell out of me."
He went on to say that analysts "just can't appreciate the greatness of Peyton [Manning]," the Broncos' starting quarterback, who is white.
"And clearly, Cam is on the track to become one of the greatest players ever," he continued. "You can already see them framing the narrative 'black versus white, good versus evil.'"
Barkley also added that, if he were in the NFL, he would not be a fan of how his fellow Auburn alum celebrates on the field.
"Let me tell you something, as much as I love Cam Newton, if I played against him, I would put a hit on him, no question," Barkley stated. "They rub it in pretty good."
(H/T: Breitbart)