An 8-year-old Alabama boy stepped off a bus Thursday afternoon expecting to meet his father — but Dad was running a bit late, so his son walked back home alone.
But once inside his family's Jefferson County apartment, the boy soon noticed something that frightened him: Three men knocking outside.
"He called his dad and said, 'I see somebody,'" Laquita Embry, the boy's mom, told WBRC-TV.
Embry said she and her husband taught their son in such situations to grab a knife, run upstairs to hide and call for help — and that's exactly what he did, the station said. AL.com reported that he hid under a bed.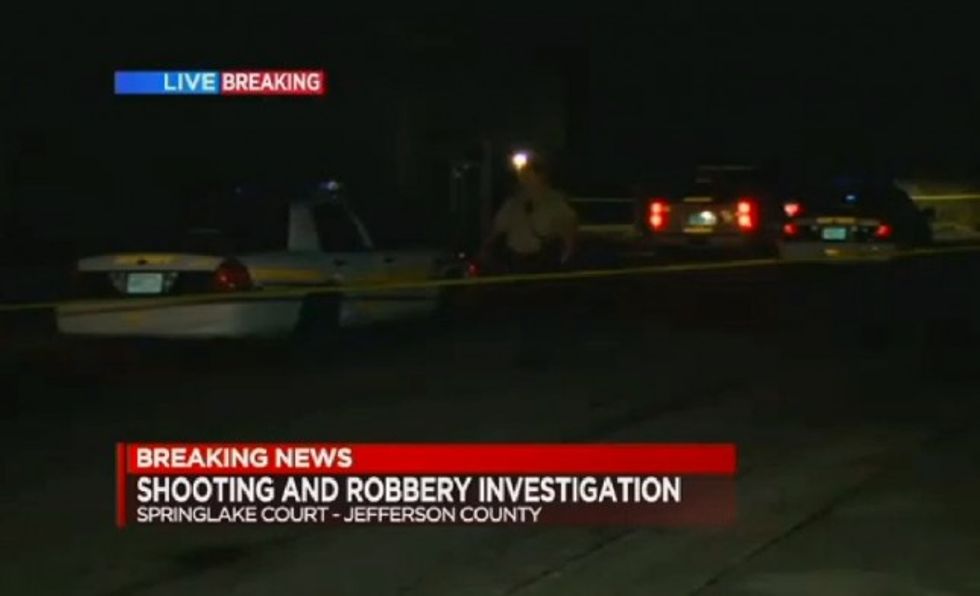 Image source: WBRC-TV
As it happens, the person the boy called was his dad, who was already on his way home — and was armed with a handgun.
And when Dad arrived, he shot at the suspects, who sheriff's deputies said had broken into the residence.
"My husband called me so I knew everything was alright," Embry told WBRC. "My husband told me, 'I got them. They were trying to break in. I just walked in the house and started shooting. I think I killed one of them.'"
When deputies arrived on the scene, they found a wounded man; he was taken to a hospital and later died.
The other two suspects fled on foot, AL.com reported, adding that a tracking dog was being used to find them. The outlet added that there were early reports of a second wounded suspect and that deputies noted a possible blood trail from the apartment.
Sgt. Jack Self told WBRC that because one suspect was killed, there will be a homicide investigation and the district attorney's office will decide if the homeowner could face charges.
Embry told the station that her son and husband are fine.
"I'm glad he did get him," she added to WBRC. "I work hard. I work two jobs. People just come here, taking your stuff. It's not right."