Republican presidential candidate Donald Trump received a lot of flack last month after he incorrectly cited a popular Bible verse while addressing a packed house of evangelical voters at Liberty University.
During his Jan. 18 visit to the private Christian university, Trump used the phrase "Two Corinthians" instead of "Second Corinthians" to introduce a verse from the New Testament, after which chuckles from the crowd ensued.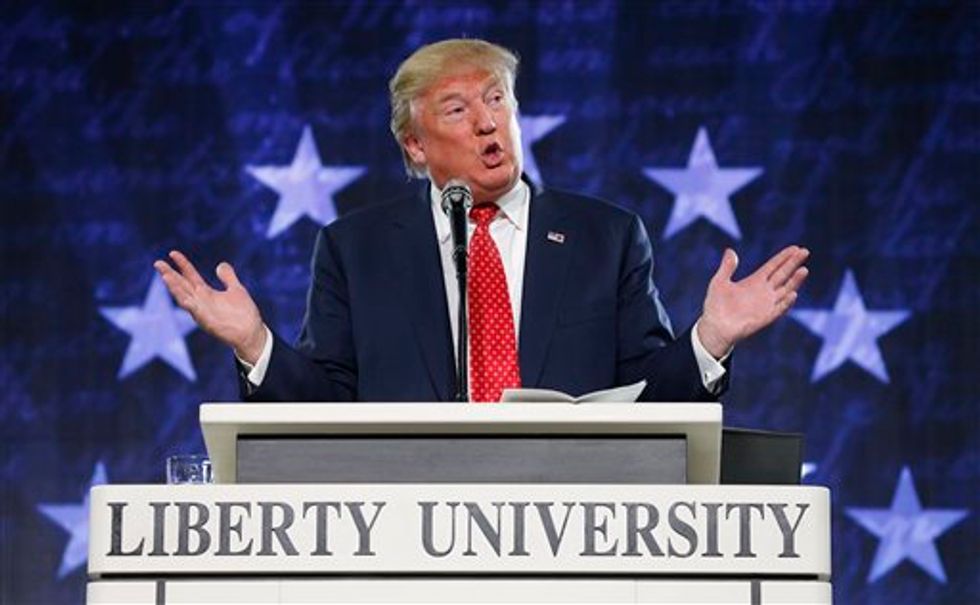 Republican Presidential candidate Donald Trump gestures during a speech at Liberty University in Lynchburg, Virginia, Jan. 18. (AP Photo/Steve Helber)
Trump launched a host of last-minute campaign efforts ahead of the first presidential vote in Iowa Monday, showing voters the Bible his mother gave him, sending his sons Donald Jr. and Eric to shoot AR-15 rifles and inviting children aboard his private plane.
"I don't care if you're feeling horrible, you have a 104 temperature, if your wife leaves you for another man, get out and vote," he told voters.
Trump visited a non-denominational church Sunday with his wife Melania in Council Bluffs, Iowa, the Telegraph reported.
When it came time to receive Communion, Trump had a moment of confusion during which he tried to place some money on one of the silver trays being passed around.
"I thought it was for offering," he said with a laugh.
According to the Telegraph, the pastor told Trump that "Jesus will guide your decisions." Trump replied: "Thank you, I need that."
In Iowa, 57 percent of presumed voters are evangelical Christians.
A day before the blunder, Trump released a video in which he displayed his mother's Bible, saying it was "very special to me."
"I want to thank the evangelicals," Trump says in the video. "I will never let you down."
A final poll by the Des Moines Register had Trump at 28 per cent, five points ahead of his staunchest competitor, Texas Sen. Ted Cruz.
"I don't have to win it. But I think it would be really good to win Iowa," Trump said Monday. "I now have a fairly substantial lead in Iowa. I think we have a good chance of winning. I would like to."
"I do have, actually, much more humility than a lot of people would think. We're all the same," he continued. "We're all going to the same place, probably one of two places, you know?"
Trump, a Presbyterian, has alienated evangelicals in the past with statements during the campaign about how he doesn't like to ask for forgiveness and instead tries to lead a "very good life."
(H/T: Telegraph)