Iowa Republican caucus winner Ted Cruz apologized to Ben Carson and his campaign Tuesday afternoon after a Cruz staffer spread a rumor Monday evening implying that the retired neurosurgeon was suspending his campaign.
"Last night when our political team saw the CNN post saying that Dr. Carson was not carrying on to New Hampshire and South Carolina, our campaign updated grassroots leaders just as we would with any breaking news story," Cruz said in a statement to CNN.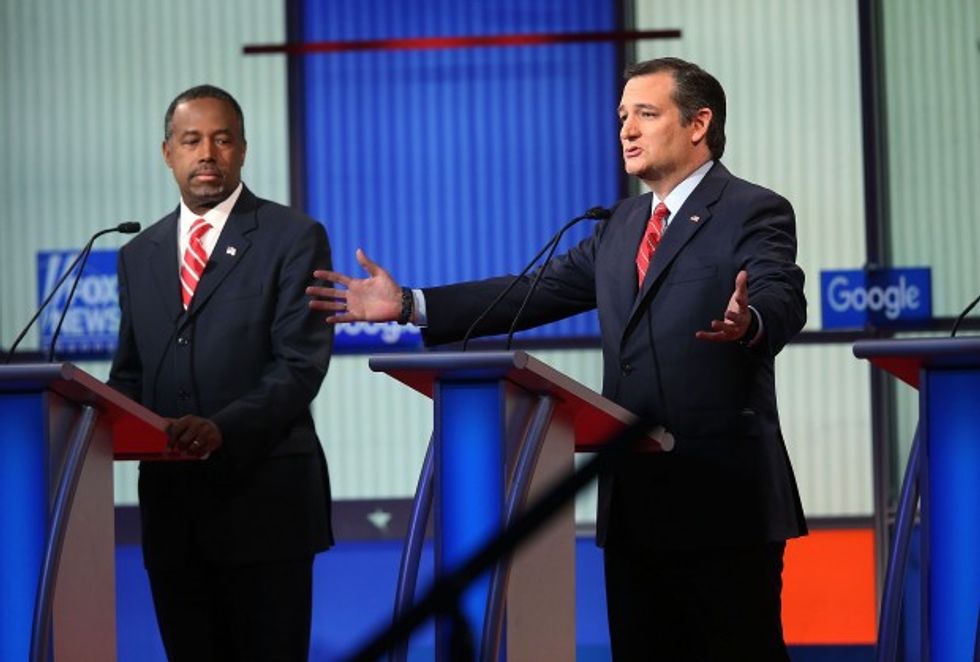 Ted Cruz and Ben Carson participate in the Fox News GOP debate Jan. 28. (Getty Images/Scott Olson)
"That's fair game," the Texas senator continued. "What the team then should have done was send around the follow-up statement from the Carson campaign clarifying that he was indeed staying in the race when that came out."
Cruz added, "This was a mistake from our end, and for that I apologize to Dr. Carson."
Cruz staffers started the rumor after seeing a report from CNN that said Carson planned to fly home to Florida directly following the caucus. However, Carson wasn't planning to stay there for good. Instead, he planned to do some laundry, before hitting the trail again in New Hampshire on Tuesday.
But Carson contends that the misinterpretation by Cruz staffers hurt his showing on Monday. In video captured by TheBlaze, Carson slammed the Cruz campaign Monday night, charging that the campaign used "dirty tricks" and "lies" to hurt his chances.
Rep. Steve King (R-Iowa), who has endorsed Cruz and is a surrogate for the campaign, even tweeted the news Monday evening as the caucus process was unfolding. "Carson looks like he is out. Iowans need to know before they vote. Most will go to Cruz, I hope," King wrote.
Carson looks like he is out. Iowans need to know before they vote. Most will go to Cruz, I hope. https://t.co/lW5Js50EMA

— Steve King (@Steve King) 1454376052.0
But Cruz campaign spokesman Rick Tyler was quick to hit back at Carson's campaign. Speaking on MSNBC's "Morning Joe" Tuesday, Tyler labeled Carson's allegations "false."
"On the Ben Carson allegation, it's just false," Tyler said. "We simply as a campaign repeated what Ben Carson had said in his own words. That's not a dirty trick."
—
Follow the author of this story on Twitter and Facebook:
[facebook //www.facebook.com/plugins/like.php?href=