MSNBC's "Morning Joe" co-host Mika Brzezinski confronted a Ted Cruz spokesman this morning about some of the "dirty tricks" that have been attributed to the Texas senator's presidential campaign. The interview came the day after Cruz won the Republican Iowa caucus.
Brzezinski pressed Cruz spokesman Rick Tyler about "the mailers that really seem totally off-color in terms of how to win, and also putting it out there that Ben Carson had dropped out, with your top surrogate even tweeting it. Why do that?"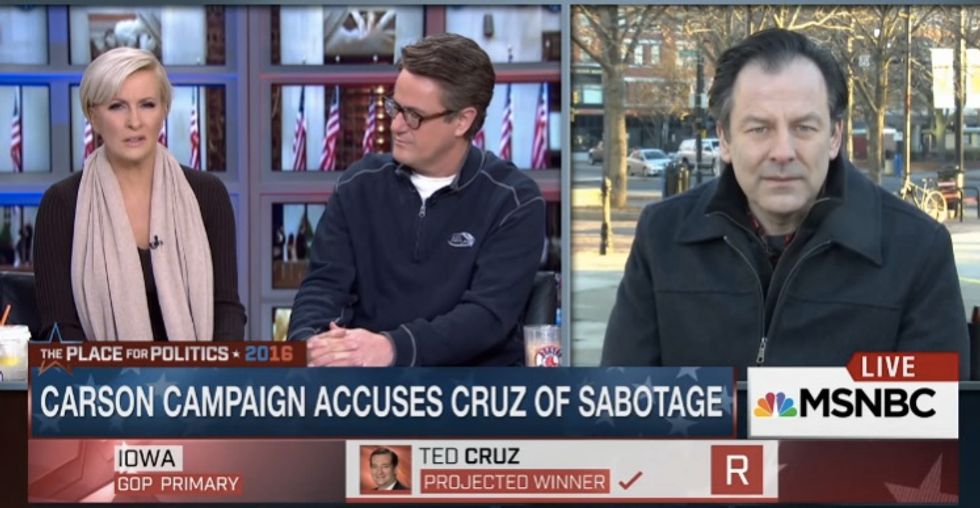 Image source: MSNBC
Tyler assured viewers that there was nothing unethical about the controversial mailer, which told voters they had committed a "voting violation" if they weren't out caucusing for Cruz. He noted that the Iowa Republican Party has used similar methods in the past.
"The mailer, wasn't it very deceptive?" Brzezinski asked. "Wouldn't you consider that dirty politics if that was done to your candidate?"
"I could show you lots of mailers that I would consider deceptive," Tyler said. "It was reminding people it was their obligation and duty to vote."
Tyler called it "false" to say it was "dirty" of the Cruz campaign to suggest Carson was dropping out.
Carson, however, seemed to think it was. He cited Joseph Stalin in a speech Monday night, noting him as a politician that wanted to destroy America by undermining its spirituality, patriotism and morality.
"We are in the process of collapsing from within … if we continue to accept deceit and dirty tricks and lies," Carson said in his speech. "And people who do that are still viable candidates for president of the United States and we accept it and that's the problem."
"We repeated what Ben Carson said in his own words," Taylor asserted. "He said after Iowa he was going back to Florida for a couple of days then to D.C. for the prayer breakfast. That told us he was not going to New Hampshire. That was not a dirty trick."
(H/T: Mediaite)