Carly Fiorina does not want to be left out.
In a debate process that the GOP presidential candidate says is "broken," Fiorina argued in a letter to the Republican National Committee Wednesday that she will be the only candidate left off the debate stage despite outperforming some of her counterparts in Iowa earlier this week.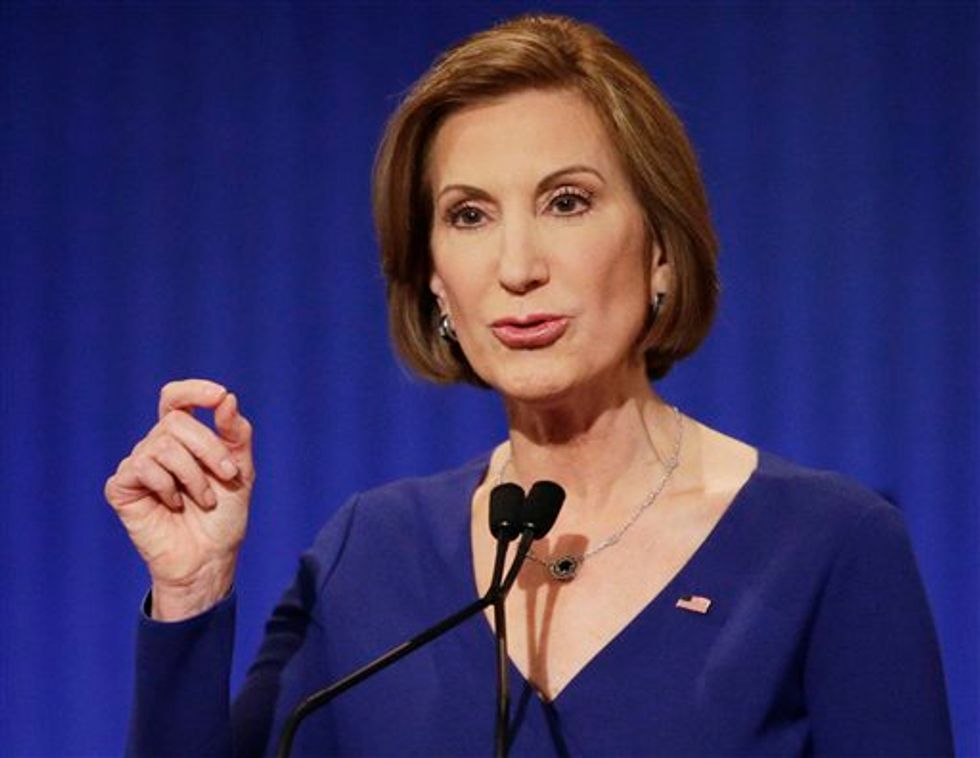 Republican presidential candidate Carly Fiorina participates during the Fox Business Network Republican presidential debate in North Charleston, S.C. (AP Photo/Chuck Burton)
"Our debate process is broken," Fiorina wrote. "Networks are making up these debate rules as they go along  —  not to be able to fit candidates on the stage  —  but arbitrarily to decide which candidates make for the best TV in their opinion."
She continued:
In 2012, the debate stage featured 8 candidates until the Iowa Caucus and then all declared candidates still in the race were invited from that point forward, including the ABC New Hampshire debate. As of today, I will be the only candidate kept off the debate stage. To review, we beat Governors Christie and Kasich in Iowa this week when voters actually had their say. This campaign has the same number of delegates as Governors Bush and Kasich while Governor Christie has zero. We're ahead of Dr. Carson in New Hampshire polling. We are 6th in hard dollars raised and have twice the cash on hand as either Governors Christie or Kasich. We are already on the ballot in 32 states, and there is a ground game with paid staff in 12 states. Yet, all of these candidates will be invited to the ABC debate. I will not.
Saturday's ABC News debate will not feature an undercard contest for GOP presidential candidates who could not make it onto the primetime event. Along with Fiorina, former Virginia Gov. Jim Gilmore will not qualify for Saturday's debate; however, he has only appeared in a few and does not register on Real Clear Politics' aggregated polling data.
Fiorina is in eighth place among the Republicans who are still left in the race, polling at 1.8 percent, according to Real Clear Politics.
"There are only 8 candidates left. It's time for the RNC to demand that media executives step aside and let voters hear from all of us," Fiorina wrote to the RNC.
CNN previously amended debate criteria for a contest in September that led to the inclusion of Fiorina.
The Democratic National Committee has also faced harsh criticisms from those in the party and its presidential candidates over its handling of debates — in particular, the low quantity and the inopportune times that bring in lackluster viewership. The DNC recently agreed to candidates' demands to add more debates to the schedule, including one Thursday in New Hampshire.
The RNC did not respond to a request for comment from TheBlaze Wednesday.