CONCORD, N.H. – After Republican presidential candidate Carly Fiorina was excluded from the GOP Debate on Saturday evening, she and he husband, Frank Fiorina, decided to have a date night, he told TheBlaze.
"We ordered in and we watched a movie," Frank Fiorina said. "But for us that was a big deal, to have a night off."
Frank said they watched Carly's favorite movie.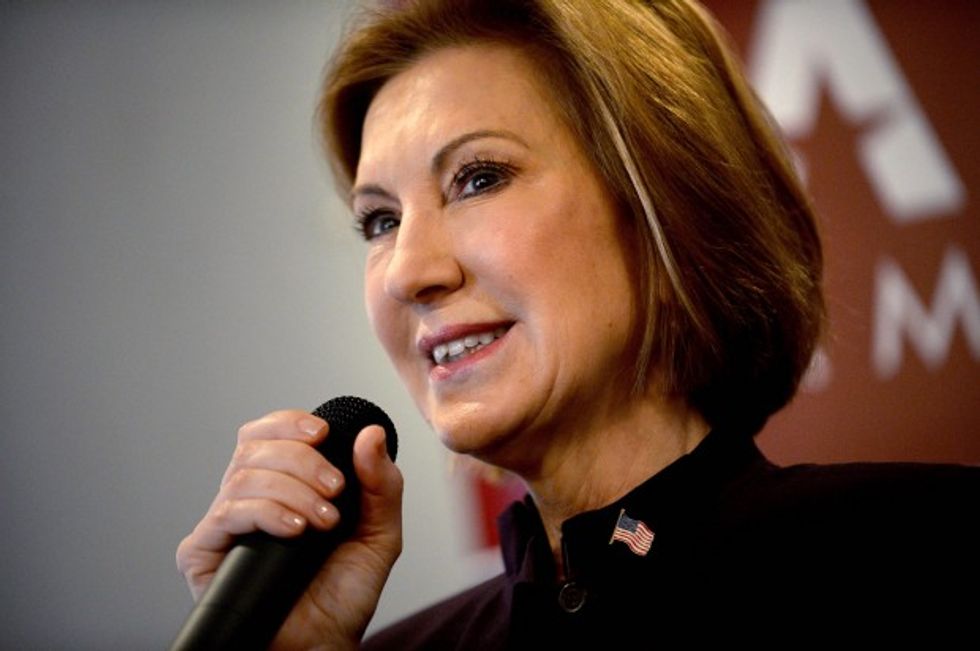 MANCHESTER, NH - FEBRUARY 8: Republican Presidential candidate Carly Fiorina holds 'Coffee With Carly' at Blake's Restaurant February 8, 2016 in Manchester, New Hampshire. Candidates are in a last push for votes ahead of the first in the nation primary on February 9. (Photo by Darren McCollester/Getty Images)
"Her favorite movie in the whole entire world is Secretariat," Frank Fiorina said. "She just loves it. That movie energizes her, because that horse was so inspiring."
During a GOP debate last fall, Fiorina was asked what her secret service code name would be should she be elected. She replied: "Secretariat."
Asked how they were feeling about Tuesday's primary, Frank Fiorina said "we're ready."
During remarks at her final town hall in the Granite State prior to votes being cast in the first-in-the-nation primary on Tuesday, Fiorina addressed her exclusion from the debate.
"You know me as a fearless fighter," she said. "You do. You know me as a great debater, and you cannot wait to see me debate Hillary Clinton, you just can't wait."
"You know I'll debate anyone any time, anywhere, and usually I win, which is maybe why they didn't want me on that stage Saturday night," she added. "But here's the thing: While the media covers politics like it's a game, like it's a sport, it's not. You know in your bones it's really serious now. You know that, you feel it, that we're at a pivotal point. And so what I want you to think about is not just who will win – you know I would win - but I want you to think about who would do the job, because it's your job to pick presidents."
According to a CNN/WMUR New Hampshire primary poll released Sunday, Fiorina trailed rivals Donald Trump, Sen. Marco Rubio (R-Fla.), Sen. Ted Cruz (R-Texas) and Gov. John Kasich (R-Ohio). She polled within the margin of error of former Gov. Jeb Bush (R-Fla.) and polled ahead of Gov. Chris Christie (R-N.J.), neurosurgeon Ben Carson and former Gov. Jim Gilmore (R-Va.).
In the poll, 45 percent of likely Republican primary voters say they have definitely decided who they will support, 25 percent said they are leaning toward a candidate, and 30 percent were still undecided.
—
Follow Kate Scanlon (@kgscanlon) on Twitter