Beyonce might not have been the only performer to seemingly embed political messages in the Super Bowl 50 halftime show on Sunday, with Coldplay joining her and Bruno Mars in concluding their performance by having spectators hold up rainbow-colored cutouts.
Those placards collectively spelled out the words "Believe in Love."
While AFP reported that Coldplay was paying tribute to the "1960s counterculture" in San Francisco, the host city of Sunday's Super Bowl, others saw a more specific and pointed message embedded in the performance: one that backed same-sex relationships.
Here's how the Guardian's Needham described the show's finale: "Finally, the whole stadium held up a rainbow of cards, some spelling out the words 'Believe in Love,' perhaps also a sweet affirmation of same-sex marriage."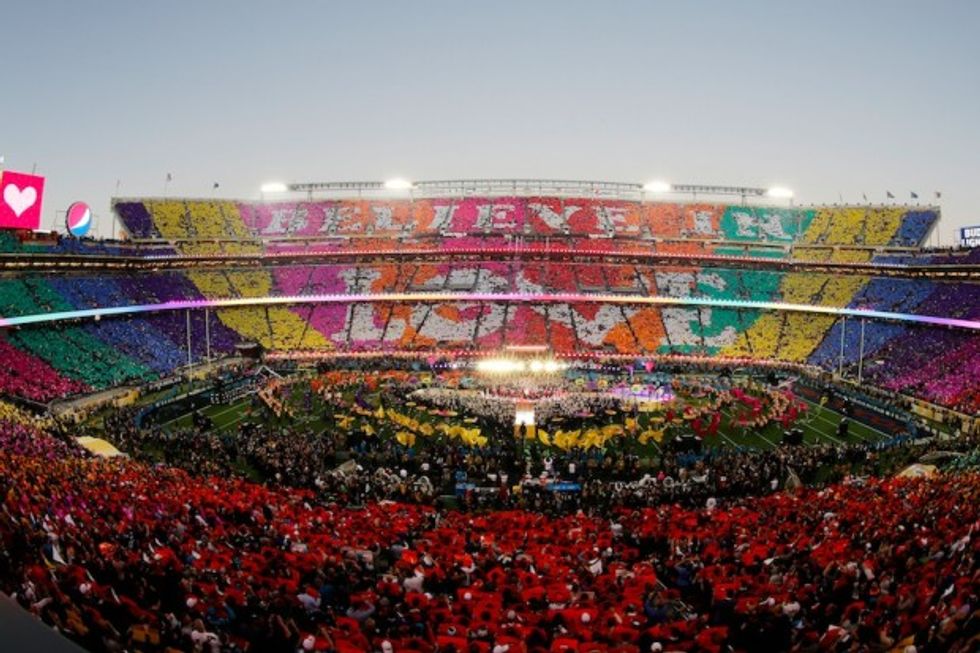 Coldplay singer Chris Martin performs during halftime of the NFL Super Bowl 50 football game between the Denver Broncos and the Carolina Panthers, Sunday, Feb. 7, 2016, in Santa Clara, Calif. (AP Photo/Charlie Riedel)
But Mic's Tom Barnes went even further, claiming that the halftime show was "a 12-minute tribute to LGBT love" and adding that Beyonce's performance constituted "an epic Black Lives Matter interlude."
These assessments were based on a number of factors, including the "colorful" nature of the stage while Coldplay was on it as well as the "Believe in Love" message that came at the end of that performance.
Another moment, though, according to Barnes, came when Martin went up to someone in the crowd who was waving a gay pride flag — something that he said convinced him that the show was a tribute to "LGBT love."
Watch the Super Bowl halftime show below. The "Believe in Love" placards pop up at the end of the clip:
Not everyone agrees that these facets of the performance were political in nature, with some saying that the rainbow colors were simply related to the color scheme used in promotional materials related to Coldplay's new music. What do you think?
As TheBlaze previously reported, Beyonce is capturing attention for controversial political messages that were embedded in her portion of the halftime show, with critics and fans debating over her dancers presumably being dressed like Black Panthers and making a black power salute.
--
Follow the author of this story on Twitter and Facebook: