MANCHESTER, N.H. — Democratic presidential candidate and New Hampshire front-runner Bernie Sanders said today that students who've racked up hundreds of thousands of dollars in debt deserve to be "bailed out" by imposing more taxes on Wall Street.
The Vermont senator routinely asks attendees at his events to shout out how much they owe in student loan debt.
On Monday at a rally in Manchester, a female member of the crowd responded that she currently faces $200,000 in student loan debt for her graduate liberal arts degree from Columbia University.
Columbia University in New York City is one of the most expensive private four-year institutions in the United States, with annual tuition costing a hefty $49,138 per year. The national average for a private four-year school is $24,269, according to the U.S. Department of Education.
The most expensive four-year public school in the nation is the University of Pittsburgh, which costs $17,100 per year. The national average for a four-year public university is $7,617.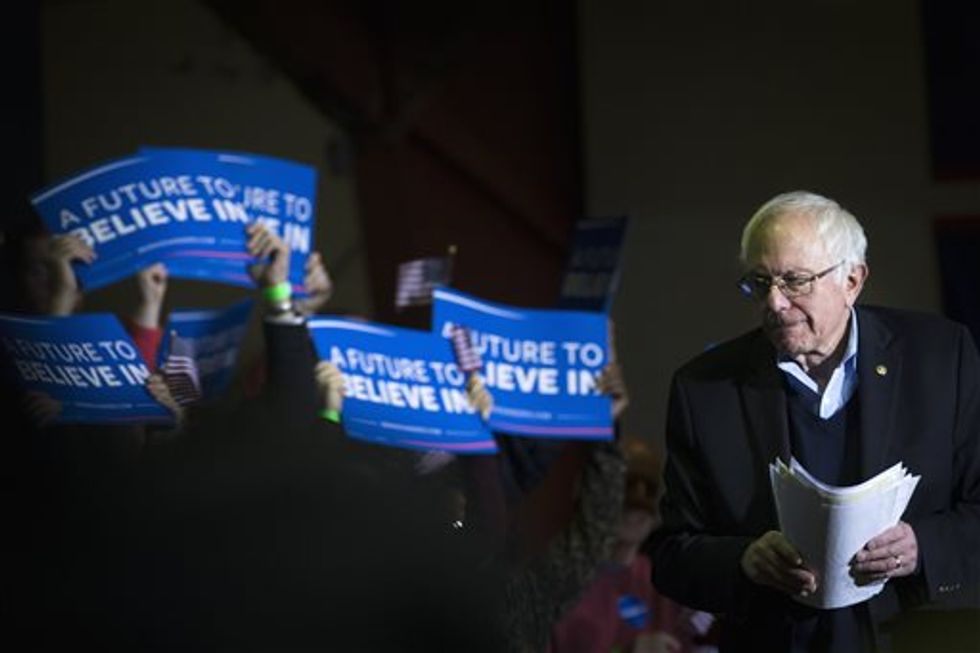 Vermont Sen. Bernie Sanders speaks at Daniel Webster Community College on Monday. (AP/John Minchillo)
Too many Americans are facing "oppressive student debt," Sanders said at the Palace Theatre in downtown Manchester. People have told him at campaign events that they owe $300,000 or $400,000 for becoming a doctor or dentist, Sanders added.
"I hear those stories at every single place I go," he said. "We should not be punishing people and forcing them to live under real economic strain for decades because of the crime of getting an education."
Sanders' 2016 platform includes a plan to allow people with student debt to refinance their loans to get the lowest possible interest rates, and proposes lowering undergraduate student loan rates from 4.29 percent to 2.37 percent.
"We're the wealthiest country in the history in the world, people should not be $150,000 in debt for wanting to get an education," he said Monday.
Sanders admitted that many are skeptical of the feasibility of his plan. "My opponents say, that's a nice idea Santa Claus," he said. "What else do you have to give away?"
But Sanders said he plans to pay for it by imposing a tax on Wall Street speculation, or trying to profit off fluctuating values of goods on the market.
"When Wall Street's greed and illegal behavior crashed the economy, the middle class bailed them out," he said. "Now it's their time to help the middle class of this country."
—
Follow the author of this story on Twitter and Facebook:
[facebook //www.facebook.com/plugins/like.php?href=